Blu-ray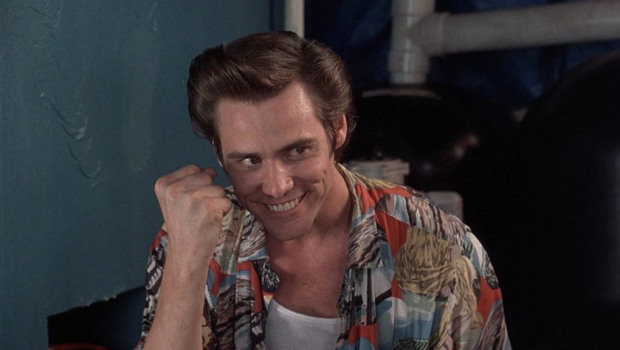 Published on April 4th, 2020 | by Sandro Falce
Ace Ventura: 25th Anniversary Blu-Ray Collection
Summary: There's fun to be had in this Ace Ventura double feature, even if the collection doesn't feel like the 25th Anniversary celebration it said it was.
It seems like we're living in a Jim Carrey resurgence at the moment. Everywhere I go, people are talking about various projects the comedic icon is currently involved in, whether it be his role as the villain in Sonic The Hedgehog or the second season of the Showtime dramedy Kidding. There's even been a lot of talk recently about a reboot or sequel of his hit movie The Mask. So, with all of this talk currently happening surrounding Carrey, as well as it being about 25 years since the release of his two iconic Pet Detective adventures, it makes sense that we'd get a new blu-ray re-release of his two classic Ace Ventura movies.
This Jim Carrey Double Feature pairs the 1994 movie with the 1995 sequel When Nature Calls, both of which have been available separately for a while.
It doesn't seem like the movies themselves have had much of an upgrade, as the video quality looks exactly the same as previous releases. Saying that, I found the audio quality to be phenomenal. I can't confirm whether or not there has been any audio remastering going on, but around this time last year I did rewatch Pet Detective for a project and can safely say that it sounds a lot better here. The dialogue is crisp, the music and sound effects are balanced well in the mix, it all comes together. I might be the only one who cares about this but Ace Ventura has never sounded better.
While it was advertised as the 25th Anniversary Collection, there is little in the way of special bonus content to be found here. We have theatrical trailers for both movies, as well as a Pet Detective commentary by director and writer Tom Shadyac, neither of which are exclusive to this release. It would've been nice to have some 25th Anniversary retrospective content but sadly there's nothing to be found here. There are subtitles though, which is nice. A lot of blu-ray releases I've reviewed recently haven't had those.
As mentioned, the first Ace Ventura movie, Pet Detective, was released in early 1994, catapulting Carrey to stardom and kicking off his box-office reign throughout the year with other massive hits like The Mask and Dumb & Dumber. So while it cannot be denied that Pet Detective is a big moment for 90s comedy, does the movie hold up?
For the most part, it does! In fact, the first hour of Pet Detective is a ton of fun. Jim Carrey's performance is ridiculous and entirely based on seemingly improvised punch-lines, but it works. Sure, only about 60% of the jokes land, but his energetic nature makes up for that. He never lets the chaotic nature of this character drop throughout the 90min runtime. His co-stars are also quite good! Courtney Cox does a solid job in this film, as does Dan Marino playing himself.
Sadly, the first film falls flat on it's face during the final act's twist. Ever since the film's original release, it has been criticised for it's portrayal of transgender people, and looking back on it 25 years later is pretty rough. Weirdly though, the movie is quite tame up until the final act and holds up rather well.
After the massive hit that is the first movie, they quickly rushed out a sequel near the end of 1995 titled When Nature Calls. While also being a box office success, it was met to mixed reviews from critics and audiences alike. I'm not as familiar with the sequel as I am with the original, in fact this might only be the second time I've seen it.
There are flashes of comedic genius through the sequel, but for the most part it's quite boring. Unlike the original, the offensive content is sprinkled throughout the entire runtime instead of just being at the end.
We follow Ace as he travels to Africa to rescue a bat. Along the way he meets rich game-hunters, various tribes, and a lot of animals. It's extremely light on plot, so much so that it's hard to follow at times, but watching Ventura get out of a bunch of silly predicaments is somewhat entertaining. It's a pretty uneventful watch, not necessarily disappointing, just quite dull.
All in all, the 25th Anniversary blu-ray release of the Ace Ventura "saga" is exactly what it says on the box: a Jim Carrey double feature. If you're feeling nostalgic and want to revisit these two 90s comedies then this is a somewhat affordable way to do so. If you already own them however, there is nothing new to be found here. And while I would've liked a bit more bonus content, it is definitely a plus that they didn't include the 2009 film Ace Ventura Jr.