Events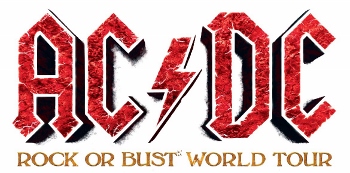 Published on October 26th, 2015 | by admin
AC/DC ROCK OR BUST AUSTRALIAN TOUR KICKS OFF NEXT WEEK!
"AC/DC: rock 'n' roll reduced to its purest essence" – The Guardian
AC/DC's electrifying ROCK OR BUST world tour commences its final leg in Australia on November 4 at Sydney's ANZ Stadium.
AC/DC will then blast their way through each of the five major capital cities.
Special guests on the tour are Swedish band The Hives and Australia's own Kingswood.
AC/DC's album "Rock or Bust" was released on December 2 2014 and immediately topped sales charts around the globe. It is the band's fifth No.1 album in Australia
THE BAND
More than three decades into a career that shows no signs of slowing down or letting up, AC/DC, like electricity itself, provides the world with an essential source of power and energy. Since forming in 1973, AC/DC's high voltage rock 'n' roll has flowed out into the world via consistently sold-out concert tours and global sales totalling more than 200 million albums and counting. Sony BMG Music Entertainment's #1 best-selling catalogue act worldwide.
AC/DC has sold nearly 71 million albums in the U.S. alone, making AC/DC one of the five top-selling bands in American music history.
One of the group's best-loved works, the enormously successful and influential "Back In Black," has achieved RIAA "Double Diamond" status, for sales in excess of 22 million copies in the United States, and is the U.S.'s fifth largest-selling album ever.
But the roots of AC/DC lie back in Australia, and before that Glasgow, Scotland, where Angus and Malcolm Young, the musical core of the band (and still the most formidable guitar team in rock history), were born (in 1958 and 1953, respectively). In 1963, the Young family migrated to Sydney, Australia, where music would make its mark on the brothers.
AC/DC ROCK OR BUST AUSTRALIAN TOUR DATES
SYDNEY
Wednesday 4 and Saturday 7 November at ANZ Stadium www.ticketek.com.au
BRISBANE
Thursday 12 and Saturday 14 November at QSAC www.ticketek.com.au
ADELAIDE
Saturday 21 November at Adelaide Oval, www.ticketek.com.au
PERTH
Friday 27 and Sunday 29 November at Domain Stadium, www.ticketmaster.com.au
MELBOURNE
Sunday 6 and Tuesday 8 December at Etihad Stadium, www.ticketmaster.com.au
TICKET PRICES
*From $99 to $159.90
New release oval tickets @ $99.00
*Ticket prices include GST and booking fees. Transaction and credit card fees may apply.