Hardware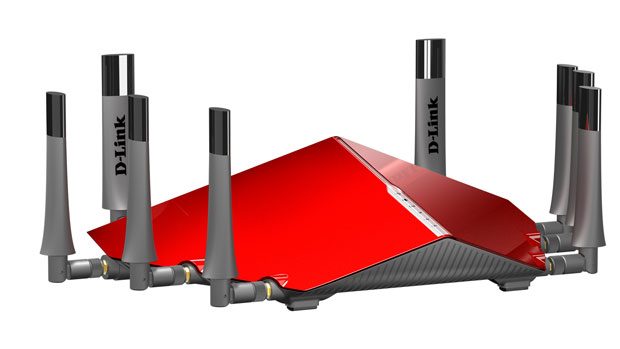 Published on April 25th, 2016 | by Tony Smith
AC5300 MU-MIMO Ultra Wi-Fi Router DIR-895L Review
Summary: The AC5300 MU-MIMO Ultra Wi-Fi Router DIR-895L from D-Link provides exceptional WiFi access and speeds!
D-Link's latest Wi-Fi Router, the DIR-895L is like mana from heaven that gives users an impressive wireless speed of up to 5,332Mbps (combined) thanks a wealth of features such as its 4×4 data streams, beamforming and MU-MIMO technology for lag free wireless throughout your home or office. Furthermore, the product has been designed for multiple users that allows for 4K streaming and even high-speed gaming to ensure uninterrupted internet and network access.
Product Highlights
Ultimate Wi-Fi Performance – Stream HD multimedia across your home without interruption
Simultaneous Tri-Band – Deliver faster Wi-Fi speeds of up to 5332Mpbs (1000Mbps + 2166Mbps + 2166Mbps)
Smart Connect – Automatically connects each device on your network to the Wi-Fi band where it can connect at its maximum possible speed
Advanced AC SmartBeam – Delivering individual beams of bandwidth where you need it the most
Latest Processor – 1.4 GHz Dual Core Processor for a faster network speed for a more powerful router
High-Performance Antennas – 8 high-performance antennas deliver maximum range around your home
Remote Access & Management – Manage your network from your smartphone or tablet
USB 3.0 – Up to 10x faster than USB 2.0
Compatibility – Works with existing and future Wi-Fi devices
Like last year's Taipan from D-Link which was a Modem/Router, the AC5300 MU-MIMO Ultra Wi-Fi Router is a strange looking device that looks like some strange alien technology with its spider-like appearance. With the Taipan being blue, the colour of the AC5300 is bright red which definitely has parallels to the Ferrari red which of course is one of the fastest cars in the world.
When it comes to grunt, the Wi-Fi router is also powered by a 1Ghz dual-core processor in order to support multitasking and add in eight external antennas to increase and amplify your Wi-Fi signal and the AC5300 definitely ticks all the right boxes, especially those looking for a Router to accompany their modem. With that said and I'll stress it again, this product does not have a modem or ADSL component, it's purely a router but with speed!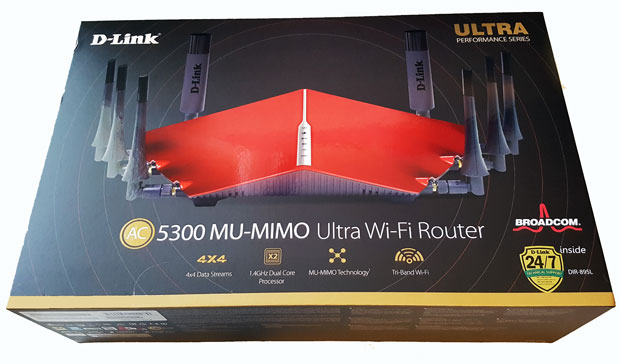 Another feature of the AC5300 is the ability to support multiple devices simultaneously across the network which means one wireless device does not throttle the network and as mentioned, the combined wireless speed is 5,332Mbps across its tri-band. This is broken down into 1,000 Mbps in 2.4GHz, 2,166 Mbps in 5GHz and 2,166 Mbps in 5GHz. For wired devices, you can connect four additional products to the AC5300 and for the most part during our testing, we had full WiFi strength.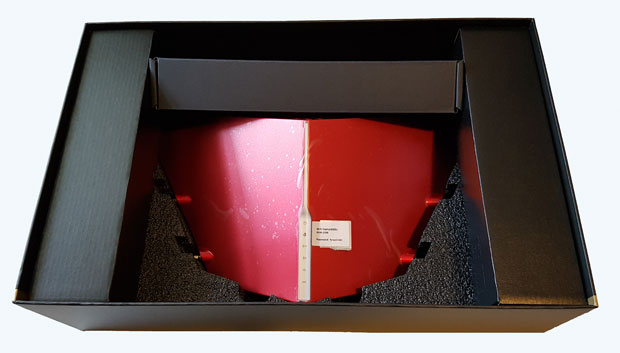 The AC5300 also supports Smart Connect technology that assist devices connecting to the Wi-Fi Router by choosing the best tri-band connection for your device. Not only does this make it easier for users with minimal computer experience but it ensures that your device is getting the best possible connection.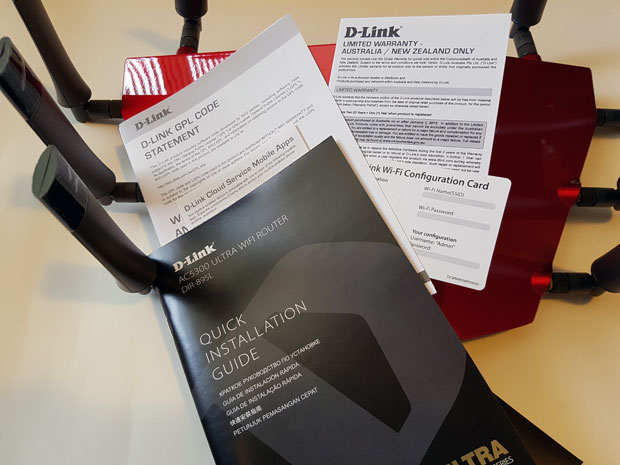 If you have DLNA (Digital Living Network Alliance) compatible devices, you can connect additional media into the AC5300 via the USB port in order to share movies or music across your network that can be accessed by a variety of devices such as smartphones or gaming consoles.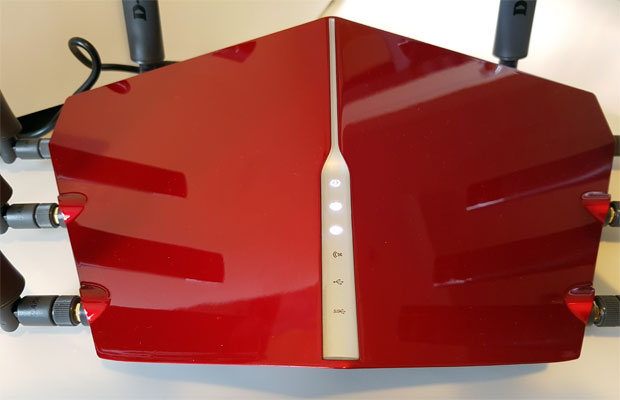 The mydlink SharePort App also allows you to stream movies, music and photos as well. In relation to USB ports, the product has one USB 2.0 and one USB 3.0 port which allows for a plethora of devices to be connected like memory sticks or even external hard drives.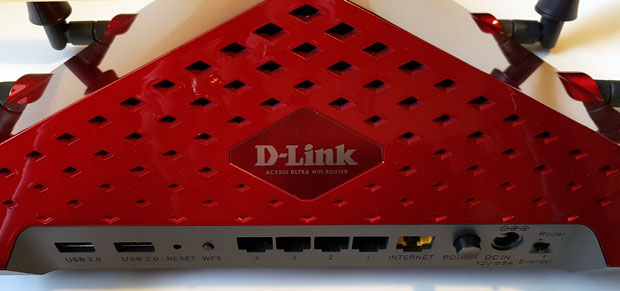 When it comes to security, the AC5300 uses one of the highest levels of security that include WPA/WPA2 secured Wi-Fi encryption, including the ability to setup an Guest Wi-Fi Network and also Parental Controls to limit or block access to the internet, websites and even devices. The Parental Controls are a great feature to this product and far superior than software based products because you are directly blocking access from the router itself which means it's blocked on all devices.
Installation is very easy and can be done a number of ways that include setting up the Wi-Fi Router through your smartphones via the Quick Router Setup (QRS) App, WPS or via the installation wizard through connecting directly to the port of this product.
For monitoring your product, D-Link also give users a free app called mydlink lite that allows you to monitor and control your device anywhere in the world. I must admit that I have used this product in the past which awesome for ensuring that your network is up and running, particularly if you have IP security cameras.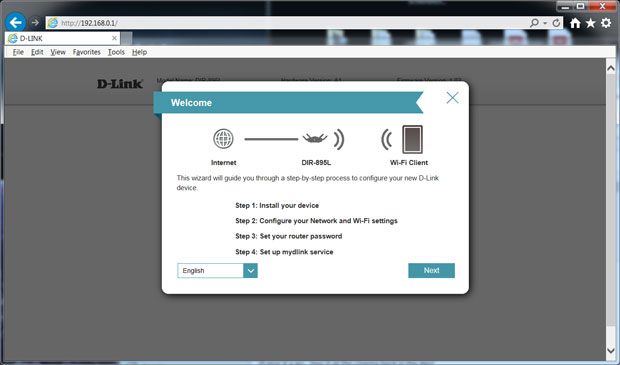 The interface of the AC5300 is similar to that of the Taipan and it makes accessing the device considerably easier. However those wanting to tweak the AC5300 will be pleased to know that you can go deeper into the settings to fine-tune the product for your desired network setup. Given that, this product can be used by everyone, novice to professional and everyone in between.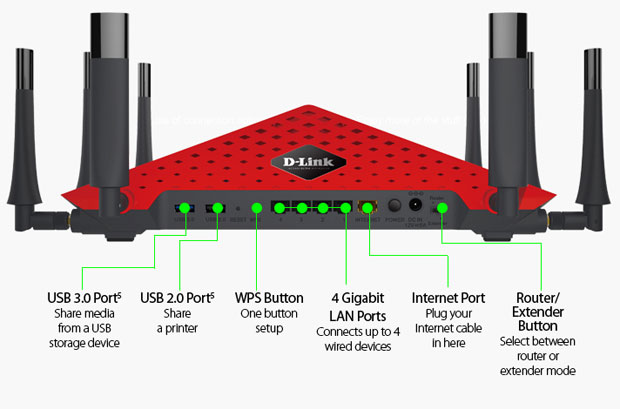 Technical Specifications
Device Interfaces
802.11 ac/n/g/b/a Wireless LAN
Four 10/100/1000 Gigabit LAN Ports
10/100/1000 Gigabit WAN Port
One USB 3.0 Port
One USB 2.0 Port
LEDs
Power
Internet
WLAN 2.4GHz
WLAN 5GHz
USB 2.0
USB 3.0
Antenna
8 x Detachable
Wireless Operating Frequency
2.4 GHz band
2 x 5 GHz band
Standards
IEEE 802.11ac
IEEE 802.11n
IEEE 802.11g
IEEE 802.11b
IEEE 802.11a
IEEE 802.3
IEEE 802.3ab
IEEE 802.3u
IEEE 802.3x
Wireless Security
WPA & WPA2 (Wi-Fi Protected Access)
Wi-Fi Protected Setup (WPS) PIN/PBC
Advanced Features
MU-MIMO1
SmartConnect
Guest zone
mydlink SharePort™ web access
Multi-language web setup wizard
Advanced AC SmartBeam
VPN Passthrough (PPTP/L2TP/IPsec)
Advanced QoS
QuickVPN – L2TP over IPsec
Advanced Firewall Features
Dual active firewall
Network Address Translation (NAT)
Stateful Packet Inspection (SPI)
Power
Input: 100 to 240 V AC, 50/60 Hz
Output: 12 V DC, 5 A
Dimensions
417.73mm (L) x 262.72mm (W) x 149.6mm (D)
When it comes to benchmarking the DIR-895L, we tested the WiFi strength in a variety of locations around the home which included in the same room, the room next door, the end of the house and even at the furthest point of our backyard which was going through severals walls, including plaster and brick. Interestingly enough, the DIR-895L did perform slightly better than the Taipan which has the modem inbuilt into the product.
The first test for the AC5300 was inSSIDer that measures the WiFi signal. As you can see from the results below, the product did perform quite well and we could still access the router from the furthest point of the house and even backyard. Sure the download/upload speed isn't as good as if it's in the same room but overall, it does a good job with its technology to increase the range of the router.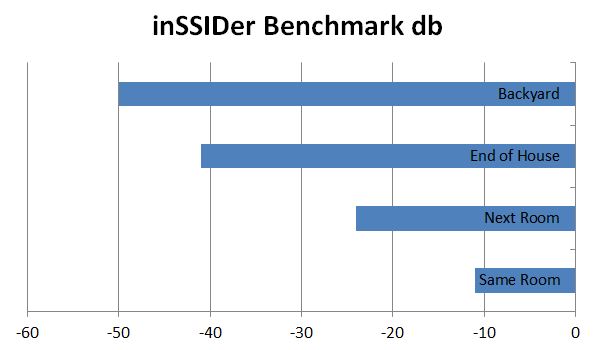 We also tested the product with IxChariot that is an instant performance assessment of networks and just like all benchmarking, it is subjective. However given the results below, the AC5300 did perform relatively well but keep in mind that interference from other products, walls, timber, bricks and all sorts of things can hamper performance. Nonetheless, we were quite pleased with the results and these were the average speeds. On some occasion and for smaller files, we did push the 900Mbps mark!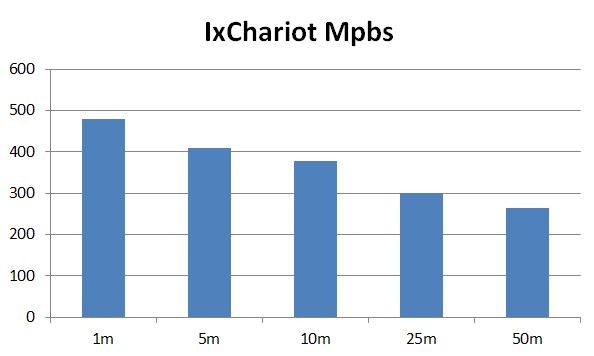 Surfing the net, updating iPhones, accessing both the XBox One and Playstation 4 provided flawless and fast internet access. However where the AC5300 shone for me was via online gaming which for the most part was lag free. Also streaming videos was good as well, particularly 4K video. We did have some stutter here and there but for the most part the AC5300 performed well.
Final Thoughts
If you're looking for a powerful router to accompany your modem than you really should check out the AC5300 MU-MIMO Ultra Wi-Fi Router DIR-895L from D-link which provides some exceptional WiFi range and throughput. Setup is easy, the interface is simple yet powerful and all in all, this allowed us to connect a plethora of WiFi devices, included wired devices to this router with no issues whatsoever.