Hardware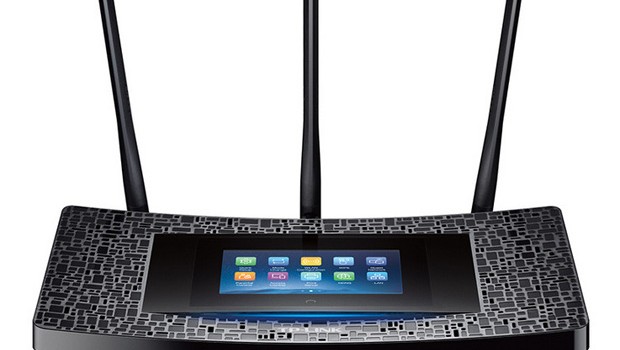 Published on January 17th, 2016 | by admin
AC1900 Touch Screen Wi-Fi Gigabit Router (Touch P5) Review
Summary: The AC1900 Touch Screen Wi-Fi Gigabit Router (Touch P5) is the future of routers!
TP-Link have truly raised the technological bar in the world of routers with their latest product, the AC1900 Touch Screen Wi-Fi Gigabit Router (Touch P5) which revolutionises the way we will access routers now and in the future. The idea behind the Touch P5 is that TP-Link have taken the idea of a smartphone and merged it with their Wi-Fi Gigabit Router so opposed to accessing the product through software or a web-based browser interface, this product has a touch screen which gives you direct and easy access.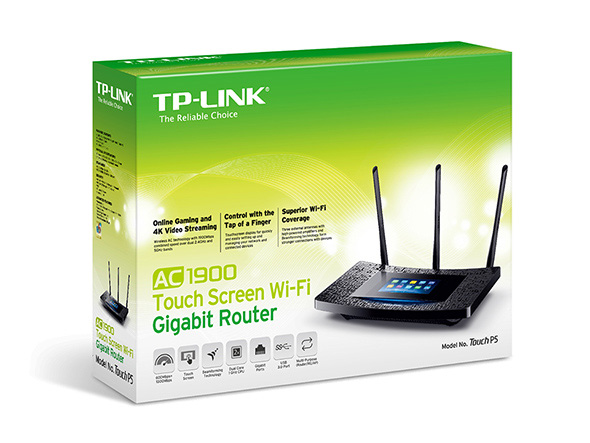 Box Contents
AC1900 Touch Screen Wi-Fi Gigabit Router (Touch P5)
RJ45 Ethernet Cable
Power Adapter
Quick Installation Guide
Furthermore, the Touch P5 allows combined speeds of up 1900Mpbs (600Mpbs at 2.4Ghz and 1300Mpbs at 5Ghz) which means whether you're streaming films, playing games or downloading, you'll have a very fast connection on multiple devices that even supports Beamforming technology to target specific devices on your network. The touchscreen display of the Wi-Fi router is actually a 4.3″ screen (10.9cm) with a resolution of 480×272 with up to 65536 Colours that can be seen from most angles well. It's basically a little tablet built into the router which is powered by a 1Ghz Dual-Core Processor.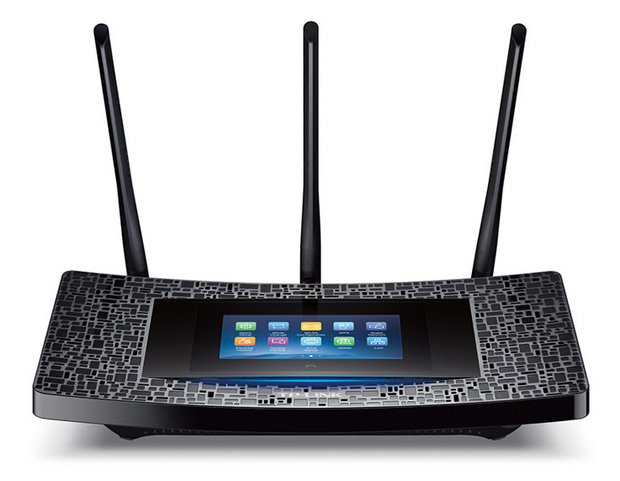 Highlights
One-Minute Touchscreen Setup – Effortlessly set up a network and modify settings with the responsive touchscreen
Ease of Use – Manage settings, including parental controls, access policies, mode selection, and more using the intuitive smartphone app
AC1900 Speed – Enjoy streaming 4K video and online gaming without lag on the 2.4GHz and 5GHz bands
1GHz Dual-Core Processor – Powers through multiple tasks at the same time without interruptions
Superior Coverage – Three dual band antennas with high-powered amplifiers provide up to 10,000* square feet of Wi-Fi coverage
Beamforming – Focuses Wi-Fi towards devices to form stronger connections
Multi-Purpose Design – Serves as a router, repeater, or access point, satisfying your unique needs in any situation
Before we get to the specifications and testing of the Touch P5, we do need to speak about its appearance. The first thing that you will notice about Wi-Fi Router is its unique appearance that looks more like a high end technological device opposed to a router. The device measures at 11.2 x 6.2 x 2.1 inches (284x187x52mm) and the top of the product has this mosaic textured design which looks like marble and would not look out of place in any home or office.
The Touch P5 also has three dual band antennas with 700mW high-powered amplifiers for increased Wi-Fi connectivity around the home with TP-Link stating that it provides up to 10,000* square feet of Wi-Fi coverage. As stated, the router supports both the 2.4Ghz and 5Ghz bands and in terms of inputs, the Touch P5 has 4 Gigabit Ethernet Ports,  1 Gigabit WAN Port, 1 USB 3.0 Port, 1 USB 2.0 Port and a power port.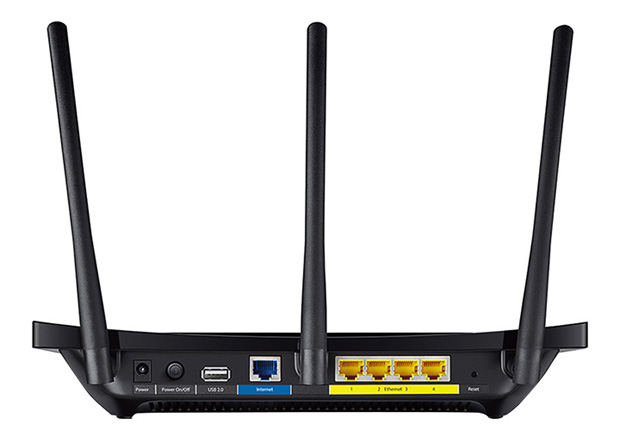 It should be added that everything is clearly labelled on the product and the connections look quite sturdy. The device even allows for wall mounting which is kind of cool, particularly with the touch screen display.  The only downside to wall mounting is that the ports are at the top which could become a little messy in terms of cabling. The back of the Touch P5 also contains the MAC address, Wireless Password and SSID information.
In terms of a physical installation, the only thing you need to do is connect the three antennas that just simply screw into the Touch P5, connect the RJ45 Ethernet cable and then plug the device into the power. Furthermore, setting up the AC1900 Touch Screen Wi-Fi Gigabit Router is a breeze and TP-Link boast a one minute installation process which actually works! Quick setup prompts for new password, region, time zone, internet connection type (can be be auto detected), wireless settings (e.g. name and passwords) plus the ability to test the new connection. In relation to the virtual keyboard and given the size of the Touch P5, it's definitely a good size and better than most smartphones.
Once you have set the admin password and followed the quick setup, you'll have your connection up in no time. Furthermore, the main home screen of the Touch P5 is reminiscent (for me anyway) of the Mac O/S as it displays the time/date in the middle with Wi-Fi bands on the top left. To access the device, you just need to be "slide to start". Touch screen icons include Quick Setup, Mode Selection, Wireless Settings, WPS, Guest Network, Parental Controls, Device Control, Print Server, DDNS, LAN, DHCP Server, QoS, Clock, Screen Settings, Reboot & Reset, Administration Password and About.
Once you have connected the Wi-Fi router to your network, you will appreciate the great touch screen interface that is definitely far superior than traditional web based systems. It's actually quite easy and really makes use of the touch screen capabilities, so if you're familiar with touch screen, you'll be familiar with the Touch P5! Sure, you can access the product via its IP address at http://tplinkwifi.net, however for instant access, the touch screen works extremely well. For purists or those in another room, you can still access the Touch P5 via its web browser interface for all the settings as well.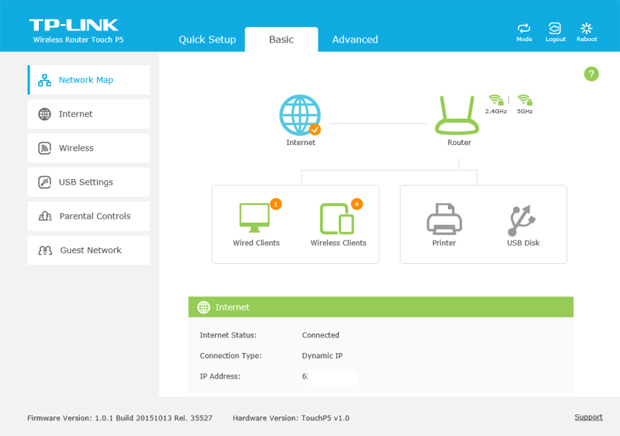 Security is another highlight of the Touch P5 which offers powerful encryption such as 64/128-bit WEP, WPA/WPA2, WPA-PSK and WPA2-PSK plus parental controls. It even has an in-built firewall to protect your network from foreign attacks.
In terms of benchmarks, the Touch P5 performed quite well compared to its competitors that had a strong link speed with on average an upload of 170Mbit/s and download 260Mbit/s on the 5Ghz band. For the 2.4Ghz band, upload averaged at 110Mbit/s and download 143Mbit/s. More importantly, it kept these speeds quite well and even the furthest corner of our property still allowed us to access the Touch P5. Another highlight is that when we had an Xbox One, 2 laptops and 2 smartphones using the network, each device had decent speeds to and from the router. In other words no device throttled the network.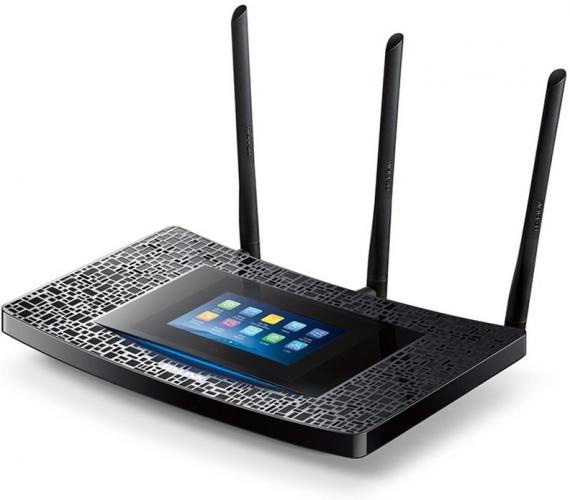 Final Thoughts?
The AC1900 Touch Screen Wi-Fi Gigabit Router (Touch P5) from TP-Link is a great product from this company and I'm sure touch screens will soon become a common feature on Wi-Fi Routers because it definitely makes sense for immediate access. The product is also similar to the Archer C9 from TP-Link in terms of performance and specifications but overall the Touch P5 is a far easier to use product. So if you're looking for improving your Wi-Fi connectivity in your home or office, then you really should check out the AC1900 Touch Screen Wi-Fi Gigabit Router (Touch P5).
For more information, visit http://www.tp-link.com.au/products/details/cat-9_Touch-P5.html
Specifications
Router
Router Type
Wireless
Wireless LAN
Wireless LAN Standards:
IEEE 802.11 a b g n ac
Range (Outdoor – Maximum)
3 x Dual band antennas
Data Transfer Rates
IEEE 802.11 a b g n
Transmit Power
Data Transfer Rates Up to 1900 Mbps
Encryption
Data Transfer Rates Up to 1900 Mbps
Modulation Technique
2.4 and 5.0 GHz
Security
Security
Bandwidth Control/Live Parental Control, WPS wireless security encryption, Guest Network Access
Interfaces/Ports
LAN Ports
4 port(s) x RJ-45 10/100 Mbps Ethernet
WAN Ports
1 port(s) x RJ-45 10/100 Mbps
USB Ports
1 x USB 3.0 • 1 x USB 2.0
Environmental
Environmental
– Humidity 10 to 90 % Operating Temperature 0 to 40 °C
Physical
Form Factor
Wireless Device – Desktop
Case Colour
Black