Comics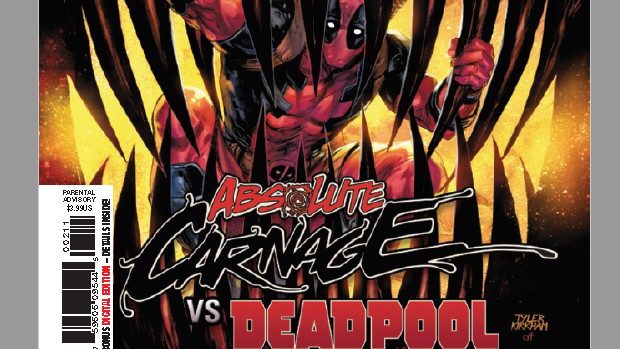 Published on September 26th, 2019 | by Chris O'Connor
Absolute Carnage Vs. Deadpool #2 Comic Review
Summary: Having bonded with four symbiotes in the past Deadpool is a prime candidate for a visit from Carnage in his quest to gather all the codices, but Deadpool is no easy target and Carnage may just get more than he bargained for.
I can only imagine it must be fun writing for Deadpool (and doing the artwork to be honest)… the freedom to do just about whatever you want and the ability, nay, the requirement to put in silly humour and make fun of just about everything… how could you not have a smile on your face the whole time (well you know, other than the crushing deadlines… the writers block etc). Absolute Carnage Vs. Deadpool sees our favourite Merc with the mouth be the favourite target of codices for Carnage…. kind of a side effect of having bonded with four symbiotes in the past. But we know Wade and he's not going to go down without a fight… and a few funny lines.
Writing
As mentioned, it must be a lot of fun writing Deadpool comics… I mean sure there's the overall structure that still stands… but the freedom to drop pop culture references, to make fun of the very writing your putting on the pages… it seems like it would be a great job. Frank Tieri certainly makes it seem that way… the flow of dialogue from Deadpool and that absolute blasse attitude he shows to everything makes him an absolute joy to read. You get your superhero action without the seriousness. You don't have to worry what's going to happen to him because… well… he doesn't seem to care himself. When faced with such a deadly foe as Carnage, Deadpools wit just seems all the more humourous.
Artwork
Superhero comics are full of "classic poses" and heroic scenes… as much as they are no doubt a lot of fun to create… I can't help but think there would be a lot of enjoyment in getting to bring to life scenes of characters cradling their armaments and professing their love to them… yep Marcelo Ferreira got to do that here. What's really impressive though is just how expressive Marcelo can make Deadpool, despite him having the mask on. Actors know that when you work with a mask you have to be more bold/expressive with your movements… which is all well and good when you can move… in a single panel you have to convey that emotion in one pose and somehow Marcelo does exactly and in doing so shows a great understanding of human anatomy and body language.
Final Thoughts?
I don't think I could ever not like Deadpool… I love my "regular" comics… but it's just so nice to have someone who gets to exist in that same world but who is allowed to just be a total goofball. Someone that can be a hero but not at all act like it. It's just a refreshing break from all the more serious comics and is a great fun read no matter what mood you are in. Certainly grab a copy.
Comics Details
Publisher: Marvel
Writer: Frank Tieri
Artist: Marcelo Ferreira
Cover Artist: Tyler Kirkham
Genre: Superhero, Humour
Format: 24pgs, FC, Series
Release Date: 11th September, 2019