Games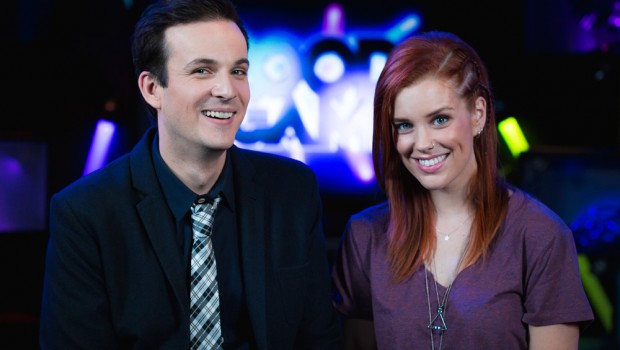 Published on April 13th, 2015 | by admin
ABC's game changers Bajo and Hex to host
The Australian Centre for the Moving Image (ACMI) is thrilled to announce that the 2015 Screen It Awards will be hosted by stars of ABC TV's Good Game, Steven "Bajo" O'Donnell and Stephanie "Hex" Bendixsen, at ACMI on Friday 13 November 2015.  
The Screen It Ambassadors will walk the red carpet with students from across Australia before hosting the ceremony that celebrates the achievements of school-aged filmmakers, animators and game developers. Winners and finalists will also have the opportunity to mingle with the stars at the after party.
"We are delighted Screen It Ambassadors Bajo and Hex will bring their energy and expertise to this glittering celebration of bourgeoning young creatives," said ACMI Education Manager, Christine Evely.
Screen It challenges primary and secondary students to conceive and develop live-action films, animations and computer games inspired by an annual theme. The theme for 2015, Change, offers a starting point for students and teachers to explore topical issues while learning animation, filmmaking and game development techniques.
Students may wish to relate the theme to self, family, community or global events, or to represent change through the evolution of the characters and visuals depicted in their works.
"Change is an integral part of everyday life. It can be exciting and innovative, as well as disruptive and unsettling. Exploring this theme can help students discover how change impacts their identity, relationships, environment and community. Collaborating on a work that responds to the theme of change can help young people foster the skills and knowledge they need to embrace positive changes or face challenging situations," said Evely. "We look forward to discovering the myriad of ways in which this year's theme will spark imaginative and transformative storytelling through the films, animations, and video games created by young people."
Unlike many other student film competitions, Screen It is designed to provide rich cross-disciplinary educational outcomes for participants. Teachers are encouraged to draw upon the full range of education resources, including posters and videos, and a teacher kit developed by ACMI's experienced educators designed to assist students. . They can also participate in Screen It Video Conferences with ACMI Education staff and utilise Generator, ACMI's online creative tool to support the production process.
As well as providing a rich learning experience, Screen It offers great prizes. Category winners will receive a certificate, a trophy and a prize pack. Primary and secondary winners of the animation and live action categories will take home a Canon HD Camcorder. Winners of the games categories will collect Sony Playstation products including a PS4, PSVita and the Tearaway: Unfolded game. The schools awarded Best Overall Primary and Secondary entry will each receive a Canon HD Professional Camcorder. Special Mentions awarded by the judging panel will be recognised with a prize pack from Madman Entertainment.
Winning entries will be incorporated in the Australian Mediatheque where ACMI visitors can view moving image works on demand, as well as being exhibited in ACMI's Screen Worlds gallery on Generator, and on the ACMI website.
In 2014, the competition attracted 365 entries submitted by over 1,546 students nationwide, making it Australia's biggest moving image competition for young people – a title it has held for over ten years.
Entries for the 2015 competition close on Monday 21 September 2015.  Students can enter via a school or independently, and entries can be created by individuals or teams.
For more information, please visit: acmi.net.au/ screen-it