Events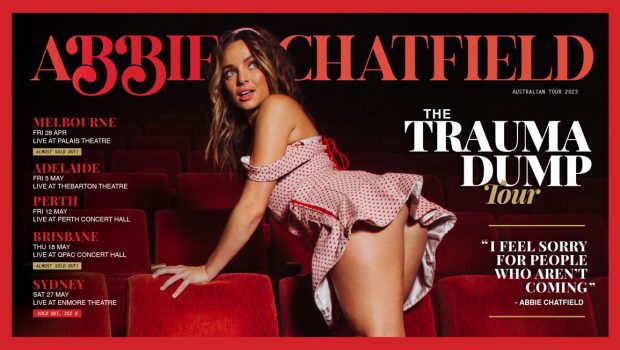 Published on May 9th, 2023 | by Adrian Gunning
Abbie Chatfield announces second and final Sydney show on The Trauma Dump Tour
Frontier Touring are pumped to confirm Australia's much-loved, topical, TV star, podcaster, radio host, ambassador, entrepreneur and unfalteringly honest, Abbie Chatfield has added a second and final Sydney show to her Trauma Dump Tour. Having already kicked off the tour with shows in Melbourne (sold out) and Adelaide to rave reviews, the tour continues this Friday 12 May at Perth Concert Hall before heading to QPAC Brisbane (sold out) on Thursday 18 May before two Sydney Enmore Theatre shows on Saturday 27 (sold out) and now a second Sydney show on Sunday 28 May.
"Raw, honest and hilarious. Brace yourself for a wild ride." – Glam Adelaide
"I feel sorry for people who aren't coming." – Abbie Chatfield
Frontier Members can access pre-sale tickets to Abbie's second Sydney show from 12noon AEST on Wednesday 10 May ahead of the general public on sale kicking off 1pm AEST Thursday 11 May. Tickets via frontiertouring.com/abbiechatfield
Remaining shows:
DATE VENUE/CITY DOORS SHOW START
Friday 12 May Perth Concert Hall, Perth 6:30pm 8:00pm
Thursday 18 May QPAC, Brisbane 7:00pm 8:00pm
Saturday 27 May Enmore Theatre, Sydney 7:00pm 8:00pm
Sunday 28 May Enmore Theatre, Sydney 7:00pm 8:00pm
Abbie Chatfield is one busy, fierce, force to be reckoned with, gaining an audience of over 450k Instagram followers and amassing more than 356k TikTok followers and 14m likes! On top of her now 6-date The Trauma Dump Tour, highly successful It's A Lot with Abbie Chatfield (LiSTNR) podcast, hit radio show Hot Nights With Abbie Chatfield (Hit Network) Chatfield will host the new Australian 10-episode show 'FBOY Island', launching May 29 on Binge!
Never shy of over-sharing, Abbie's The Trauma Dump Tour is guaranteed to shock audiences and ignite conversation! Don't miss out! Final tickets via frontiertouring.com/abbiechatfield
ABBIE CHATFIELD
THE TRAUMA DUMP TOUR
APRIL & MAY 2023
Presented by Frontier Touring
NEW SYDNEY SHOW
FRONTIER MEMBERS PRE-SALE
via frontiertouring.com/abbiechatfield
Runs 24 hours from: Wednesday 10 May (12noon AEST)
or until pre-sale allocation exhausted
NEW SYDNEY SHOW
GENERAL PUBLIC ON SALE
Begins: Thursday 11 May (1pm AEST)
REMAINING SHOWS
FINAL TIX ON SALE NOW
via frontiertouring.com/abbiechatfield
ALL SHOWS 16+*