Events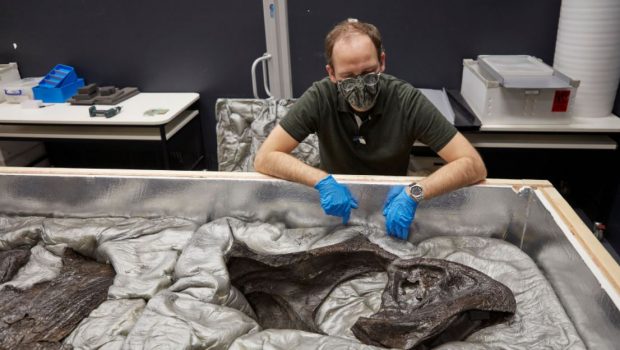 Published on November 27th, 2021 | by Adrian Gunning
A Triceratops called Horridus has found a forever home at Melbourne Museum
Named after Triceratops horridus, the species to which Horridus belongs, this is one of the most globally significant palaeontological discoveries ever made and the most complete real dinosaur skeleton in any Australian museum.
Originally found in Montana USA, this dino-mite discovery has spent the last year in Canada, where experts worked with Museums Victoria's palaeontology team remotely, navigating the challenges of the COVID-19 global pandemic, to ready the specimen for transportation from Victoria CA to Victoria AU.  Horridus will now make a forever home at Melbourne Museum.
"Horridus the Triceratops will attract and inspire wonder in generations of visitors," says Lynley Crosswell, CEO and Director of Museums Victoria. "Horridus is one of the most internationally significant dinosaurs ever discovered and its home is now at Melbourne Museum.
"Museums Victoria scientists and palaeontologists spent months working remotely with the team in Canada, meticulously planning every detail to ensure Horridus had a safe journey to Melbourne Museum.
"We are deeply grateful to the Victorian State Government for supporting the acquisition of our Triceratops. This investment in the State Collection will provide an inspiring and unforgettable experience for our visitors and enhance and strengthen the scientific and cultural value of our collections."
With 266 bones and weighing more than 1,000 kg, Horridus was carefully packed into eight crates – some as big as a car and weighing up to 500kg – and couriered to Melbourne Museum. Now that the prehistoric parcel is safely onsite, a team of Museums Victoria palaeontologists, conservators, collection managers and staff from across the organisation can set to work preparing the fossil for display.
"Having an articulated, nearly complete Triceratops skeleton offers new horizons for research by palaeontologists worldwide. Being permanently housed at Melbourne Museum means this remarkable fossil will be accessible to science for generations to come," says Museums Victoria's Dr Erich Fitzgerald, Senior Curator of Vertebrate Palaeontology.
"We're delighted to support this world-class attraction and we're thrilled that a Triceratops will call Melbourne Museum home," says Minister for Creative Industries Danny Pearson.
"Dino-fans of all ages from across Victoria and around the world will flock to Melbourne to get up close and personal with Horridus – introducing a new generation to our museum, boosting tourism and supporting ground-breaking scientific research in the process."
Horridus the Triceratops will be on permanent display at Melbourne Museum in 2022 as part of a new exhibit supported by the Victorian Government. Can't wait? Join the waitlist to see Horridus first melbournemuseumtriceratops.com