Comics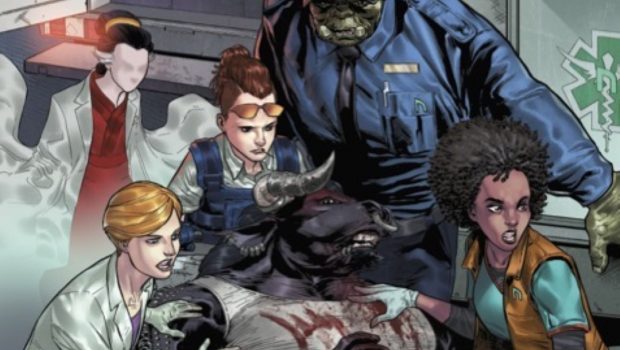 Published on March 15th, 2022 | by Andrew Bistak
A SECRET HOSPITAL FOR THE SUPERNATURAL – THE WARD
From Cavan Scott, the New York Times bestselling writer of Star Wars: The High Republic, and Call of Duty: Zombies and Dean Koontz´s Frankenstein artist Andres Ponce comes The Ward, an intense supernatural medical drama featuring an assortment of creatures and human pathos coming from Dark Horse this Summer!
St. Lilith's is a secret hospital for supernatural creatures. The personnel are overworked and the facility is underfunded. It's a place, and a life, Dr. Nat Reeves thought she left behind. Until a wounded woman with a tail appears on her doorstep. The Ward is a perfect read for fans of Supernatural, iZombie, and Grimm.
"I've always been fascinated in ordinary people doing extraordinary things in the most incredible of situations," says Scott, "and that certainly describes the indomitable Nat Reeves as she plunges head first into a shift in the world's only emergency room for supernatural entities. From murderous minotaur to gelatinous cubes with severe cases of food poisoning, no two patients are alike at St. Lilith's.
"However, as we know from shows like E.R. and Grey's Anatomy, the biggest dramas come from the lives of the medical staff themselves and St. Lilith's is no different. As Nat navigates everything from the troubled birth of a giantess's baby to a growing plague among the preternatural patients, she must also balance her life as a mother with the professional jealousies she faces every day in her job. Can she keep her work at St. Lilith's a secret while protecting those closest to her?"
The Ward #1 (of 4) will be available at comic stores June 8, 2022 and is available for pre-order at your local comic shop.
Praise for Cavan Scott:
"Cavan Scott is a masterful storyteller who understands the nuance and emotional undercurrents of horror and wields them with brutal efficiency." New York Times Bestselling Author of Dreadnation, Justina Ireland.
"If anyone knows how to navigate the twisting crossroads of horror and dark fantasy, it's Cavan Scott." Screenwriter and author of Whisper Down The Lane, Clay McLeod Chapman
"Cavan Scott is a master of the macabre. Yet amongst the darkness, his characters shine with real heart and humanity. The Ward is urban fantasy at its very best." Sunday Times Bestselling author of the Newbury and Hobbes adventure, George Mann
"It's a rare skill to bridge the gap between tales of epic scope and the universality of human experience. Cavan has shown time and again that he's a master of the art; investing the most relatable emotion into the most spectacular scenarios." Award-winning writer of Hellblazer, Coda and Step By Bloody Step, Si Spurrier
"Cavan Scott is a gifted, multi-genre writer who excels wherever he goes. Horror, sci-fi, you name it. A sharp plotter with a knack for character, I'm a lock for whatever Cavan does next." Acclaimed author of Secret Identity, The Black Ghost and Star Wars Poe Dameron: Free Fall, Alex Segura
"Cavan Scott is one of those rare writers who not only thoroughly understands many genres, but he knows how to turn them inside-out and find something unique and innovative with each story he tells. His stories are layered with meaning, his characters rich with texture. No matter where he goes–fantasy, horror, or otherwise–I'm sure to follow." Michael Moreci, author, comic writer and screenwriter of Barbaric and Revealer