Comics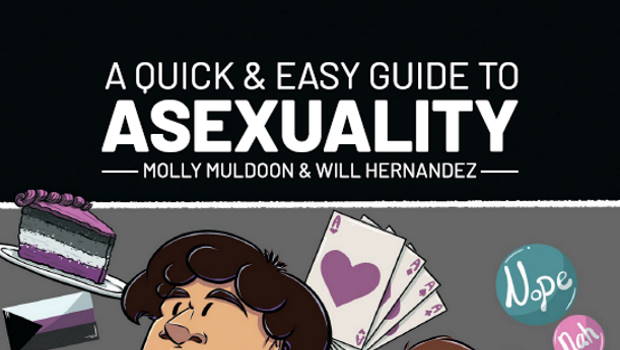 Published on November 17th, 2021 | by Chris O'Connor
A Quick & Easy Guide to Asexuality Review
Summary: Still significantly underrepresented in mainstream media, asexuality is a perfectly valid identity and deserves to have a bit more attention paid to it so everyone can learn what it is and that it's not as uncommon as some might think.
Sex sells is what media has told us for years… but what if you just don't have any particular interest in sex? A Quick & Easy Guide to Asexuality first of all explains what being asexual means and then reassures readers that it's perfectly natural and normal. Representation matters and learning a term for how you feel along with learning that there are many others who feel the same way can be a real revelation and lift a huge weight off people's shoulders. So join Molly and Will as they take readers on a quick and easy guide to asexuality.
Writing
As part of the larger catalog of these types of books from Limerence Press, A Quick & Easy Guide to Asexuality continues that easy to pick up and very approachable style that helps to demystify something that really isn't all that talked about generally. Mainstream media is more and more frequently covering different aspects of the LGBTIQA+ spectrum… but there are still some "blind spots", elements that don't get much coverage and therefore, those who identify in a certain way can still feel left out and or alienated. A Quick & Easy Guide to Asexuality does a great job of starting by giving a list of what is and what isn't covered in the book… then progressing to define asexuality and then further delve into what it means to be asexual. For the average reader, the section on commonly asked questions is probably as good a place to start as any (no doubt why it is very early in the book). But the whole thing will leave readers feeling much better informed and hopefully if they feel they themselves are asexual, much more at peace with themselves and more comfortable knowing they are valid and there's nothing wrong with not feeling sexual attraction.
Artwork
Similar to previous titles in this group of books, the art style is what you might call playful. There are no highly detailed figures here, everything is given a cartoony look which helps keep the mood light. The playful images go a long way to preventing the subject matter intimidating readers and help make it feel like a warm and inviting space to learn about asexuality.
Final Thoughts
A Quick & Easy Guide to Asexuality is a great book to learn more about what it means to be asexual and can help those who identify as asexual or even just people who want to know more about asexuality so they can better understand friends or family who might identify as such. A great option for high school libraries too as it is takes a very considerate approach to the subject matter and may well help some people feel more at ease with themselves when things can be confusing enough with all the other changes going on.
Comic Details
Publisher: Limerence Press
Writer: Molly Muldoon, Will Hernandez
Artist: Will Hernandez
Cover Artist: Will Hernandez
Genre: LGBTIQA+,
Format: 72pgs, B&W, TPB
Release Date: 29th March 2022