Hardware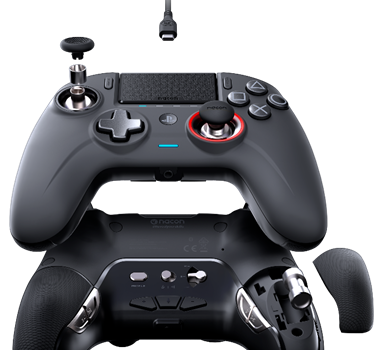 Published on February 19th, 2019 | by Admin
A NEW REVOLUTION IS COMING
Equipped with a wireless mode, NACON's new officially licensed controller
for PlayStation®4 will be available early 2019 
Melbourne, February 19th 2019 – NACON, designer of gaming accessories, unveils more information about the REVOLUTION Unlimited Pro Controller, a new licensed controller equipped with a wireless mode for PlayStation®4 (PS4™), about to join NACON's range of officially licensed accessories.
NACON'S REVOLUTION Unlimited controller offers plenty of customisation options in both hardware and software. All created to please the most competitive gamer.
The REVOLUTION Unlimited Pro Controller comes with interchangeable joystick heads and shafts, allowing a choice of concave or convex heads and larger diameter shafts. In addition there is a concealed weight compartment in each hand grip where the controller weight can be adjusted.
Included with the controller are: 2 x pairs of joystick heads (concave & convex), 3 x pairs of shafts (30°, 38° & 46°) and 3 x pairs of weights (2x10g / 2x14g / 2x16g). To keep everything safe and secure, an EVA zipped hard storage case in also included.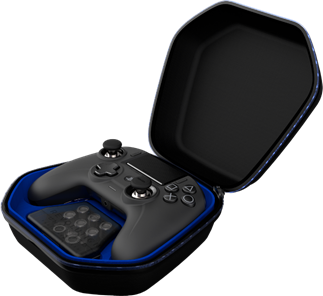 REVOLUTION Unlimited Pro Controller officially licensed for PlayStation®4 features include:
Wireless Bluetooth® connection via USB dongle (7m range)
Wired connection via USB-C cable (3m length)
PS, SHARE, OPTIONS buttons
Full function touch pad
4 shortcut buttons (S1/S2/S3/S4)
5mm headset jack: audio and chat in both wired and wireless modes
Two internal compartments and six additional weights to adjust the balance (2x10g / 2x14g / 2x16g)
Soft-touch finish to the controller's casing
EVA storage case included
Compatible with all PS4™ systems
Compatible with PC games in PC Advanced Mode*
Back control panel
Manual control of the headset volume and mute button
Game mode selection button (1-PS4 / 2-PS4 Advanced / 3-PC Advanced*)
Platform selection button (PS4/PC*)
More information about the NACON REVOLUTION Unlimited Pro Controller features, including the customisation software interface, will be unveiled shortly. Stay tuned!
NACON's REVOLUTION Unlimited Pro Controller, officially licensed by for PS4™, will be available in Australia and New Zealand from mid-April 2019 with an AUD RRP of $299.95.