Events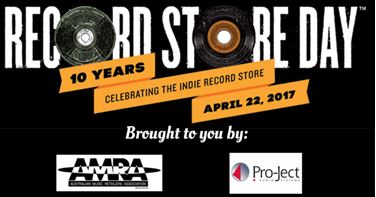 Published on April 10th, 2018 | by Admin
A LIST OF STORES ACROSS THE COUNTRY OF THOSE TAKING PART IN RECORD STORE DAY 21 APRIL
LOTS OF ACTIVITY PLANNED FOR RECORD STORE DAY
21 APRIL 2018
It is now two weeks until the 11th Record Store Day Australia and stores around the country are gearing up for one of their busiest days of the year.
This annual event reiterates the importance of the traditional music outlet as one of the major avenues for the public to discover the many genres of music releases each year.
Record Store Day is a once-a-year unmissable day for all music lovers. This year it's celebrating 11 years with a record number of participating indie record stores. Set for Saturday 21 April more than 190 indie music stores around Australia will throw open their doors to live music, DJs spinning the vinyl, treasure hunts, parties, barbecues, coffee carts, face painting and, of course, the legendary vinyl crate digging.
The indie record store is a community hub for music lovers: a place to find new music, reconnect with old and new music from old friends, get great advice and recommendations, hear musicians live, find out what's happening in the local music scene, and generally hang out with people who love music as much as you do.
Information about what is happening in which store is regularly added to the Australian website and social media and below are the stores that have registered to date. Record Store Day Ambassadors  Michael Chugg, Dan Sultan and Amber Lawrence are all available for interviews.
VICTORIA
Abbotsford – Dutch Vinyl Record Store,
Ballarat – Black Swan Records,
Blackburn – Dixons Records-
Belgrave – Son Of Run,
Brunswick – Gutterhype Records
Brunswick – Record Paradise
Brunswick – Round and Round Records
Brunswick – Lost and Found Market
Burwood – Audiophile Reference Recordings, Burwood
CarltonReadings Books Music Film
Carlton North – Goldmine Records
Carlton North – Stereophonic
Castlemaine – Family Videoland
Castlemaine – Record Low
Coburg North – Round again
Collingwood – Happy Valley
Collingwood – Ricks Records
Collingwood – Skydiver
Collingwood – Vinyl Space
Dandenong – Radical Records
Dandenong North – Urban World Australia
Ferntree Gully – Captain Stomp Records
Ferntree Gully – Market Fair
Fitzroy – Dixons Records – Fitzroy
Fitzroy – Houndstooth Bar and Kitchen
Fitzroy – Northside Records
Fitzroy – Oh Jean! Records
Fitzroy – Plug Seven Records
Fitzroy – Poison City Records
Fitzroy – Polyester Records
Fitzroy – Strangeworld records
Fitzroy – The Searchers
Fitzroy – Vinyl Revival
Fitzroy North – Goldmine Records
Geelong – Gifts For The Geek
Geelong – Real Music Vinyl & Cd's
Hawthorn – Readings Hawthorn
Malvern – Quality Records Plus
Melbourne – Alley Tunes, Melbourne
Melbourne -Basement Discs, Melbourne
Melbourne -Heartland Records
Melbourne -Off The Hip
Melbourne -Rocksteady Records
Melbourne -Wax Museum Records
Melbourne -White Rabbit Record Bar
Moonee Ponds – Essendon CDs Records and Books
Newcomb – Prehistoric Sounds Geelong
Northcote – Rathdowne Records
Northcote – Records Etcetera
Ocean Grove – Bookgrove
Prahran – Greville Records
Prahran – Licorice Pie Records
Prahran – Profile Music
Preston – Discography Records
Richmond – 24Hundred, Richmond
Rosebud – Reload Records
St Kilda – Readings St Kilda
Stawell – JT's Hifi
Thornbury – Multisonics
Thornbury – Thornbury Records
Thornbury – High on Vinyl
Warranbool – Prehistoric Sounds Warrnambool
Windsory – Union Heights
NEW SOUTH WALES
Adamstown – Black Pug Records
Annandale – The Vintage Record
Armidale – Readers Companion
Ballina – Just Funkin Music, Coffee and Books
Bega – Sugar Sounds
Bellingen – Roots Records
Blackheath – Hat Hill Gallery
Broadmeadow – The Book Buff
Bungalow – The Finders Club
Byron Bay -Howl & Moan Records
Coffs Harbour – E Degrees
Darlinghurst – Radio Free Alice
Darlinghurst – The Recordstore
Dee Why – Sandys Music
Erskinville – Revolve Records Relics
Glen Innes – TSG Glen Innes
Jannali – Sauce Records
Katoomba – The Velvet Fog
Kiama – Johnny The Fox Records
Lismore – Music Bizarre
Long Jetty – Sound Exchange
Manly – Desire Books & Records
Marrickville – Resist Records
Marrickville – RPM – Records Posters Memorabilia
Mona Vale – Pacific Records
Mona Vale – Sydney Hi Fi Mona Vale
Mudgee – Mr Dykes
Newcastle – Famous Rock Shop
Newcastle – Odditorium
Newcastle – RAD Store
Newcastle – Repressed Records
Newcastle, Cooks Hill – ABICUS
Newtown – 567 King
Newtown – halcyon daze records
Newtown – Hum On King
Parramatta – Beatdisc Records
Raymond Terrance – Stella Records
St Mary's – St Mary's Sound
Surry Hills – TITLE Record Store
Sydney – Birdland Records
Sydney – Red Eye Records
Sydney – Richmond Record
Sydney — Sounds Espresso
Sydney -Fish Fine Music
Sydney -Mojo Record Bar
Sydney -Utopia Records
Thirroul – ranks Wild Years
Thirroul – Urge Records
Wollongong – Music Farmers
ACT
Canberra – Duratone HiFi
Canberra – Dynomite Records
Canberra – Landspeed Records
Canberra – Miranda Hi-Fi
Canberra – Songland
TASMANIA
Launceston – Avenue Records
Launceston – CD Centre
Burnie – Collectors Corner
Hobart – Ruffcut Records
Sheffield – The Emporium
Hobart – Tommy Gunn Records
QUEENSLAND
Berkserker – Millennium Comics and Collectables
Boonah – Boonah Toys Music & More
Brisbane – Record Exchange
Brisbane – Rockaway Records
Brisbane – Rocking Horse Records
Brisbane – Sonic Sherpa
Broadbeach – Beatniks
Cairns – LP RECORDS
Camp Hill – The Audio Tailor
Fortitude Valley – Living Sound & Vision
Fortitude Valley – Phase 4
Fortitude Valley – Tym Guitars
Mareeba – Colly Dolly Music & Movies
Nambour – Backbeat Records
Nambour – The Time Machine
Oxley – Relove Oxley
Red Hill – Monster Robot Party
Southport – Atlantis Music
Southport – Butter Beats Gold Coast
Toowoomba – Bunker Records
West End – Jet Black Cat Music
SOUTH AUSTRALIA
Adelaide – Clarity Records
Adelaide -clinic116
Edwardstown – Cross Road Collectables
Norwood – Dillons Music
Adelaide -Inbound Records
Aldinga – Lou's Shack – Vintage and Vinyl
Robe – Memory Lane Antiques and Collectables
Semaphone – Mr V Music
Port Pine – Music Mooves  & Movies
Adelaide -Paradise Loft Records
Adelaide -Rerun Records & Photography
Adelaide -Rev Music
Daw Park – Rocktheraphy Records
Adelaide -STREETLIGHT Music-Film-Books
Adelaide -The beatbox
St Morris – The Muses
Norwood – Underground Records
Adelaide – Vinyl Squeeze
Torrensville – Vital Solutions Music
WESTERN AUSTRALIA
Augusta – What's That Stuff
Beaconsfield – DiscographyVinyl
East victoria Park – Rhubarb Records
Fremantle – Junction Records
Fremantle -Mills Records Fremantle
Fremantle -The  Record Finder
Leederville – Rhubarb Records – Vinyl Cafe
Margaret River – Soundwaves Music and More
Midland – Midland Records
Midland – West Coast Hi-Fi
Mt Hawthorn – Diabolik Books & Records
Northbridge – Noise Pollution Records
Northbridge – Safari's Record Shack
Perth – 78 Records
Perth – Douglas Hifi
Perth – Highgate Continental
Perth – replay records
Perth – Unknown Treasures
Perth – Urban Records
Perth – Dada Records
Stirling – Wolfie's Records
Yokine – Sound One
Website:  www.recordstoreday.com.au
Facebook: www.facebook.com/RecordStoreDayAustralia
Twitter: twitter.com/RSDAustralia
Instagram: www.instagram.com/RSDAustralia