Events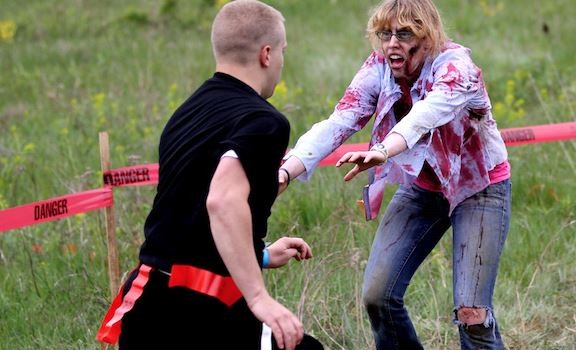 Published on June 26th, 2015 | by admin
A Chance To Live Your Favourite Zombie Games Fantasy – Run For Your Lives Is Coming To Sydney
Originating in the United States, the worldwide event is to be brought to Australia, and with more than 51,000 'likes' on their Australian Facebook page, it is safe to say that the people down under are excited for the challenge! 
Run For Your Lives is a one-of-a-kind obstacle sports event brought to you by Singapore based sports entertainment company, Action X. The race takes participants through a series of physically challenging obstacles throughout a zombie-infested course.
Participants have the option to either race as a 'Survivor' or a 'Zombie' and, following the one and a half hour race, will be greeted with an Apocalypse Party with dance music, entertainment and fringe activities past the finish line.
Sydney will play host to hit the zombie-riddled course on the 5th of September 2015 at the Western Sydney Parklands. 
Run For Your Lives Australia tickets will be eaten up quickly so don't miss your opportunity to participate and RSVP now. Visit the website for more information http://runforyourlives.com.au.
Run For Your Lives Australia 
Event Details
Date:                           5th September 2015, Saturday
Venue:                         Western Sydney Parklands, The Dairy
400 Cowpasture Road, Abbotsbury, NSW 2176 Australia
Time:                           06:00 AM to 08:00 PM
Registration Period:  2nd June 2015, Tuesday
Ticket Price:                AUD 69 onwards
Wave Timings
Survivors:                    8:00am, 8:30am, 9:00am, 9:30am, 10:00am, 10:30am
11:00am, 11:30am, 12:00pm, 12:30pm, 1:00pm, 1:30pm
2:00pm, 2:30pm, 3:00pm, 3:30pm
Zombies:                     8:00am, 9:30am, 11:00am, 12:30pm, 2:00pm, 3:30pm
Reporting Time
Survivors: 1 hour before selected wave time
Zombies: 2 Hours before selected wave time
Post-Race Activity: Apocalypse Party
Celebrate your survival or imminent zombie transformation at this one-of-a-kind festival complete with food, drinks, entertainment, and of course, beer and alcohol!