Games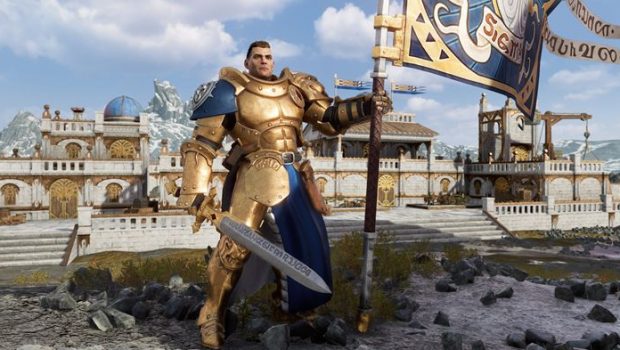 Published on November 19th, 2023 | by Adrian Gunning
A campaign of brutal conquest dawns in Warhammer Age of Sigmar: Realms of Ruin, available now on PC, PlayStation 5® and Xbox Series X|S
Frontier Developments plc (AIM: FDEV, 'Frontier') today released the real-time strategy game Warhammer Age of Sigmar: Realms of Ruin on PC via Steam and the Epic Games Store, PlayStation® 5 and Xbox Series X|S. The first ever RTS based on Games Workshop's expansive fantasy universe features four distinct factions, an epic cinematic singleplayer campaign, 1v1 and 2v2 competitive multiplayer, Conquest Mode for challenging solo play as well as endless creativity via the Map Editor and Army Livery tools.
Warhammer Age of Sigmar: Realms of Ruin is available for PC via Steam and the Epic Games Store, and for PlayStation®5 and Xbox Series X|S, for a suggested retail price of £49.99/$59.99/€59.99 for the Standard Edition, £59.99/$69.99/€69.99 for the Deluxe Edition and £64.99/$74.99/€74.99 for the Ultimate Edition. Along with the base game, the Ultimate Edition provides players with four Alternate Hero Skins (one per faction), two Profile Customisation Sets and access to the upcoming Hero DLC 1 & 2 packs, Yndrasta, the Celestial Spear and Gobsprakk, the Mouth of Mork. The Deluxe Edition includes the base game, Alternate Hero Skins and two Profile Customisation Sets.
Realms of Ruin is a game of tense and tactical battles, set in Ghur, one of the eight Mortal Realms in Warhammer Age of Sigmar. This thrilling RTS can be enjoyed with both mouse and keyboard and a controller via DirectStep™, an innovative interface that gives players using a gamepad the flexibility and responsiveness of traditional RTS controls. PC players can enjoy a fine-tuned mouse and keyboard experience, in the classic vein of the genre.
The singleplayer campaign follows a detachment of the mighty warriors known as the Stormcast Eternals as they venture into the inhospitable swampland of Ghur, in search of an artefact of great power. Their goal is to save their fortress settlement, Harkanibus, from relentless siege by the brutal Orruk Kruleboyz faction who make the swamps their home. This source of power bears a dark history, however, and as the story switches perspectives between those connected to the artefact, commanders will be introduced to two additional factions: the Disciples of Tzeentch, the masters of manipulation and weavers of fate, as well as the spectral swarms of the Nighthaunt. A twist-filled tale of desperate survival in a savage realm awaits seasoned RTS fans, Age of Sigmar aficionados, and those who are completely new to the genre.
Each faction is completely distinct from one another. The Stormcast Eternals are tactically balanced, bringing versatile squads to the fray as well as heroes who provide vital buffs, and crowd control abilities. The Orruk Kruleboyz are cunning in nature, mixing cheap units, powerful defensive squads, and lumbering monsters. The Nighthaunt are the masters of swarm tactics and mobility and can even resurrect units as they persist in battle. Finally, the Disciples of Tzeentch are deadly at range, using offensive spells to wipe out their enemies, before the overwhelmingly powerful Lord of Change arrives to tip the scales in their favour late in the game. Players will learn how each faction's strengths and weaknesses are stacked against each other as they master the combat dynamics of Realms of Ruin.
Players can dive into 1v1 and 2v2 cross-platform multiplayer matches with any mix of human and AI teammates or opponents, and climb a 1v1 competitive ladder. Each battle sees players vying for an array of Victory Points and Arcane Conduit resource points around a variety of maps, building defensive and offensive structures to further their strategies and progressing through a tech tree to unlock new unit abilities. Upgrading each faction's command post grants access to more powerful units, heroes and monsters, as well as an elevated population cap, resulting in an extraordinary late-game spectacle of clashing weaponry, magic projectiles and towering daemons.
Those looking for more singleplayer action beyond the campaign can enjoy Conquest Mode, where players select a faction and make their way across a procedurally generated map screen where they'll tackle individual battles against AI opponents. Game-changing twists throw unusual parameters into the mix, like increased unit speed, greater damage by all units and faster Arcane Conduit capture. The goal is to get the highest score possible, choosing between multipliers and extra lives while heading towards each map's final battle. Each run is generated by a seed number that can be easily shared.
Extensive customisation options give players the power to personalise their Realms of Ruin experience. The Army Livery tool customises the colour schemes for each faction, using paint colours from the official Citadel collection for that authentic Warhammer experience. In the Map Editor, players will craft multiplayer maps using detailed placement options and terrain painting tools then share them via the in-game workshop, so other players across all formats can download, play and rate them. Those same Map Editor tools can be used to create custom scenes; visually spectacular battle dioramas that showcase the factions of Realms of Ruin in extraordinary detail.