Games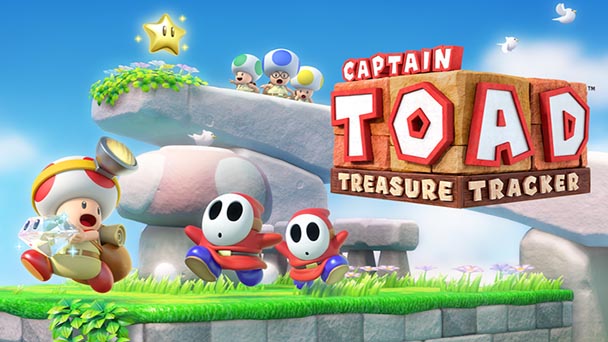 Published on March 16th, 2019 | by Admin
A BIG ADVENTURE GETS EVEN BIGGER WITH THE CAPTAIN TOAD: TREASURE TRACKER – SPECIAL EPISODE DLC, AVAILABLE NOW FOR NINTENDO SWITCH
Paid DLC offers 18 new challenges including five completely new courses, with the whole game now playable in two-player co-op
15th March, 2019 – It's time for budding adventurers to grab their backpacks and head torches once again, as Captain Toad: Treasure Tracker – Special Episode* is available now for Nintendo Switch. First revealed in a Nintendo Direct broadcast on 14th February, this paid downloadable content is available via Nintendo eShop, and includes 18 new challenges, including five new courses and new Shiny Crowns to track down on each course. The new courses include colourful new environments such as sunken ships and a kingdom made of sweets. And for those who are yet to embark on any adventures with Captain Toad, a digital bundle is now available on Nintendo eShop that includes the main game and the DLC in one bundle.
Captain Toad: Treasure Tracker is a puzzle-platformer in which players must help Captain Toad and his adventuring companion Toadette navigate through a series of ingeniously designed 3D levels. The goal is to grab the star in each level to progress, but there are also plenty of hidden collectibles for eagle-eyed players to find along the way. Captain Toad himself might not look like your typical hero – for starters his heavy backpack means that jumping isn't part of his repertoire – but he's brave and determined, and always strives to achieve his goals. The Captain Toad: Treasure Tracker Overview Trailer is a good place to start for newcomers to the game.
Furthermore, a free update that was released in February makes every course playable in two-player co-op mode – perfect for friends and families who want to explore the world of Captain Toad: Treasure Tracker together. Two heads can be better than one when there's treasure to be found!
The Captain Toad: Treasure Tracker Special Episode DLC adds a chestful of new content to the charming puzzle-platformer. It's available for download now on Nintendo Switch and can be enjoyed solo or together with a friend in two-player co-op mode.