Films
Published on February 12th, 2020 | by Tim Cooper
A Beautiful Day in the Neighborhood – Film Review
Reviewed by Tim Cooper on the 12th of February 2020
Sony presents a film by Marielle Heller
Produced by Youree Henley, Peter Saraf, Marc Turtletaub, and Leah Holzer
Written by Micah Fitzerman-Blue and Noah Harpster based on 'Can You Say …Hero?' by Tom Junod
Starring Tom Hanks, Matthew Rhys, Susan Kelechi Watson, Maryann Plunkett, and Chris Cooper
Music by Nate Heller
Cinematography by Jody Lee Lipes
Edited by Anne McCabe
Rating: PG
Running Time: 110 minutes
Release Date: the 23rd of January 2020
A Beautiful Day in the Neighborhood is buoyed by a retrained screenplay by writers Micah Fitzerman-Blue and Noah Harpster. Their work is loosely based on Tom Junod's 1998 Esquire article Can You Say…Hero? Fitzerman-Blue, Harpster, and director Marielle Heller (Can You Ever Forgive Me?, 2018) have utilised the source material to craft a realistic family drama that offers strong performances and a confident, emotionally satisfying conclusion.
After failing to secure the desired heroes for a GQ editorial piece, investigative journalist Lloyd Vogel Matthew Rhys (The Americans, 2019) is assigned to interview Fred Rogers. Rogers, deemed by Lloyd as 'hokey', is currently hosting his children's show Mister Rogers' Neighborhood. However, during their interview, the Presbyterian Minister deflects Lloyd's questions and calmly turns the mirror back on him. Unsure how to probe his elusive subject, Lloyd's failure to understand Rogers' motivation leaves him shaken and frustrated.
Lloyd's professional dissatisfaction causes fractures at home with his wife, Andrea (Susan Kelechi Watson) and their newborn child. The tension is amplified by an ongoing battle with his alcoholic father, Jerry (Chris Cooper). Jerry abandoned Lloyd's terminal mother before her death. When ordered to persevere with the editorial, Lloyd's grievance in understanding the seemingly perfect and winsome Rogers ensures he undertakes a more profound and personal journey than anticipated.
Despite the extraordinary time Mister Rogers' Neighborhood stayed on the air (Rogers hosted from 1968–2001), the programme was not widely known outside America. While it may not interest unfamiliar audiences, knowledge of Rogers' legacy or the show isn't essential to enjoy the film. This is partly because of the smart decision by Marielle Heller and her writers to focus on Lloyd and relegate Rogers to a supporting role.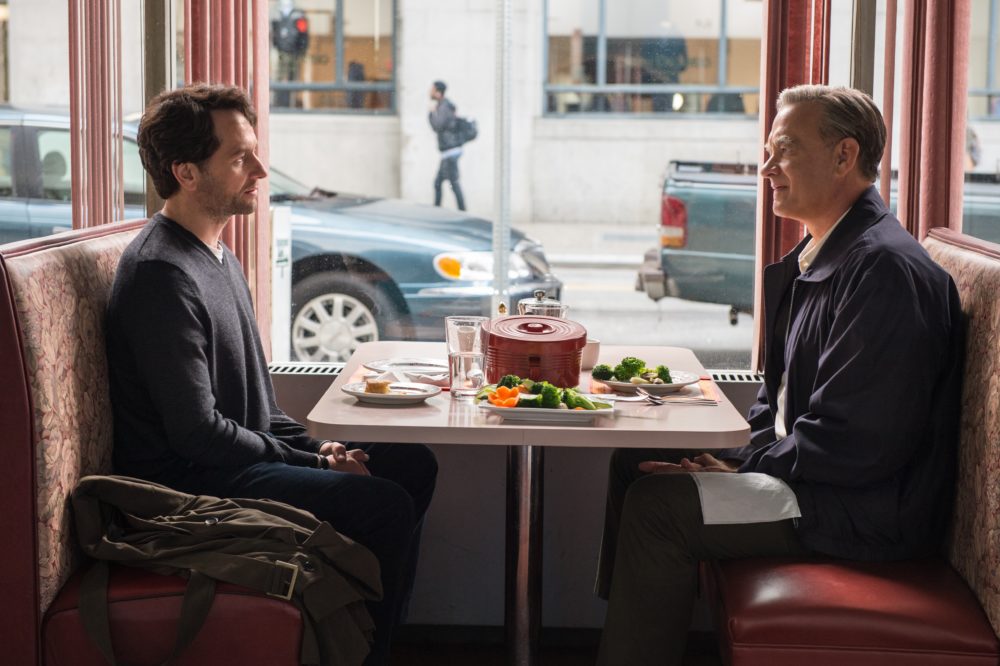 Matthew Rhys commendably holds the lead by making Lloyd conflicted and underlining how his emotional stagnation blocks his progression as an adult. Rhys also successfully conveys Vogel's disharmony with his world and relationships in a suitably sombre manner. The actor's meditative screen presence shows more beneath the surface and cracks beautifully the moment he and Hanks share screen time together.
Tom Hanks has established himself stronger than any other recent actor as the 'all-American' hero through powerful, grounded performances, including most notably in Forrest Gump (1994). More Jimmy Stewart than Cary Grant, he is the rare actor everyone respects. Consequently, it is unsurprising seeing him as seemingly perfect Rogers. What engages differently is the lightly, subtle composure previously unseen in his performances. He is magnetic but distant, and, at times, cold and strange. The actor gives a strong emotional focus to the man using Rogers as a facade to engage and educate the world. Much like Lloyd, he carries sadness and frustrations. Through this characterisation, Rogers stands among Hanks' best performances.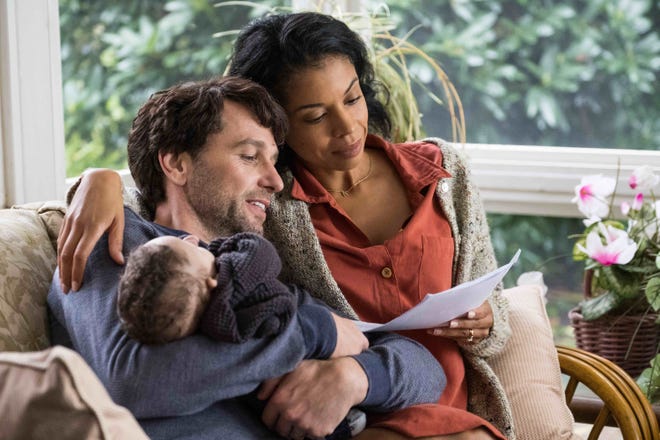 The supporting cast, including Chris Cooper, Maryann Plunkett (Little Women, 2019), and Susan Kelechi Watson (The Blacklist), also impresses. Chris Cooper carries his character's motivation beyond his delivery and is well cast as Lloyd's alcoholic father, Jerry. Plunkett, playing Rogers' wife, Joanne, adds emotional depth to the relationship behind Rogers' public persona. Her small role belies the true depth of their marriage. Respectfully, their story is not the focus. An entire film would be required to explore it thoroughly. As Lloyd's wife, Andrea, Susan Kelechi Watson shows how she carries the emotional burden associated with her husband's inability to forgive. Her performance resonates with viewers when collectively experiencing Lloyd's disconnect from his career and family.
A Beautiful Day in the Neighborhood is a refreshingly wholesome movie supported by tenacious directing and strong acting. This accessible but affecting story of family and forgiveness succeeds by having its creative elements align around Hanks' powerfully controlled, unwavering performance. Meanwhile, Matthew Rhys holds his own by displaying how conflicted Lloyd is regarding his interview subject and his fractured personal life. The actors ensure that even those unfamiliar with Rogers can connect with this story of anger and forgiveness, where even seemingly perfect individuals subdue feelings of animosity. As a result of these strong facets, Marielle Heller's fourth film will be a work that cinema lovers will gleefully anticipate.
Summary: A refreshingly wholesome movie supported by tenacious directing and strong acting.