Films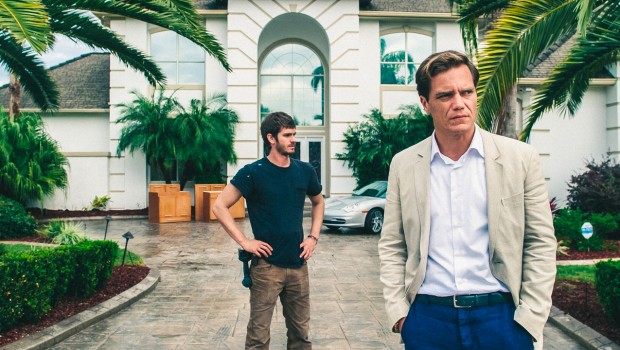 Published on November 18th, 2015 | by Damien Straker
99 Homes – Film Review
Reviewed by Damien Straker on the 17th November 2015
Madman presents a film by Ramin Bahrani
Produced by Ashok Amritraj, Ramin Bahrani, Andrew Garfield, Justin Nappi and Kevin Turen
Written by Ramin Bahrani, Bahareh Azimi and Amir Naderi
Starring Andrew Garfield, Michael Shannon, Laura Dern and Noah Lomax
Music by Antony Partos and Matteo Zingales
Cinematography Bobby Bukowski
Edited by Ramin Bahrani
Running Time: 112 minutes
Rating: M
Release Date: the 19th November 2015
99 Homes stars Andrew Garfield (The Social Network, The Amazing Spider-Man) as Nash, a young man who works on minor construction jobs. He lives with his mother Lynn (Laura Dern) and his son Connor (Noah Lomax) but one day he is told his house has been foreclosed by the banks. The real estate agent running this operation is Carver (Michael Shannon), who ensures Nash and his family are evicted from their home on the spot and their furniture is placed onto their front lawn. Carver is a ruthless, cold-blooded man, who has a concealed pistol strapped to his ankle and has little time for empathising with other people. After Nash and his family are relegated to a dodgy motel, he discovers some of his work tools were pinched by a labourer who worked with Carver. He tracks the man down and in the heat of the confrontation, Carver remembers Nash and offers him the unpleasant job of cleaning sewerage from a house needing sanitising. Seeing Nash's willingness and desperation for employment, Carver hires him on various housing jobs and scams. By employing Nash to remove furnishings and appliances, Carver is reimbursed by the banks before having the appliances reinstalled in the same houses. As Nash brings in the dollars, Carver offers to buy his old home from the bank and resell it to him, but his requests also become increasingly challenging and morally ambiguous.
Ramin Bahrani directed the film and also co-wrote the script with Amir Naderi and Bahareh Azimi. I haven't seen Bahrani's other films, such as Man Push Cart (2005), Chop Shop (2007) and Goodbye Solo (2008), but I have read they are all concerned with marginalised people, mostly immigrants, in the United States. 99 Homes, dedicated to film critic Roger Ebert who championed Bahrani, focuses on white Americans but race is irrelevant given the wide applicability of the emotional and thematic content. Set after the Global Financial Crisis, it is contemporary and classical: a Faustian story about how a young man will sell his soul and his values to the Devil to help his family. Describing the film in these terms though simplifies the complexity of Bahrani's analysis. The film isn't making a large statement about the immoral nature of the banks—a subject of which no intelligent adult should be in denial. Rather, 99 Homes joins the company of recent films including All is Lost, Margin Call, Nightcrawler that offset the banality of this decade by characterising the period as teetering on economic and social obliteration. The film is a case study in empathy and difficult moral choices, questioning what we'd do for our families as we seek subpar employment in an increasingly merciless world, forgetful of impoverished and marginalised people.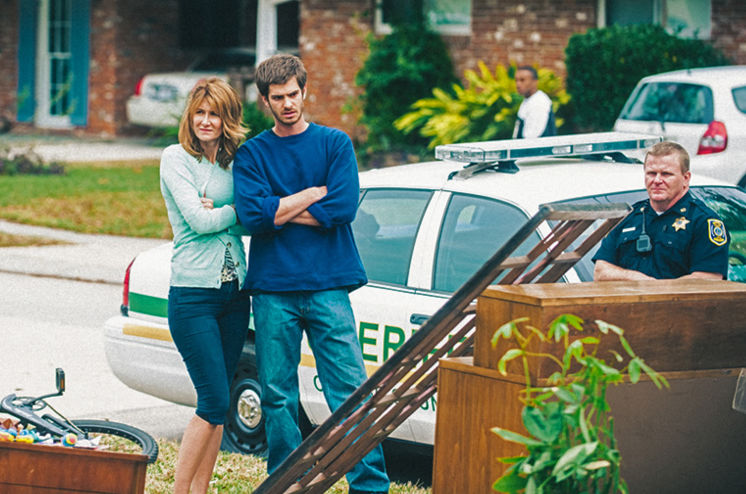 On the whole, it's an intense story and very well performed, with Andrew Garfield giving his best performance since The Social Network. Nash is a scruffy, disheveled and emotionally wrought creation, born from Garfield's naturalistic acting licence that allows him to stumble over his lines and compete with his fellow actors in verbal stoushes of overlapping dialogue. His character is constantly troubled by the decisions he makes and the people he is affecting, particularly his son. While conventional as a personal and emotional stake, the family here forges major sources of personal conflict and valuable story hooks regarding Nash's choices. Contrastingly, Carver's attitude and values are immovable. His unflinching, merciless state is expressed in artistic terms through an unbroken tracking shot in the film's opening, where he leaves a house unfazed after discovering a body. Shannon's part is comparatively more theatrical and showier than his understudy. He is also given some juicy, funny lines, such as: "America bails out winners!" His dialogue patterns are also deliberately rigid and procedural, contrasting the hysterical emotional pleas of the people he displaces.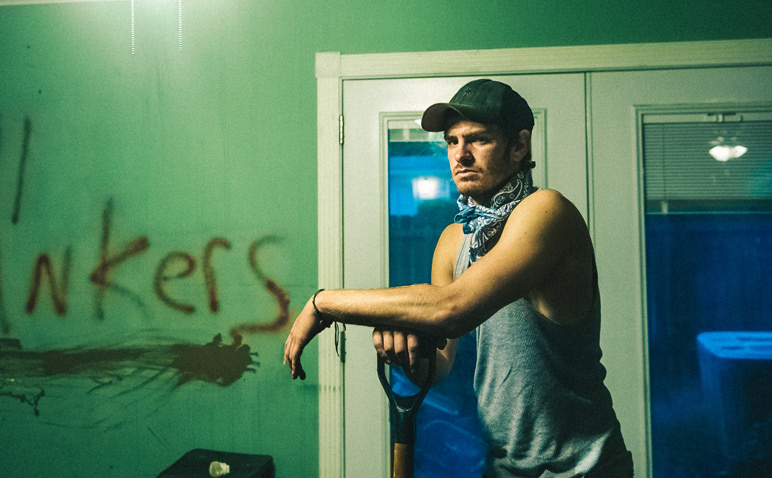 Some might argue Carver is a caricature, belonging to the family bloodlines of There Will Be Blood's Daniel Plainview but I think it'd be naive to assume there aren't people in America who are this ruthless and cold. As terrible as it sounds, there is also something engaging and hilarious when a character is forthright on screen about their ugly values like greed and self-preservation. At times, his expressions had me laughing like when he describes Noah's Ark and how only one in a hundred makes it onto the boat and how he's not going to drown. An anecdote about his family history and how it's influenced his cynical view on money and American culture, along with a visible interchange of female companions each time Nash visits his house, are character details that compensate for Carver not having an arc of development.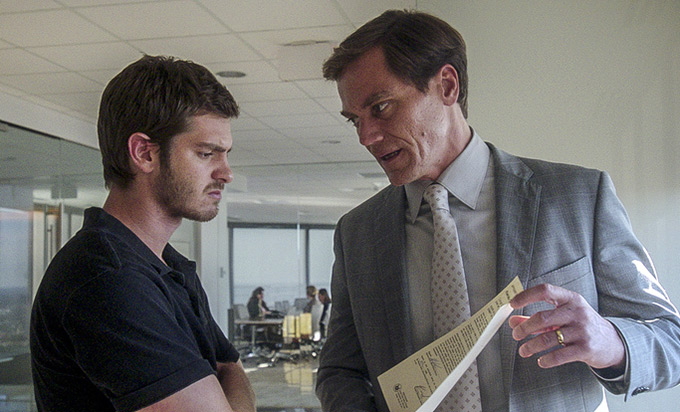 It should be noted that before watching the film it would pay to do research on housing foreclosures. I found parts of the story confusing, such as keeping up with Carver's partnerships with the banks. Meanwhile, as a portrayal of a desperate Americans facing impending doom and poverty, I believe that Nightcrawler is not only thematically similar but a better film. Its achievement was never succumbing to a moment where the main character realised his mistakes but instead thrived off his wickedness, which is a more challenging and original statement for a Hollywood film. This isn't to say that 99 Homes descends into a cliché redemptive conclusion—it thankfully avoids such easy conclusions for as long as it can. However, the melodramatic finale isn't as honest or realistic as the depictions of the early eviction scenes. It could even have been more damaging than it is but nonetheless, the heavy toll to reach this point and the two powerful lead performances in this tough, emotional film are strong recommendations on their own.
Summary: The two powerful lead performances in this tough, emotional film are strong recommendations on their own.