Games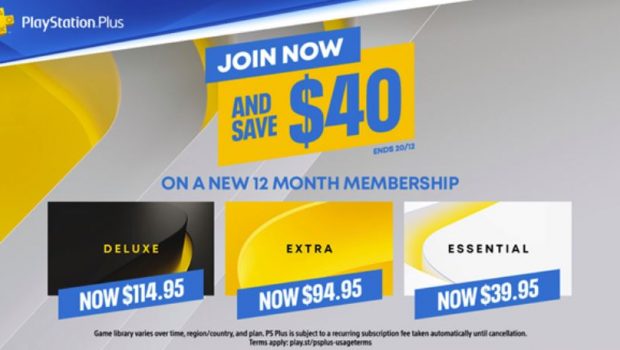 Published on December 13th, 2022 | by Andrew Bistak
$40 off for new PlayStation Plus 12-month memberships for a limited time
As the holiday season approaches, get the perfect gift for the gamer in your life (or for yourself!) and make the most of PlayStation Plus' awesome membership offers to enjoy hundreds of PS5, PS4, and classic PlayStation games.
From now until 20th December, all PlayStation Plus membership tiers will be $40 off for new 12-month sign ups. Don't miss the opportunity to experience the unmissable benefits from the three great value membership plans that unleash the power of your PlayStation console.
PlayStation Plus Essential members can enjoy PlayStation®4 (PS4™) and PlayStation®5 (PS5™) monthly games, online multiplayer access, exclusive discounts, cloud storage, and more.
The PlayStation Plus Extra and Deluxe Game Catalogue includes hundreds of titles at your fingertips, including blockbuster hits from PlayStation Studios catalogue and third-party partners including Stray, Deathloop, Assassin's Creed, and Skyrim, as well as new genres to dive into and vibrant online communities to play with.
For more information on PlayStation Plus, visit playstation.com.