Hardware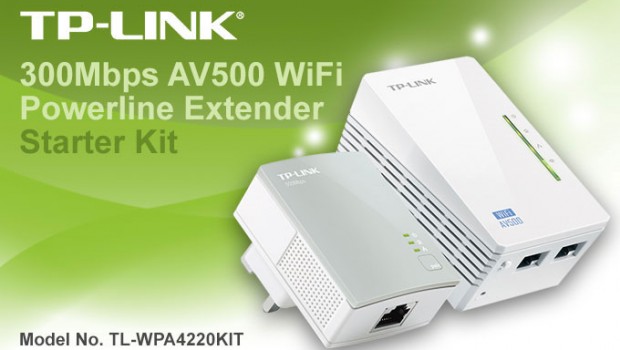 Published on June 29th, 2014 | by Admin
300Mbps AV500 WiFi Powerline Extender Starter Kit Review
Summary: The AV500 WiFi Powerline Extender Starter Kit is ideal for homes with interference issues or for large homes with limited internet access.
300Mbps AV500 WiFi Powerline Extender Starter Kit
Model No: TL-WPA4220KIT
Company: TP-Link
Product: WiFi Powerline Extender
Cost: $129AUD (July 2014)
Reviewer: James Wright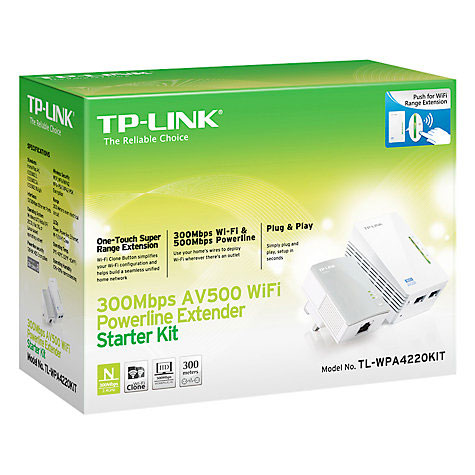 Clever clever clever! I'm still amazed that technology has allowed us to use our existing electrical circuitry to increase our network range in the home. Simply by connecting this device into your Modem Router via the supplied Ethernet cable and then into the mains, you're just one step away from increasing both your wired and wireless internet.
It's ideal for homes with interference issues or for large homes with limited internet access.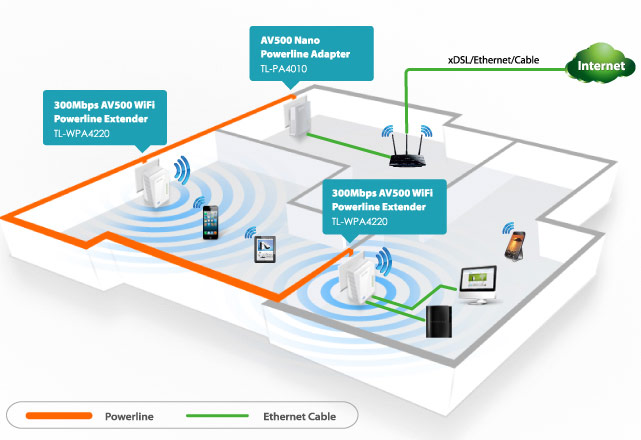 Features
Wi-Fi Clone Button simplifies your Wi-Fi configuration and helps build a seamless unified home network
HomePlug AV standard providing up to 500Mbps high speed data transmission over a home's existing electrical wiring, ideal for lag-free HD or 3D video streaming and online gaming
Extend 300Mbps wireless connections to previously hard-to-reach areas of your home and office
Two Ethernet ports allow your TVs, game consoles, or PCs connect to the Internet
Up to 300-meter range over the household power circuit
Easy to install, just plug in and play
128-bit AES encryption easily at a push of "Pair" Button
Optimizes IPTV applications like Fetch TV, Telstra T-Box, Apple TV, TPG IPTV, Google TV, FOXTEL on Xbox 360 and so on
In terms of design, TP-Link ensure that both wireless extender and adapter is quite discrete and Spartan looking in appearance with some meaningful LED's to support your network. The extender has a single 10/100 Ethernet port on the bottom which connects to your Modem Router and on the face are three LED's to indicate the status of your powerline network and a button to pair your network.
These LED's give the user all the information they need to know about this product which includes;
Power LED (On – Adapter is on, Blinking – Power Saving mode or pairing & Off – Adapter Off)
Powerline LED (On – Adapter is connected to Network, Blinking – Adapter is transferring data & Off – Not connected or in power-saving mode)
Ethernet LED (On – Ethernet port connected, Blinking – Ethernet port transferring data & Off – Ethernet port not connected)
Overall it's a well designed product that definitely keeps things simple. To keep your network safe, the kit supports 128-bit AES encryption and you can tweak the kit such as disabling wireless plus other settings. It also supports WEP, WPA / WPA2 Personal and Enterprise settings as well. The interface to access the product is also quite user friendly with everything set out well for both basic and advanced users.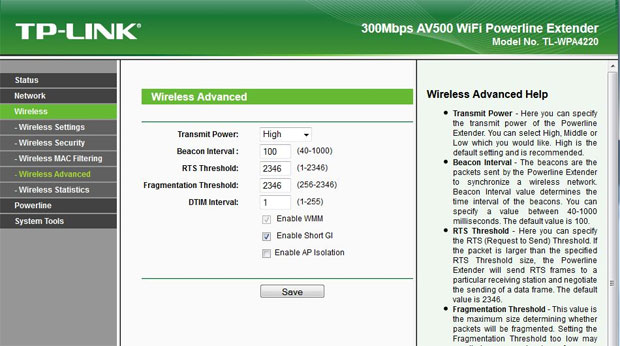 The product also boasts a 300metre range over your household circuitry which is quite impressive, considering the limitations of a WiFi network, especially when walls or interference comes into play. In terms of setup, TP-Link continue to ensure a flawless installation process. The first step is to connect the extender into your mains and then with the included Ethernet cable, this plugs directly into your Modem Router.
The next step is to push the pair button on the extender and then plug the adapter into your mains. The last step is to push the pair button on that device and you're done! Another nifty feature is the WiFi Clone button and by pressing that button, it basically copies your wireless network details such as its name (SSID) and password from your Router which gives you access to wireless without fiddling around.
Box Contents
TL-WPA4220 Powerline Extender
TL-PA4010 Nano Powerline Adapter
2 x RJ45 Ethernet cables (2 metres)
Installation Mini-CD
Quick start guide
Although we could not get the speeds of 300Mpbs, DUMeter did report some impressive speeds with a 1GB file taking just under two minutes to copy. Streaming was also quite flawless and we experienced jitter free videos. Online gaming also worked well and it was almost as good as being in the same room as the Modem Router itself. Considering that this was on the other side of the house, it was quite decent.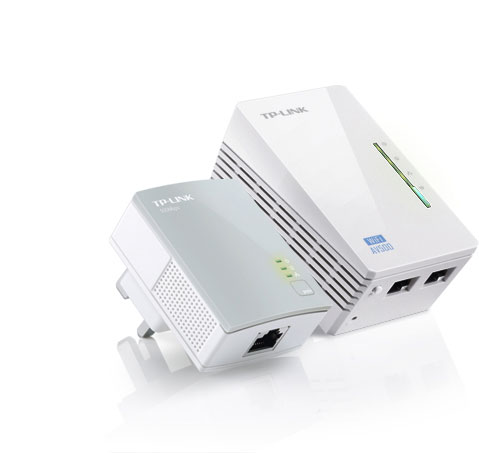 With that said, we did reach speeds of around 100 Mbps which is more than ample for most users. Also, when it comes to wireless, the product supports the 2.4Ghz band and although it would have been great if this was a dual band product, 2.4Ghz is generally quite ample and we had no issues with the wireless in this kit. Overall, it's a very easy to install product and does what it states, extends your network.
Final Thoughts?
The 300Mbps AV500 WiFi Powerline Extender Starter Kit from TP-Link is a very affordable product that I could happily recommend to those users wanting to increase their internet access in both homes and small offices. Installation was flawless and the product even allowed me to get decent internet access from my Garage which was around 50 metres away from our Modem Router.  Although this product has a 10/100 switch, I'm really hoping that TP-Link's next instalment will support 1000Mpbs that will really increase what your network can do.
Recommended!