Games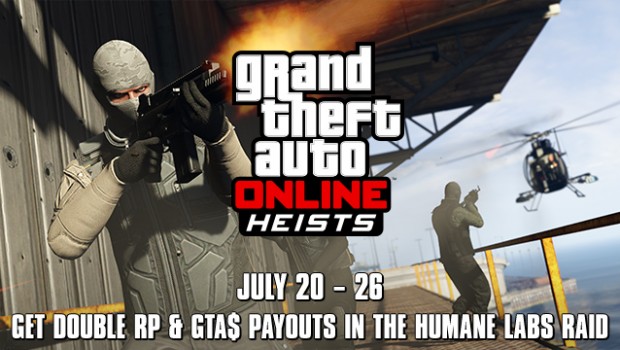 Published on July 21st, 2015 | by admin
2X GTA$ & RP All Week for the Humane Labs Raid: July 20th – July 26th
This week GTA Online Heists continue to be more lucrative than ever with 2X RP and GTA$ payouts for the second four-person Heist: the raid on Humane Labs. This Heist requires players to pilot powerful vehicles, including: the VTOL Hydra, the Insurgent and the Valkyrie. The double GTA$ bonus extends to the Elite Challenges for the Humane Labs Raid, so Crew up and focus efforts on completing the finale in 11:00 flat, not damaging your vehicles and making sure everyone gets out alive.
As with last weekend's Prison Break Heist bonuses, we're also ramping up the RP on select GTA Online Activities and Challenges to aid in ranking up while practicing the skills necessary to beat GTA Online's trickiest team challenges.
Plane Takedown
Flight School
Destroy Vehicle Targets
Complete a Gang Attack
Deliver an Export Vehicle to Simeon
Parachuting
Deathmatch: Kill 2 Enemies Within 10 seconds, Kill an Enemy Within First 30 seconds
Vehicle Deathmatch: Kill 2 Enemies Within 10 seconds of Each Other, Kill an Enemy Within First 60 seconds, Get a Killstreak, Get First Kill
Finally, each day this week there'll be an additional incentive to make sure you maximize every day of this limited-time offer. Don't miss out on the opportunity to pick up top notch gear for rock bottom prices, and even more Double GTA$ in Adversary Modes. Keep an eye out on Twitter, Facebook and Instagram for more details.