Games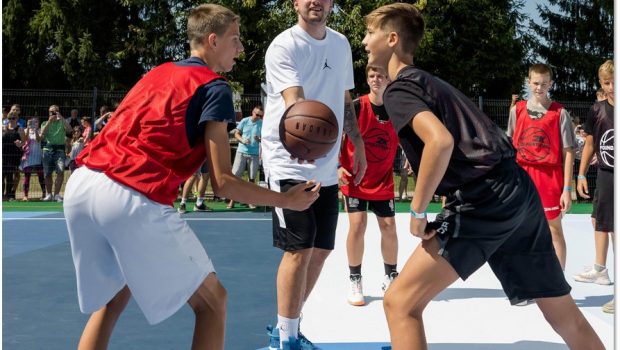 Published on September 6th, 2021 | by Adrian Gunning
2K Foundations Teams Up with NBA 2K22 Cover Star Luka Dončić
2K Foundations, the philanthropic arm of 2K that supports and inspires underserved communities by directly investing in local enrichment programs, unveiled its latest project in Ljubljana, Slovenia this past weekend. In partnership with the Municipality of Ljubljana and NBA All-Star Luka Dončić, 2K Foundations has refurbished his childhood court. The refurbishment also includes brand new seating and lighting.
The artwork featured on the court was designed by Dončić, who chose local graphic designer Nejc Prah to bring his design to life. Luka's new logo integrates Luka's initials (LD), his jersey number (77) and arrows that represent his deceptive style of play with negative space revealing an 'S' for his home country, Slovenia.
"This is a very exciting day for me.  I have great memories growing up in Ljubljana.  These are my childhood courts where I learned and practiced the game," said Dončić. "It's an honour to be able to give back to my city and to my country that gave me so much and that I love.  The opportunity for kids to play on the same courts and pursue the same dreams I had is something I am excited about."
As part of the celebration, Luka signed the court, officially dedicating it to the community, and local children were then invited to participate in basketball scrimmages, 3-on-3 games, dribble clinics and skills challenges. MVPs of the challenges were judged by Luka and others while Jordan Brand and BioSteel, who both work with Dončić provided prizes and equipment on the day as well.
"Foundations plays a very important role for 2K and our sports titles. We're incredibly proud of the contributions made to communities, from court refurbishments to STEM programming. Since 2018, the foundation has completed over 40 community enrichment projects, reaching communities across the globe," said David Ismailer, President of 2K. "We're honoured to have created a program that plays a part in giving some of the world's biggest athletes and talents, such as Luka, the chance to further connect with the communities that mean so much to them."
The new courts will be made available for the local community to use, just like Luka did when he grew up in the city, and could provide a stepping stone for the next generation of Slovenian basketballers.
"Having Luka return to his hometown and dedicate these courts to his childhood town is such an honour. He continues to represent Slovenia globally, and we're proud of what he has done for our country, not only at the Olympics but his efforts in the NBA," said Zoran Janković, Mayor of the City of Ljubljana. "He loves Ljubljana, and the city and country love him."
Over the last year, 2K Foundations has grown its efforts to support a number of projects, representing communities around the globe and showcasing the program's expansion to include career and learning initiatives, expanded access to sports through golf clinics and tournaments, community enrichment opportunities through music and upgraded studios, and much more. Recently finished projects include newly renovated basketball courts in Moss Point, Mississippi in partnership with Phoenix Suns All-Star Devin Booker, as well as in Birmingham, UK in partnership with the Birmingham Rockets. Additional programming and activations in Los Angeles, Oakland, Minneapolis, and New Orleans are scheduled for completion by the end of the year. For more information on 2K Foundations, including current and upcoming projects, please visit the group's official website.