Games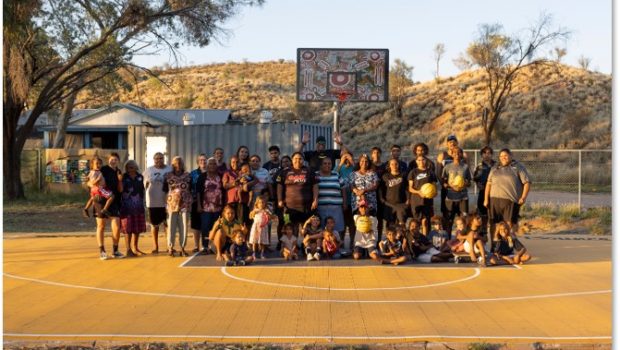 Published on December 8th, 2022 | by Admin
2K Foundations and Charity Bounce Reveal Renovation of Courts in Alice Springs and Installation of New Court in Sydney
2K Foundations, the philanthropic arm of 2K that supports and inspires underserved communities by investing directly in local enrichment programs, has unveiled its latest project and first in Australia with initiatives in Nyewente and Sydney, with additional plans to unveil a court in Mutitjulu in 2023. In partnership with Charity Bounce, a non-profit organization that aims to inspire positive change to overcome disadvantages for individuals and communities, with a focus on Aboriginal or Torres Strait Islanders and culturally diverse communities, including newly-arrived refugees.
The renovation of the Nyewente court was created with local aboriginal artist Audrey McCormack. The unique backboard depicts the forming of an enduring relationship between the Alice Springs based town camp 'Nyewente Aboriginal Community' and the Charity Bounce organization. McCormack set out to bring to life the connection between Charity Bounce and the Nyewente Aboriginal Community with the goal of aiming to support and develop pathways into adulthood.
"Basketball is such a powerful tool to engage with young people and these courts provide a canvas for us to work on to build resiliency and positive job futures for those we work with," said Ian Heininger, CEO and Co-Founder of Charity Bounce. "We are excited to partner with 2K Foundations and look forward to seeing the impact these projects have for many years ahead."
For Sydney, Indigenous artist Alicia "Bilyara" Bennett was tapped to create the artwork. Bennett, a natural fit as she is passionate about youth and facilitates art projects in Sydney. She created this piece with lines to symbolize branches and leaves that fall from the trees in summer and become one with the ground awaiting their transition into the dust to nurture the land. The Sydney court is a 3×3 outdoor court with the intended purpose of being used by students with disabilities. The project will provide access to more than 70 students with a disability, as well as the local students and community.
The courts are now available for public use and recently, an opening celebration was held in Sydney that included a ribbon-cutting ceremony, pick-up basketball games, and a resiliency skills session for the local youth.
Over the last year, 2K Foundations has grown its efforts to support a number of projects, representing communities around the globe and enhancing the program's expansion to include career and learning initiatives, increased access to sports through golf clinics and tournaments, community enrichment opportunities through music and upgraded studios, and much more. Recent projects include a refurbished and redesigned basketball court at Sojourner Truth Academy in Minneapolis, Minnesota with 3x NBA All-Star and 2022 3-point contest champion Karl-Anthony Towns of the Minnesota Timberwolves, and 2K Foundations' first ever activation in Asia with court renovations in Tokyo, created alongside the Kevin Durant Charity Foundation. In the coming years, 2K Foundations will continue supporting international projects and investing in local communities by renovating fields in partnership with world-class artists and athletes. For more information on 2K Foundations, including current and upcoming projects, please visit the group's official website.
Charity Bounce is a not-for-profit organization that exists to build resiliency and positive job futures for young people at-risk (12-24), using innovation through basketball to create 'out of reach' opportunities that inspire and motivate change. With a focus on Indigenous and culturally diverse communities, including newly arrived refugees, we aim to move young people toward a more positive future through the development of sports, education and employment focused social programs. The programs are delivered in partnership with sporting organizations, engaging professional athletes alongside youth workers to motivate and inspire participants. For more information, please visit the group's official website.