Games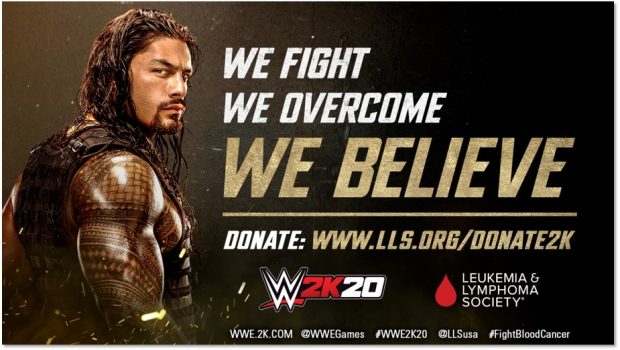 Published on November 27th, 2019 | by Andrew Bistak
2K Announces $500,000 Donation to The Leukemia & Lymphoma Society
2K has today announced that the Company will donate $500,000 (USD) to The Leukemia & Lymphoma Society® (LLS) as the culmination of a partnership and fan activation surrounding the launch of WWE® 2K20 earlier this fall. The donation will support breakthrough blood cancer research to advance lifesaving treatments and critical support for patients and their families.
2K announced a partnership with LLS in September, aligning with the Company's selection of WWE 2K20 cover Superstar and leukemia survivor Roman Reigns™. The combined efforts of 2K, WWE and Reigns will support LLS's mission, including its new Children's Initiative, a comprehensive effort to take on pediatric cancer through more research grants and expanded free education and support services. 2K issued a call to action via the WWE Games Twitter account, urging consumers to retweet and spread the LLS message, as well as the donation link, with 2K committing to make a donation for every retweet – up to a maximum donation commitment of $500,000 (USD). 2K is happy to now confirm that the maximum amount of $500,000 (USD) will be donated.
"We are proud of the support our fans have shown to The Leukemia & Lymphoma Society," said Chris Snyder, Vice President of Marketing for 2K. "With their retweets and personal contributions, our partnership with this great patient advocacy organization enables us to give back in a meaningful way and help save lives."
In addition to its financial commitment, 2K will provide copies of Company-published video games to blood cancer patients, as well as coordinate visits with 2K personnel and WWE Superstars to LLS hospital partners. 2K previously hosted LLS leaders, patients and their families at a WWE 2K20 promotional event in Las Vegas in October, giving them an opportunity to play WWE 2K20 prior to its release. The attendees also met several WWE Superstars, including WWE 2K20 cover Superstars Roman Reigns and Becky Lynch ®.
"I was honored to be among the first to preview this exciting new WWE 2K offering, and to personally thank 2K's executives for their support for LLS," stated Louis J. DeGennaro, PhD, LLS President and Chief Executive Officer. "We are grateful to our partners at WWE and Roman Reigns for introducing us to 2K and their legions of fans, as we aim to create widespread awareness for our mission, and our significant investment in cutting-edge research to advance new treatments and cures for cancer patients, including children with cancer and their parents."