Hardware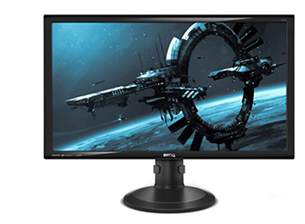 Published on September 9th, 2014 | by admin
2K for under $500 – BenQ move into unchartered territory
Sydney, Australia – September 2014: Designed for maximum appeal to the eye, this new release from BenQ will actually impress your ears when you hear that it is the first 27" IPS monitor to market offering 2K of resolution for less than AUD $500.
A solid all-rounder – this new multi-media marvel will make gamers, photographers and media enthusiasts smile with some very impressive features including a 27' screen which provides pristine image quality in 2560X1440 QHD (WQHD) high resolution, advanced BenQ IPS technology, 100% RGB screen technology, HDMI multi-media interface along with BenQ's eye-care inclusions of LBL technology and Flicker-free to optimal viewing comfort.
Said Martin Moelle, BenQ Australia's Managing Director, "The GW2765HT is the perfect everyday monitor meeting multiple needs for work and play applications.  The colour reproduction is life-like and the image quality quite astounding – the finest details are accurately displayed adding great depth and enjoyment to gaming applications or movie viewing.  As far as we know we are the only manufacturer offering a 1440p IPS panel in big-screen 27" for under $500, and for this reason but not this reason alone, we have great confidence in this product being one of our most highly sought after models in 2014," he said.
In line with the majority of monitors in BenQ's range, the GW2765HT is equipped with LBL technology – that is Low Blue Light technology – which allows the user to adjust the screen's blue light emissions in accordance to the task at hand.
BenQ have taken a stance on health, incorporating 'eye-care' into their monitor and interactive flat panel range to protect and benefit the end user's vision.  Blue Light has been shown to cause retinal injury and lead to the early onset of visual diseases such as macular degeneration when our eyes are exposed to it for long periods.  Few of us can say we don't spend enough time staring at a computer or smart device which of course includes phones and tablets as part of an average day at work as well as for personal leisure.  Therefore BenQ has adopted measures to provide for healthier time spent in front of their screens.
Four preset LBL modes are easily accessed via the panel's OSD hot key reducing blue light emissions by up to 70% (Multimedia 30% reduction, Web-surfing 50% reduction, Office 60% reduction, Reading 70% reduction).  In addition to this, for added eye comfort and to reduce fatigue and eye strain, BenQ have installed Flicker-free technology into the GW2765HT which is a different way of backlighting the monitor to provide for a continuous light stream eliminating the flickering conventional monitors produce.
Ergonomics have not been forgotten with the GW2765HT afforded the ability to be customised to an individual's specific height and work station requirements.  The HAS facility – or Height Adjustment Stand – allows the monitor to tilt, pivot, stroke and swivel as well as be positioned to the optimal height to suit the end user.
"The GW2765HT is a jack of all trades computer monitor which will have you viewing content via your PC, rather than on television as the picture quality is second to none," said Moelle.  "The product's high ppi provides for a precise, crisp and clearly exceptional viewing experience."
In summary, the GW2764HT is a multi-purpose 1440p capable IPS panel offering 4ms response time at a price never seen before.
RRP:                $499.00
Available:       September 2014
For further information, visit www.BenQ.com.au or call 1300 130 336.