Games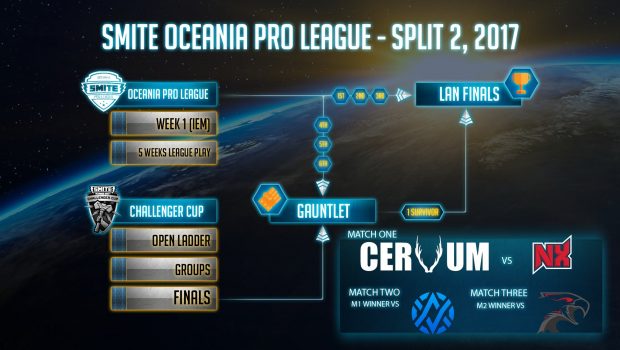 Published on June 16th, 2017 | by Admin
$25,000 SMITE OPL Split 2 Gauntlet is this weekend!
Tune in this weekend to watch a team qualify for SMITE OPL LAN finals next weekend, where they'll fight for a share of the $25,000 prize pool.
After a highly competitive round robin stage of second split for the SMITE OPL, the top 3 teams have been decided for the Hi-Rez Mid Year LAN finals taking place at the CyberGamer studio in Adelaide on 24 – 25 of June.
The teams going to LAN are LG Dire Wolves, Legacy Esports and Kanga Esports and the Gauntlet winner will join them to battle it out in live in Adelaide to determine who will walk away with the lion's share of the $25,000 split 2 prize pool.
The Gauntlet consists of the bottom 3 OPL teams and the top Challenger's Cup team, and the last team left standing at the end of this weekend will qualify for the LAN finals. Tune in to watch OPL teams Avant Garde, Dark Sided, Team Noxide, and Challenger team Cervum go head to head.
Broadcast will kick of on Saturday 17 of June at 4pm AEST on http://twitch.tv/HiRezTV.