Uncategorized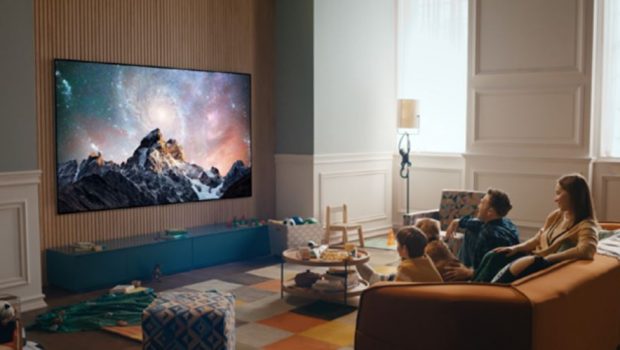 Published on May 6th, 2022 | by Admin
2022 LG TV LINEUP DELIVERS BIGGER, BETTER, BRIGHTER VIEWING EXPERIENCES IN THE HOME
LG Electronics Australia (LG) today unveiled the company's 2022 television range with highlights including an upgrade to some of Australia's most popular televisions in 2021 – the C2 OLED, the new LG ART90 Lifestyle TV, the world's largest LG OLED TV, and new 8K QNED Mini LED models.
The new range includes 42 models across five model families – with prices starting from $1,079 through to $59,999. The new LG TVs all deliver improved picture quality and smart features that help Australians connect with bigger, better, brighter viewing experiences in the home.
Leading OLED technology 
LG has introduced new two screen sizes across the OLED line-up, from the new 42-inch C2 model, through to the world's largest home 4K LG OLED displays – the 97-inch G2 model.
Demonstrating a continued innovation in OLED display technology, LG has also rolled out the company's OLED evo technology across more models in 2022. LG OLED evo and LG OLED evo Gallery Edition technology represents the next evolution of LG OLED technology, delivering enhanced brightness because of a new manufacturing process and an improved processor. Featured across this year's C2 OLED and G2 OLED TVs, respectively, users will experience even more realistic images on screen with greater clarity and detail.
Furthermore, LG is providing 8K options for Australians across the company's OLED lineup. The LG 77-inch OLED Z2 8K TV and LG SIGNATURE 88-inch OLED Z2 8K models deliver 8K Ultra HD resolution (7,680 x 4,320) and 33 million self-emitting pixels.
Consumer interest in the latest TV technology from LG has been further emphasised through the company's pre-sale offer, which saw 200 Australian consumers purchase an LG TV.1 In 2022, LG are also offering consumers an extended five-year limited OLED panel warranty on LG Z2 and G2 OLED TV models. 2 All other models will feature the standard one-year Parts and Labour warranty across the company's TV products. Both demonstrate the company's position as a market leader in the consumer TV space.
Tony Brown, Marketing Manager for Home Entertainment at LG Electronics Australia commented on the arrival of the 2022 range:  
"At LG Electronics, we are passionate about connecting Australians to bigger, better, brighter viewing experiences. Over the last two years, we have seen a huge surge in demand for premium content and as we head into a new era of living in 2022, our TV line-up further supports consumer home entertainment needs.
"This year, we are not only continuing our leadership in OLED technology but also as a TV category leader. Through new technologies, form factors and sizes, LG TV products cater to all Australians' home entertainment passions – whether that be movies, sports, gaming or design."
Considering health and safety, the 2022 LG OLED TVs also feature Eye safe certified 65-inch TV panels, which meet the low blue light emission requirements by Underwriters Laboratories.
LG Lifestyle TV
For the first time, the LG ART90 Lifestyle TV will be available in Australia, through select retailers for an RRP of $17,999.
The new LG ART90 Lifestyle TV offers a unique form factor with its versatile and modern design plus fabric cover. Created by Danish textile innovator, Kvadrat the cover is available in Kvadrat Beige and blends seamlessly with modern home décor. Using the LG Magic Remote, users can raise or lower the fabric to partially cover the display to only see a curated selection of lifestyle functions. Or by lowering the cover completely, users can experience a full and immersive viewing experience on the 65-inch LG OLED evo screen, enhanced by the 80W, 4.2-channel sound system. 
Intelligent upgrades 
Brightness Booster Max: The new Brightness Booster Max technology, powered by the Alpha 9 AI Processor (α9Gen5), can produce images with more luminance for incredible peak brightness, delivering vibrant and stunning visuals through improved heat dissipation and an advanced algorithm.3
Upgraded LG webOS and LG Magic Remote: Making content discovery and navigation an easy task, LG has enhanced the user experience with its new webOS 22 interface. The 'My Profile' feature across all 2022 LG TVs lets users create personal profiles, ensuring content recommendations are personalised to individual uses. Additionally, the LG Magic Remote comes with the company's Magic Tap feature, which allows users to easily mirror content from an NFC-enabled Android smartphone to their LG TV for viewing content. And with Apple AirPlay 2, users can stream content including Dolby Vision titles from iPhone, iPad and Mac to their compatible LG TV sets.4
LG ThinQ™ AI: In 2022, LG has continued to build its TV processing capabilities with improved connectivity through its AI platform, LG ThinQ™ AI. The platform uses natural language commands to control TV functions and settings and combined with Google Assistant™ and Amazon Alexa™, provides new levels of convenience and control to users who want to discover content more conveniently.5
TVs made for cinema buffs, sport fans, gamers and design enthusiasts 
LG OLED TV technology delivers a premium cinematic viewing experience in the home and in 2022, the company has continued to deliver impressive features that amplify the experience when watching movies. Dolby Vision™ IQ intelligently adjusts the contrast and brightness, based on the content and room ambient lighting conditions.6 Meanwhile, FILMMAKER MODE™ allows users to rediscover favourite films and new movies the way the director intended by turning off motion smoothing to help preserve that unique cinematic feel. Additionally, Dynamic Tone Mapping PRO, available on top models, detects the content, applying the optimal tone curve up to 5,120 times per frame, resulting in sensational contrast and detail in bright areas on HDR content.
For gamers, LG OLED hands control back to the users, delivering seamless and immersive experiences. As the first TV manufacturer to feature NVIDIA G-Sync compatibility, users can enjoy gaming without tearing, stuttering or input lag for an immersive and realistic experience. Furthermore, the Game Optimiser and Game Dashboard function is a central location for users to access and adjust gaming features, including VRR, ALLM and eARC, which enables fast moving content at high resolutions and smooth synchronised audio and graphics.
The new Dark Room Mode can also be accessed via Game Optimiser, where users can adjust screen brightness for gaming with the lights off. New in 2022 are cloud gaming features across the whole 2022 LG TV range, offering support for NVIDIA GeForce NOW. Gamers can enjoy more than 80 free-to-play games, for a monthly subscription of $19.99, with a compatible controller (sold separately). Finally, Dolby Vision Gaming™ available on the XBOX Series X delivers 4K in 120 Hz, to deliver greater highlights, contrast, and natural colour.
For sporting fans, LG has delivered new features that bring users even closer to the game. Fast paced sporting action can be enjoyed with minimal blur thanks to OLED Motion technology, for picture clarity where it matters most.7 Assisting users to stay across multiple sporting matches simultaneously, LG has expanded the 'Sports Alert' notifications across new codes this year, including AFL, NRL and International Rugby Union. These join existing sports including Premier League, NBA and NFL games. Endless content avenues are also available with access to Netflix, Apple TV+, Stan, Optus Sport, Kayo and Foxtel apps available on all 2022 LG TVs (subscriptions and fees apply).
QNED MiniLED for Real Colour Even Richer  
As the company's premium LED TV offering, the LG QNED Mini LED range combines some of the best LED/LCD TV technologies on the market – Quantum Dot and NanoCell™. Featuring hundreds of dimming zones and mini LEDs, LG QNED Mini LED TVs deliver more precise control of brightness, deeper blacks and ultra-high contrast ratios.
Four new QNED Mini LED models in both 4K and 8K join the 2022 LG TV lineup in a variety of sizes from 86- to 65-inches. As the pinnacle of LG LED/LCD TV viewing experiences at home, the large screen sizes are set to bring life-like viewing experience with real colour into Australian homes. For impressive 8K content viewing, these TVs combine high pixel density with Quantum Dot and NanoCell technologies and Mini LED lights, as well as the Alpha 9 AI Processor (α9Gen5), to deliver sharp and detailed images.
The LG QNED Mini LED 4K and 8K TVs now include Precision Dimming and Precision Dimming Pro+ technology, respectively.9 With these features, users will experience bright and clear images while between 1,200-2,000 individual dimming zones deliver precise backlight control and a high contrast ratio.12 Resulting in a greater level of detail and more accurate colour reproduction, this feature combines with Cinema HDR to unlock brightness, colour and detail in HDR movies and games.
Supercharge home entertainment experiences
Finally, the LG 4K NanoCell and 4K UHD entry-level TVs offer consumers captivating viewing experiences with a range of technologies and a variety of screen sizes from 43- to 86-inches. Delivering real colours on screen, the LG NanoCell TV employs nano metre-sized particles that absorb unwanted light wavelengths and enhances the purity of the red and green colours displayed to create richer colours.
For entertainment viewing, LG has made it easy for users to access a wide range of content in 2022, with the integration of streaming services including Disney+, Stan, Amazon Prime, Netflix, Apple TV+, Foxtel, BINGE, Kayo and Optus Sport. Easily accessed through the new webOS 22 interface and LG Magic Remote, these built-in apps provide users the ability to subscribe to and stream a wide range of available content. And amplifying the content viewing experience, LG 2022 TVs offer users the ability to experience Dolby Vision™ and Dolby Atmos™ titles across Netflix, Apple TV+, and Disney+.10
The full 2022 LG OLED, QNED, NanoCell and UHD range includes:
Type
Model
RRP
In-store
OLED Z2
OLED88Z2PSA.AAU
$59,999
 May
OLED77Z2PSA.AAU
$23,999
 May
ART90 OLED
65ART90ESQA.AAU
$17,999
 May

OLED G2

OLED97G2PSA.AAU
$47,999
 Oct
OLED83G2PSA.AAU
$15,599
 May
OLED77G2PSA.AAU
$11,399
 May
OLED65G2PSA.AAU
$6,359
 May
OLED55G2PSA.AAU
$4,799
 May

OLED C2

OLED83C2PSA.AAU
$13,199
 May
OLED77C2PSC.AAU
$9,599
 May
OLED65C2PSC.AAU
$5,399
 May
OLED55C2PSC.AAU
$4,079
 May
OLED48C2PSA.AAU
$3,599
 May
OLED42C2PSA.AAU
$3,239
 May
OLED A2
OLED65A2PSA.AAU
$4,919
 May
OLED55A2PSA.AAU
$3,719
 May

QNED99 8K

86QNED99SQB.AAU
$10,799
 June
75QNED99SQB.AAU
$7,799
 June
65QNED99SQB.AAU
$5,759
 June

QNED91

86QNED91SQA.AAU
$8,399
 June
75QNED91SQA.AAU
$5,999
 June
65QNED91SQA.AAU
$4,679
 June

QNED85

86QNED85SQA.AAU
$7,199
 May
75QNED85SQA.AAU
$5,159
 May
65QNED85SQA.AAU
$3,959
 May
55QNED85SQA.AAU
$2,999
 May

QNED80

86QNED80SQA.AAU
$5,999
 May
75QNED80SQA.AAU
$4,199
 May
65QNED80SQA.AAU
$2,999
 May
55QNED80SQA.AAU
$2,399
 May

NANO75

86NANO75SQA.AAU
$4,799
 May
75NANO75SQA.AAU
$2,999
 May
65NANO75SQA.AAU
$2,279
 May
55NANO75SQA.AAU
$1,799
 May
50NANO75SQA.AAU
$1,439
 May
43NANO75SQA.AAU
$1,259
 May

4K UHD

86UQ9000PSD.AAU
$4,019
 May
75UQ9000PSD.AAU
$2,434
 May
65UQ9000PSD.AAU
$1,787
 May
55UQ9000PSD.AAU
$1,459
 May
50UQ9000PSD.AAU
$1,199
 May
43UQ9000PSD.AAU
$1,079
 May
For more details on the 2022 range of TV products please refer to the Fact Sheet below or visit https://www.lg.com/au/tvs.