Events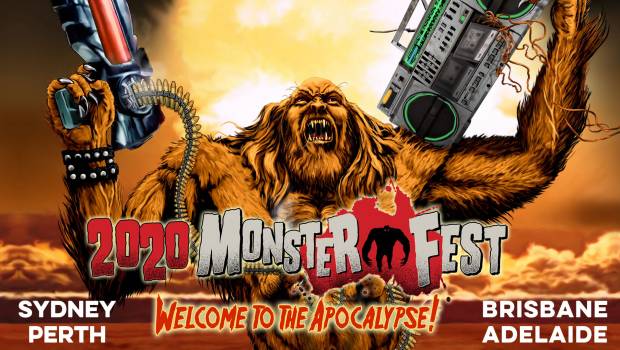 Published on October 9th, 2020 | by Adrian Gunning
2020 MONSTER FEST Complete Festival Program Revealed!
With three weeks to go before 2020 MONSTER FEST: WELCOME TO THE APOCALYPSE kicks off in Sydney, Brisbane, Adelaide & Perth from October 29th to November 8th, Monster Fest are pleased to announce their final wave of programming for this year's festival.
AFTER MIDNIGHT (Monster Fest 2019) actress Brea Grant hits the ground running with her stylish sophomore feature 12 HOUR SHIFT, a pitch-black comedy thriller about a nurse whose organ trafficking side hustle takes a disastrous turn when her unhinged cousin botches a kidney delivery.
SNL comedian David Koechner (CHEAP THRILLS) stars in Cody Callahan's eighties throwback comedy-slasher VICIOUS FUN, which follows Joel (Evan Marsh), an unlucky-in-love film critic who gets caught in a serial killers anonymous-type self help group with his unrequited love's new boyfriend.
Jens Dahl's BREEDER is a disturbingly dystopian take on survival horror that explores the darker sides of biohacking and asks the question 'How far would you go to stay young forever?'
THE ENDLESS (Monster Fest 2017) filmmakers Justin Benson & Aaron Moorhead return with their festival darling SYNCHRONIC, that pits two paramedics (Jamie Dornan, THE FALL and Anthony Mackie, AVENGERS: ENDGAME) at odds with a psychedelic designer drug that allows its users to time travel, mystery flight style, to an unknown destination and time.
Film historian and documentarian Alexandre O. Philippe (78/52) turns his latest focus to one of the most controversial horror films ever made with LEAP OF FAITH: WILLIAM FRIEDKIN ON THE EXORCIST, a stunning cinematic essay on the artist and his masterpiece.
Stuntman come director John Stewart offers up every form of action imaginable in ACTION U.S.A., the greatest eighties action film that you've never seen! This dark horse from the turn of decade features fist fights, knife fights, gun fights, car fights, helicopter fights…if there's a fight to be fought, ACTION U.S.A. has it in spades and there's no better time than now to discover the film than with this glorious 4K Restoration.
Upon its theatrical release, Paul W.S. Anderson's EVENT HORIZON opened to poor reviews and even worse box office, however in the years passed, the film has gone on to amass a loyal legion of fans across the globe who largely consider it to have been 'ahead of its time'. Monster Fest proudly invites you to reappraise this misunderstood masterwork of deep space dread with an all-new 4K Restoration of the film on this its 23rd anniversary.
Due to our expanded program and current government restrictions 2020 MONSTER FEST: WELCOME TO THE APOCALYPSE will now run from Thursday 29th October to Sunday 8th November with the bulk of programming to occur on the Saturday & Sunday of both weekends.
A conscious decision has also been made this year to eliminate counter-programming to allow all festival attendees the opportunity to see every film screening in our 2020 program.
For more details, please visit  www.monsterfest.com.au/australia