Events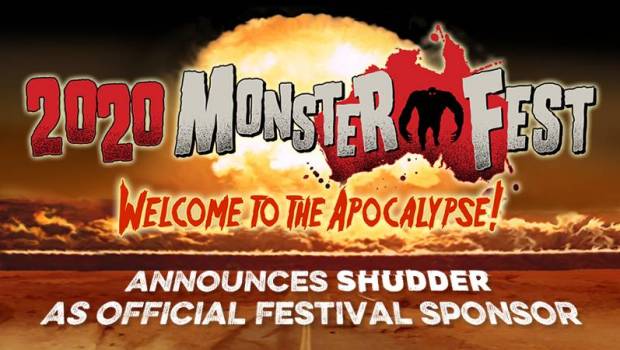 Published on September 18th, 2020 | by Admin
2020: MONSTER FEST Announce SHUDDER As An Official Sponsor!
Australia's premier genre film festival, MONSTER FEST, is excited to welcome the world's premium genre film streaming service, SHUDDER, onboard as an official sponsor of 2020: MONSTER FEST.
MONSTER FEST is also pleased to reveal that this year's festival will host the Australian Premieres of two exciting new features from the SHUDDER Original library, ahead of their 2021 release on the platform.
Fresh from its World Premiere at Montreal's Fantasia International Film Festival where it was met with universal critical acclaim is THE DARK AND THE WICKED. This gravely unsettling and genuinely terrifying feature is the latest work of writer/director Bryan Bertino (THE STRANGERS) and follows two siblings who are at odds with an entity that is determined to end their bloodline.
Heralding from Belgium and having also premiered at this year's Fantasia International Film Festival is HUNTED, an unrelentingly brutal and throughly refreshing take on a classic fairytale. Written and directed by Oscar-nominated filmmaker Vincent Paronnaud (PERSEPOLIS), this wild reimagining subverts a childhood fable into a game of cat and mouse where the mouse proves to be far more agile and intelligent than the cats may have anticipated.
Once again in partnership with EVENT CINEMAS, MONSTER FEST returns to Sydney, Brisbane, Perth & Adelaide from Thursday 29th of October to Sunday 1st of November for 2020: MONSTER FEST – WELCOME TO THE APOCALYPSE.
Having launched in Australian in mid-August, SHUDDER is brought to you by AMC Networks and is an experience unlike any other. SHUDDER has the largest human-curated selection of high-quality, spine-tingling, and provocative films, TV series, and originals– there's always something new and unexpected for Shudder members to explore.
THE DARK AND THE WICKED
Bryan Bertino | United States 2020 | Australian Premiere
On a secluded farm, a man is slowly dying. Bedridden and fighting through his final breaths, his wife is slowly succumbing to overwhelming grief. To help their mother and say goodbye to their father, siblings Louise (Marin Ireland) and Michael (Michael Abbott Jr.) return to their family farm. It doesn't take long for them to see that something's wrong with mom, though—something more than her heavy sorrow. Gradually, as their own grief mounts, Louise and Michael begin suffering from a darkness similar to their mother's, marked by waking nightmares and a growing sense that something evil is taking over their family.
HUNTED
Vincent Paronnaud | Belgium/France 2020 | Australian Premiere
Eve (Lucie Debay) meets what she thinks is a charming guy in a bar. Yet things go terribly wrong once she realizes she's come across a psychopath and his puppet accomplice. They engage in a death chase until she decides to fight back. The forest will be her ally.
WHEN:
Thursday 29th of October – Sunday 1st of November, 2020
WHERE:
ADELAIDE: Event Cinemas Marion
BRISBANE:
 Event Cinemas Myer Centre
PERTH: Event Cinemas Innaloo
SYDNEY: Event Cinemas George Street
TICKETS:
VIP Passes (14 films) $224
VIP Passes are strictly limited, with the initial allocation being 20 per location, with no guarantee of further VIP Passes being available at a later date. The VIP Pass gains all-access to all Monster Fest screenings and events from Thursday 29th of October to Sunday 1st of November.
5 Film Passes & Individual Session Tickets will go on sale upon final program launch.
Website: http://www.monsterfest.com.au