Events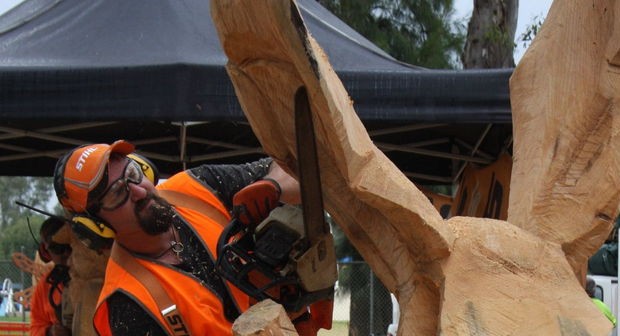 Published on January 6th, 2016 | by admin
2016 AUSTRALIAN CHAINSAW CARVING CHAMPIONSHIP
Returning to SkyHigh Mount Dandenong
Tuesday 19th January to Saturday 23rd January, 2016
PROUDLY SPONSORED BY STIHL
One of Victorias' biggest tourist destinations, SkyHigh Mount Dandenong, will again host the annual Australian Chainsaw Carving Championships from 19 to 23 January.  This is the third year of this annual event, with carvers from Australia, Canada, USA, Japan and the UK taking part in this years competition.
The event over the past two years has attracted crowds from right across the country who are treated to an astonishing spectacle of artistry as the carvers wield their chainsaws to turn plain logs into amazing works of art. They are artists – just with a different canvas.
Artisan chainsaw woodcarvers competing in 2016 feature some of the world's best, with both men and women vying for the top award.  This year's competitors include: 
Robby Bast                       Vic. Australia     
Angie Polglaze                  Vic. Australia
Brandon Kroon                 Vic.  Australia
Griffon Ramsey                USA
Hikaru Kodama                 Japan 
Jeff Samudosky                 USA
Ryan Cook                          Canada
Daniel Cordell                    United Kingdom
Thomas Earing                   USA
Matt Bird                           Qld. Australia
SkyHigh Mount Dandenong is the ideal location for such an event in the summer shade of the beautiful Dandenong's forest, with a panoramic view of the city, there is no better location to see the world's best carvers at work.
The carvers will compete for cash prizes and the carvings will be auctioned on-site from 2pm, on Saturday 23 Jan 2016.
For more information about the competitors, see www.skyhighmtdandenong.com.au
EVENT: Australian Chainsaw Carving Championship
VENUE: SkyHigh, 26 Observatory Road, Mount Dandenong
DATE: Tuesday 19th January to Saturday 23rd  January, 2016
TIME: 9am to 5pm. All carvings will be auctioned onsite from 2pm on the final day.
PRIMCE: This is a free event, but gate fees apply for vehicles ($6 per car).