News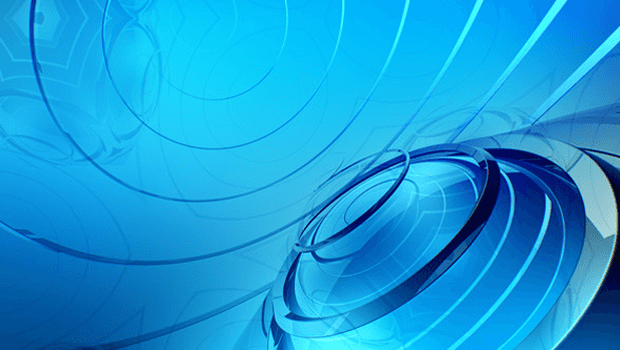 Published on December 17th, 2015 | by admin
2015 – The Year of the Ransomware Plague
2015 – The Year of the Ransomware Plague
Ransomware created a lot of buzz in the cyber-security industry in 2015. Extortion may be an age-old crime, but this virus still managed to catch users unprepared and shocked that their data may be lost forever. More so since recent repetitions of the extortion-based malware, such as CryptoWall 4.0, have grown increasingly bulletproof, hard to detect, and almost impossible to stop.
After analysing infected emails targeting users in the past 12 months, Bitdefender shares a glimpse of the magnitude of this threat.
In June 2015, the FBI issued a warning recognising CryptoWall "as the most current and significant ransomware threat targeting U.S. individuals and businesses."
Indeed, Bitdefender reports show that 61.8% of all malware files targeting US Internet users contained some form of ransomware: mostly Cryptowall, CryptoLocker and their duplications. That means hundreds of thousands of users received and opened a ransomware-infected email message in 2015. The US is closely followed by France (55.8%), Romania (50.2%), Australia (47.9%), Denmark (42.3%) and Germany (30.2%).
Here is how the stats are calculated:
Number of ransomware incidents/country split by Number of malware incidents/country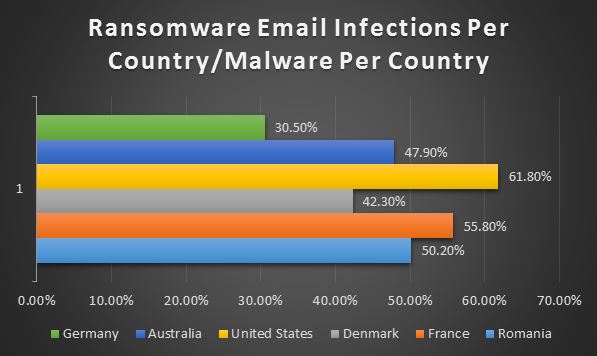 Looking at how ransomware ranks in the global malware landscape, we can see that, in the US, 11.9% of infected emails have spread only ransomware. This implies that at least one in 10 users clicked to open a ransomware-plagued email in 2015.
Here is how the stats are calculated:
Number of ransomware incidents/country/ split by Number of malware incidents/global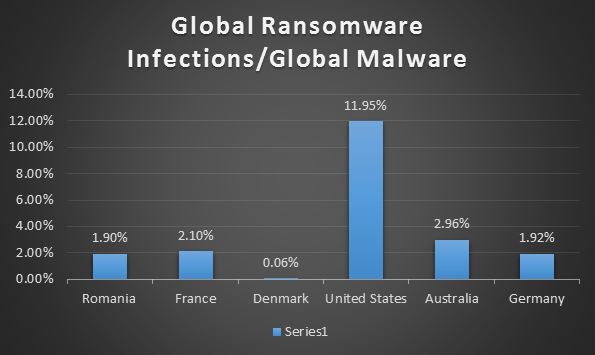 To see what percentage of ransomware sent globally targets specific countries, we have calculated the number of ransomware infections per country split by the number of global ransomware infections.
As a result, 21.2% of all ransomware-infected emails targeted the US.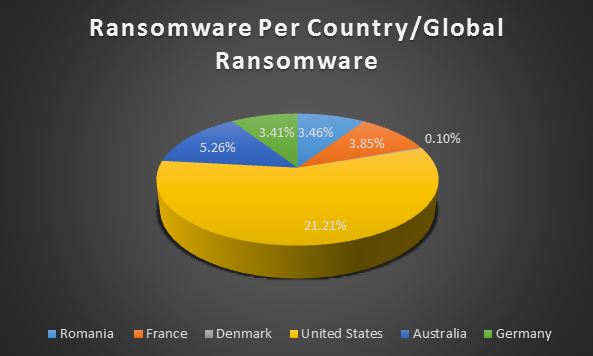 These numbers show that ransomware masterminds have made the US their top priority. Why? Most likely because they consider it a highly profitable market. In 2015, the creators of the notorious CryptoWall ransomware have managed to extort more than $325 million from US victims, according to reports. We also have to consider the use of sophisticated encryption algorithms that often leave victims no choice but to pay the ransom. The FBI itself encouraged companies to pay up.
"The ransomware is that good," said Joseph Bonavolonta, who oversees the FBI's Boston office. "To be honest, we often advise people just to pay the ransom."
Leveraging its 15 years of experience successfully fighting malware, Bitdefender has made significant technology advances in detecting and blocking this sophisticated breed of malware. We will undoubtedly continue to do so in 2016.
This article is based on the technical information provided courtesy of Adrian Popescu – Team Leader of the Bitdefender Antimalware Lab and is limited to Bitdefender's internal telemetry.