Comics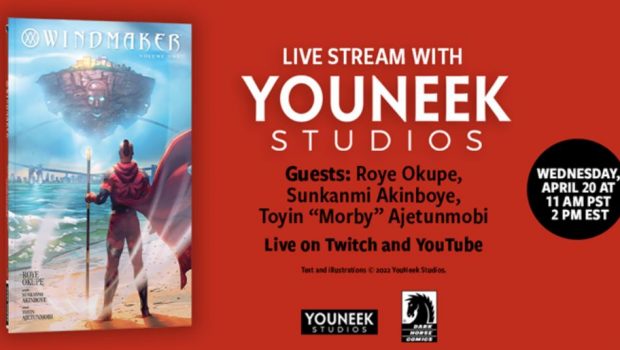 Published on April 19th, 2022 | by Admin
YOUNEEK STUDIOS AND DARK HORSE COMICS PRESENT A LIVE VIRTUAL PANEL
Arriving at comic shops and bookstores this month is the newest graphic novel from YouNeek Studios and Dark Horse Comics in our ongoing partnership: WindMaker Volume 1!
In celebration of this release, join Dark Horse and YouNeek Studios on Wednesday, April 20 at 11 am Pacific/2 pm Eastern, for a live virtual chat with YouNeek Studios CEO and writer Roye Okupe, artist Sunkanmi Akinboye, and artist Toyin "Morby" Ajetunmobi. The live stream will be presented on the Dark Horse Comics Twitch and YouTube channels, as well as the YouNeek Studios YouTube channel.
We'll discuss the publishing partnership between Dark Horse and YouNeek Studios, explore the YouNeek YouNiverse and the process of creating these comics, and more. Join in the live chat to participate in the Q&A and ask more questions of the team.
If you can't catch us live, the recording will be available afterwards to watch on demand.
The West African nation of Atala is thrust into an era of unrest and dysfunction after their beloved president turns vicious dictator. With the country on the brink of civil war, the WindMaker–an ancient hero of the Atalians–mysteriously returns in what appears to be an effort to save his people. The only problem is that his spirit is reincarnated into the last person anyone expects to help–the president's head of security!
About YouNeek Studios and Dark Horse Comics
Since 2012, Roye Okupe has been building a universe of superheroes that spans centuries centered around African stories, crafted by African creators. Now, Okupe and his YouNeek Studios graphic novels are welcomed into the Dark Horse publishing line.
Beginning in 2021, Dark Horse has been publishing the entire line of previously self-published stories, along with never-before-seen bonus material starting with Malika: Warrior Queen, Iyanu: Child of Wonder, and E.X.O: The Legend of Wale Williams, and continue onward into new and never-before-seen stories.
Learn more about the partnership and upcoming graphic novels here
Malika: Warrior Queen, Iyanu: Child of Wonder, and E.X.O.: The Legend of Wale Williams are all available from bookstores and comics retailers now.