Events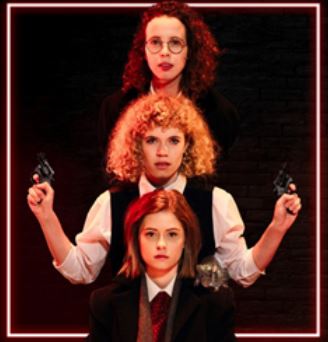 Published on April 1st, 2022 | by Adrian Gunning
Big Big Big – CATCHING JACK – TOURING MELBOURNE 2022
"Wonderfully nonsensical period piece" ★★★★ Time Out Magazine
'It's fantastic… driven by big chaos energy. It's more anarchic, more absurdist, more Python.' NPR, Pop Culture Happy Hour
"Three hilarious performers, one twisted show." Sammy J
London. 1888. Three detectives. One rat.  Jack The Ripper is on the loose in Whitechapel and Ella, Madi and Millie will stop at nothing to take him down.
After a sold-out Melbourne International Comedy Festival in 2021 and a 2022 Adelaide Fringe tour Catching Jack is back for a strictly limited season.
Separated in the darkness, our detectives will need all the help they can get to overcome devious enemies, chaotic allies and a very, very long arm. Start your engines and say your prayers – these detectives have definitely bitten off more than they can chew!
Directed by Ben Russell ('The Grub', Hug The Sun, Aunty Donna), Catching Jack is a wild adventure for the whole family. Except children. Use your head. And James Corden. Never for him.
Big Big Big is a comedy trio combining Ella Lawry, Madi Savage and Millie Holten. Together, they make absurd comedy with tight narrative arcs and a ridiculous over-commitment to props. In 2021, they released their scripted podcast series, 'The Candyman', which gained a cult following around the world – topping international podcast charts, being featured on ABC Radio Melbourne, CBC/Radio One Canada, NPR's Pop Culture Happy Hour, and placing for Best Comedy Podcast at the 2021 Australian Podcast Awards.
Catching Jack is back hot on the heels of the 2021 Melbourne Comedy Festival show. You better catch a ticket to this sure to be sold out show.
SOCIAL MEDIA
https://www.instagram.com/bigbigbigcomedy/
https://www.facebook.com/bigbigbigcomedy
Big Big Big
Tickets on sale now
Melbourne
Melbourne Comedy Festival
Trades Hall
31 March – 10 April
10 SHOWS ONLY
www.comedyfestival.co