Events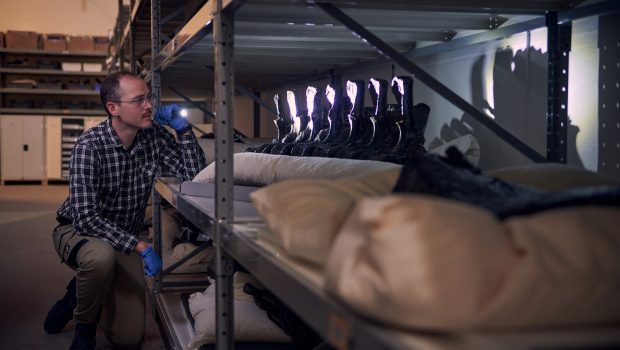 Published on January 11th, 2022 | by Admin
67-MILLION YEARS IN THE MAKING, TRICERATOPS: FATE OF THE DINOSAURS OPENS AT MELBOURNE MUSEUM 12 MARCH
With an enormous frill and three fearsome horns, the world's most complete Triceratops will be revealed for the first time in a monumental new exhibition spread across two level of Melbourne Museum, opening March 12th.
Triceratops: Fate of the Dinosaurs will immerse visitors in a lost world, exploring the incredible story of the Triceratops. Experience the thriving environments through which the Triceratops roamed, meet the creatures Horridus lived alongside, and see what became of the survivors of the Cretaceous.
"We are thrilled to have this internationally significant Triceratops on permanent display in Melbourne Museum.
This is the most complete and finely preserved Triceratops fossil ever discovered and visitors will come from around the world to see Horridus, whose forever home is right here in Melbourne.
Grounded in leading edge science and connecting the long extinct world of Horridus with our world today, this exhibition will enthral and inspire all who experience it" says Lynley Crosswell, CEO and Director of Museums Victoria.
Triceratops: Fate of the Dinosaurs connects Melbourne Museum's unique Triceratops specimen to big stories of interdependent ecosystems and the wonder and fragility of life over time.
Visitors will not only come face to face with the jaw-dropping specimen that is Horridus the Triceratops, but will travel back in time exploring the landscape and complex eco-systems of the Cretaceous period. Offering the chance to learn about the process of fossilisation and how palaeontology helps us understand vast swathes of time. The exhibition will trace the lineage of dinosaurs to their descendants still among us: birds.
Horridus is one of the most globally significant  palaeontological  discoveries ever made  and  will be the most complete  real  dinosaur  skeleton  in any  Australian museum.  Named after  Triceratops  horridus,  the species  to which  Horridus  belongs.
At 85% complete, this is the world's most finely preserved  Triceratops. With  266  bones and weighing more than 1,000 kg, Horridus is set to become a celebrity of the Cretaceous and one of the most iconic dinosaurs in any museum globally.
"Horridus the Triceratops is a simply spectacular fossil, with the science behind Triceratops revealed like never before. Until you've seen Melbourne Museum's Triceratops, you haven't seen Triceratops at all," says Museums Victoria's Dr Erich Fitzgerald, Senior Curator of Vertebrate Palaeontology.
Originally found in Montana USA, this  dino-mite discovery spent time in Canada, where experts worked with Museums Victoria's  palaeontology  team  to  ready Horridus for transportation to its forever home at Melbourne Museum.
Since the arrival of Horridus in Melbourne in 2021 a team of Museums Victoria palaeontologists, conservators and collection managers have been working to prepare the fossil for display.
Minister for Creative Industries Danny Pearson said, "Horridus the Triceratops will be a major attraction for dino-fans across the state and beyond.
"While Horridus is going to be thrilling for visitors of all ages, this stunning fossil will also support scientific research for generations to come."
Tickets to the exhibition will be free with Museum entry, however pre-booking is required as entry will be timed.
Horridus  the  Triceratops  will be on  permanent  display  at Melbourne Museum  from March 12, 2022  as part of a new exhibit supported by the Victorian Government.