Hardware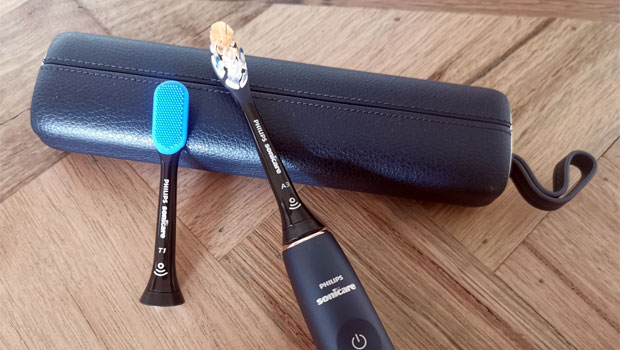 Published on October 24th, 2021 | by Andrew Bistak
Philips Sonicare 9900 Prestige Toothbrush Review
Summary: The Philips Sonicare 9900 Prestige Toothbrush is indeed a smart toothbrush and it's real-time guidance is almost unparalleled.
The Philips Sonicare 9900 Prestige is one of the world's smartest toothbrushes that not only keeps your teeth and gums healthy thanks to its sonicare and sense-iq technology which adapts and guides the user to ensure a truly smart health cleaning experience, including whiter teeth. Consider it your virtual dental technician! The Sonicare 9900 also comes in two stylish colours, champagne and midnight (reviewed) with only one button on the toothbrush (power) and three LED's which display battery capacity.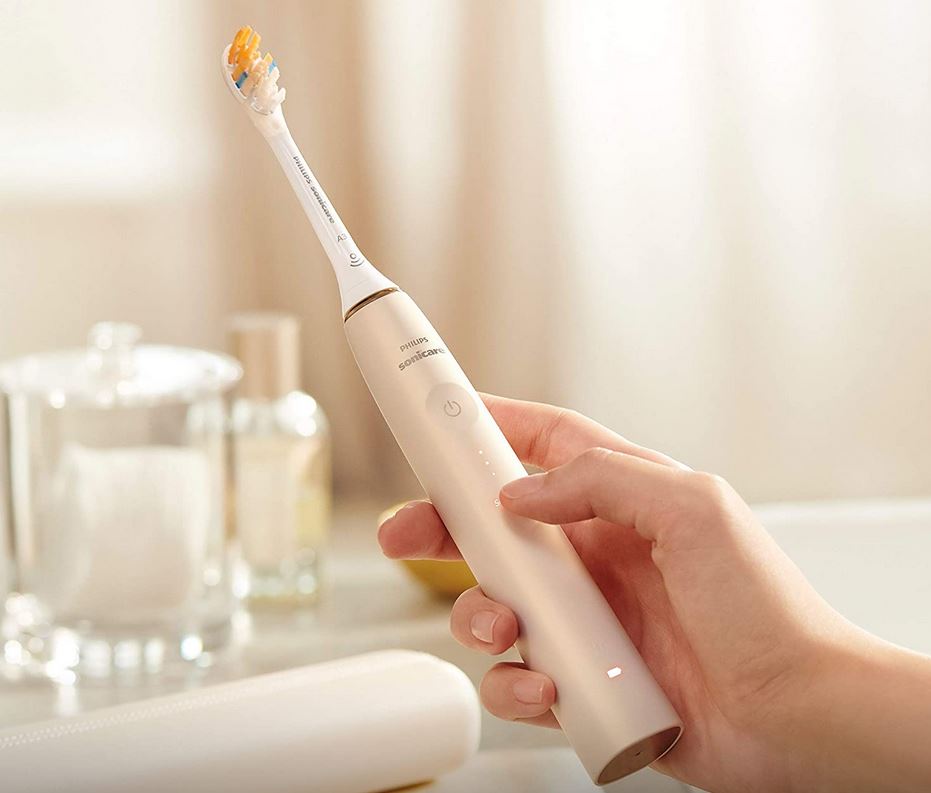 According to the tests performed by Philips, the Sonicare 9900 is far superior than a manual toothbrush that can remove up to 20 times more plaque and reduce stain reduction in just two days plus healthy gums in just two weeks. While you brush, the Sonicare 9900 has up to 62,000 bristle movements and dynamic fluid action that ensures a thorough clean, even in those hard to reach places in your mouth. Best of all, it only needs one brush which provides tailored cleaning for your teeth and gums, including three intensity settings.
Additionally this cordless toothbrush comes with a faux leather travel case and even USB-C fast charging so you will never be out of charge. The toothbrush itself will offer the user 14-days of charge and once you have finished with it, you simply pop it onto the metallic charging stand.  The "home" charger boasts wireless charging and even a plastic cap to protect the gold charging base and the Sonicare 9900 will beep twice and the lights illuminate in our upward motion to indicate its being charged. Once the lights stop, it has been fully charged.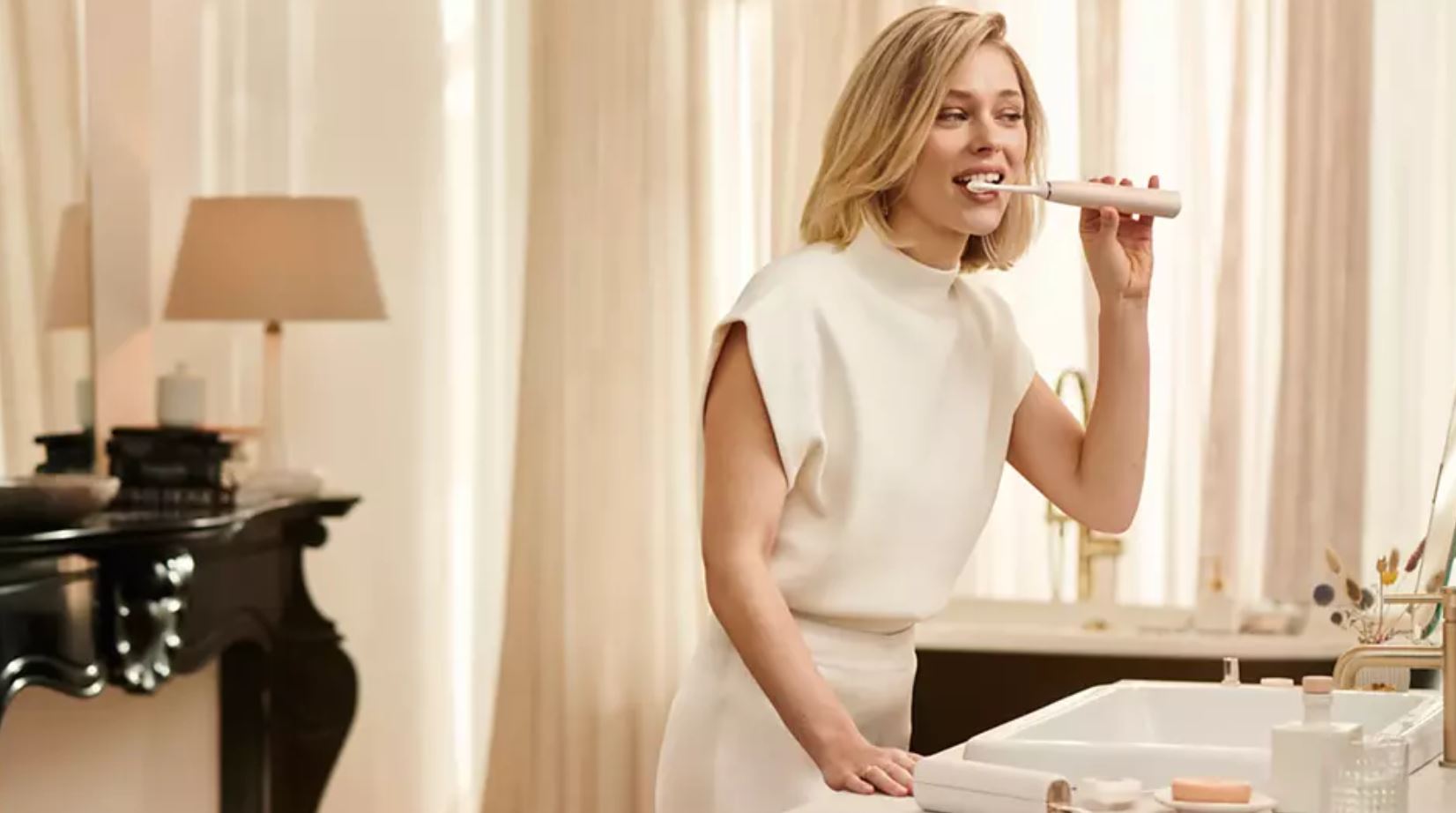 Like activity trackers, this toothbrush links to the AI-powered Philips Sonicare app that syncs with this dental device in order to forward a plethora of statistics to this app, including personalised and real-time guidance such as an area in your mouth where you might not be brushing enough. The app is also available on both the Apple App Store and Google Play Store that once installed, easily syncs to your Philips Sonicare 9900. The only caveat is that you do need to setup a Philips account.
Box Contents
Sonicare 9900 Prestige
A3 Premium All-in-One
Prestige USB charging case
USB-C charger cable
Charger base
Well packed from Philips, the Sonicare 9900 Prestige is indeed like opening a high-end product and in the world of toothbrushes, it is. It's also quite a compact electronic toothbrush and comes with a fantastic USB-C travel case (charger) that screams elegance with its faux leather and gold ends.
Another clever design element with the toothbrush is that there are no visible gaps or joins on the device which helps keep it clean, opposed to the stock standard Oral B electronic toothbrushes from the supermarket which can become a collection of old toothpaste and gunk. This thankfully is not the case with the Sonicare 9900 as cleaning is a breeze. Additionally, the setup is very simple and once you have paired the toothbrush with the smartphone app, the Sonicare 9900 is ready to use once you power it on.
Unboxing Gallery
The app is such a great tool to your dental health and the real-time feedback definitely ensures that all parts of your teeth cleaning is covered with displayed teeth graphics on your app to help you. I also like the alerts from the app that you may be pushing too hard and thankfully the toothbrush will compensate your brushing if you are. Apart from the toothbrush head which can be used up to 180 times, it even comes with a tongue brush as well.
I must admit that it is a little strange using the toothbrush the first time due to the Sonicare technology as the bristles rotate very fast and a result, it makes a whirling noise that sounds different to its competitors. Best of all, the app serves as a tutorial for your first time using the Sonicare 9900.
App Gallery
Even though you can use the toothbrush without the app, the Sonicare app is needed to give you that real-time guidance, including maximising your teeth coverage, tips for improving dental health, recording dental appointments and even motivational badges such as a "High five! for outstanding brushing. Additionally there are scrubbing and angle tips which makes the Sonicare app a very intuitive and easy to use mobile phone application. Needless to say, it's easy to hold and with the app, creates a true dental smart experience for better mouth health and from my reviewing, I do believe my teeth feel cleaner, whiter and overall healthier.
Final Thoughts?
The Philips Sonicare 9900 Prestige retails for $498.99AUD (October 2021) and as a bonus, Philips offer free delivery, 30-day free returns and a 2-year warranty. So if you're looking for that prestigious toothbrush experience, this is the product for you and while it comes at a high cost, it's been designed to keep your teeth healthy and hopefully prevent those expensive trips to the dentists!
For more information, please visit https://www.philips.com.au/c-e/pe/electric-toothbrushes/sonicare/prestige-9900.html