Games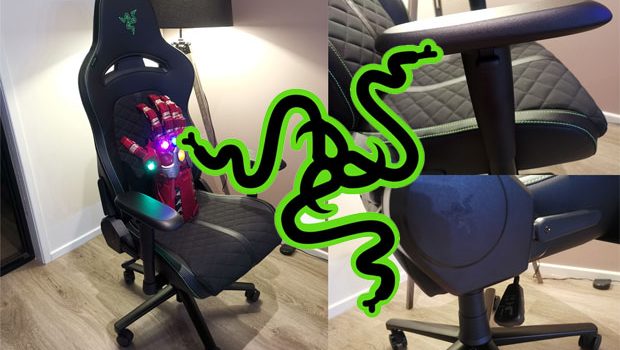 Published on October 22nd, 2021 | by Andrew Bistak
Razer Enki X Review #EssentialGamingChair @razer
Summary: The Razer Enki X ticks all the right boxes when it comes to a comfortable gaming chair!
5
Comfort just got comfier!
If you seek greater gaming performance, then the Razer Enki X will sit well with you. Sporting a sleek profile and multi-contoured seat frame, this essential gaming chair's unique design is made for only one thing in mind—the support and comfort you need for total game sharpness.
– Razer
Razer continue their push into the gaming chair market with two new products, the Razer Enki and the Enki X (reviewed) that have both been designed for all-day gaming and to promote a healthy posture such as built-in lumbar arch to support and maintain correct posture plus improved cushioning. In its design, Razer have used heat mapping when building these new gaming chairs to ensure optical weight distribution and minimise seat fatigue by reducing pressure concentration. While both chairs are structurally identical, the Razer Enki is the more expensive model which includes a few additional features, however we're ear to discuss the Razer Enki X today!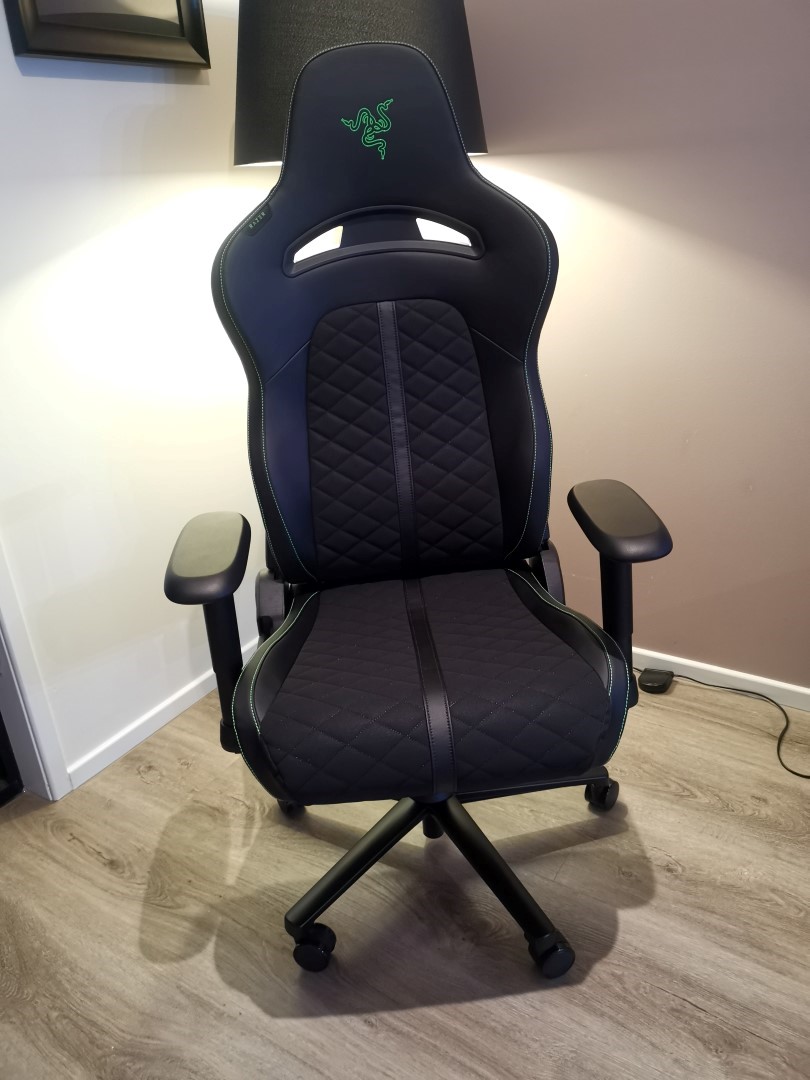 Technical Specifications
Recommended weight: < 136kg
Recommended height: 151.5 – 189cm
Chair cover material: EPU leather
Base: Steel
Frame: Steel
Armrest: 2D
Casters: 6cm caster wheel
Gas lift class: 4
Foam type: High Density PU Molded Foam
Total recline angle: 152 degrees
Warranty length: 3 years warranty for mechanisms & moving parts (not including wear and tear)
First thing first, the Razer Enki X is well-packed from Razer and comes with everything you need to build the chair, including tools and a totally impressive oversized instructions poster that actually makes putting this life-size jigsaw together even easier. Additionally, there is a QR code to scan that also helps you through the setup process and in terms of setup time, I would say that it took no more than 20 to 25 minutes to build the Razer Enki X.
Unlike other gaming chairs, the building of the Enki X is a breeze and everything fits correctly and more importantly feels connected with no instability. There was no controller… errr… gaming chair rage here, although a second person does help when you are attaching the backrest to wide base seat and the leg support. While I can build a gaming rig with one hand tied behind my back, items like this or IKEA flat-packs have me swearing like a trooper, however this was not the case with the Enki X as it almost felt like a zen experience and was a true stress free build.
Unboxing & Setup Gallery
A special mention should be made about the inside of the packaging and obviously the creators have a great sense of humour. Firstly, there is a pictogram of what not to do on the Enki X that includes no sitting on the edge of the chair, no lying down like you're from "The Matrix", don't sit with 2-people, don't use it to store your weapons (e.g. swords, missiles), don't surf and do no push off walls to go chair riding. The "dos" include 2-player co-op to build and my favourite quip, there is a warning not to use with magical stones of infinity (e.. The Infinity Stones) but rather, use the included Builder's Gauntlet that offers +10 hand protection and helps keep your hands safe while building… although it makes it impossible to use your smartphone's touch screen to take review photos!
Once the totally impressive Razer Enki gaming chair was assembled that would not look out of place at all in the Avengers Tower, the first thing that struct me was its overall build quality. It feels very solid thanks to its steel frame and quality screws and is not as heavy as some of its competitors at just over 21kg. I also like the the almost 'glowing' razer log on the backrest which makes the chair stand out considerably. The chair is also covered with EPU (Elastomeric polyurethane) synthetic leather that not only makes it quite tough but also eco-friendly. The dimensions of the Razer Enki is 67cm for width, 66cm for length and 125.cm for height or 135.5cm when fully extended. It also has a reactive seat tilt and 152 degrees recline which allows for weight adjusted tilting and flexible seating positioning.
Chair Gallery
In terms of controls, the right side of the chair has two levers to adjust the height and incline plus the height of the armrests can also be adjusted. Furthermore, the armrests have a swivel in order to adjust how your arms will rest. While I loved my last gaming chair, my one gripe was the swivel function of the armrest as eventually they became too loose, so I'm hoping this won't be the case with the Razer Enki X but alas, only time will tell. Comfort. When it comes to comfort, the Razer Enki X excels in this area and compared to my previous gaming chair, it is considerably more comfortable thanks to the high density PU molded foam. For longer than long gaming sessions, the chair helps to keep you centred and distributes your weight more evenly. It also helps that the backrest is firmer than seat base.
While I've been using this chair like a Templar Zealot from Assassin's Creed, the Razer Enki X is indeed super comfortable and it does make my posture more structured and best all, it does this subtly. Due to the current COVID-19 lockdowns in Australia, I've also used this chair as my office chair and again, super comfortable and no back issues whatsoever. Using it to play games on both my PC and XBox Series X is a joy and I must admit that I wasn't moving as much (like my previous gaming chair) in order to adjust how I was seated or to get more comfortable. Thankfully my activity tracker told me to move every now and then because of how supportive it felt while using the Razer Enki X.
Final Thoughts?
The Razer Enki X is a great value for money that boasts a flawless setup and once assembled, an unparalleled experience of comfort as you this multipurpose chair successfully helps you become immersed in your virtual worlds. Comfort just got comfier!