Collectibles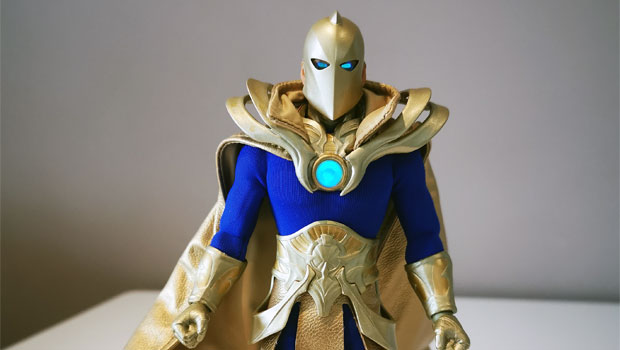 Published on June 3rd, 2021 | by Andrew Bistak
One:12 Collective Dr Fate Review … The Doctor IS IN! @mezcotoyz
Summary: The One:12 Collective Dr Fate is indeed DOCTOR FANTASTIC!
The One:12 Collective welcomes Dr. Fate, the most powerful heroic sorcerer on Earth.
This figure from the One:12 Collective (Mezco Toys) is out-of-this-world and if you're a fan of Doctor Fate (Dr Fate) or its original wielder of the powerful Helm of Nabu, Cloak of Destiny and Amulet of Anubis, archaeologist and physician Kent Nelson, then this collectible is a must have! And for the uninitiated, here is a modern rendition of the origin of Dr Fate (Justice League Dark #13, 2018) based on More Fun Comics #67 from 1941.
Firstly, the attention to detail on this figure is more glorious than Glorious Godfrey himself and then you have the insanely good articulation (3o points to be precise) that allows you to pose this figure in almost any position conceivable. So before we jump into our review and show you the amazing photos of this figure that would make any Lord of Order or Chaos green with envy, let's check out the official features an accessories;
THE ONE:12 COLLECTIVE DR. FATE FIGURE FEATURES:
One:12 Collective body with over 30 points of articulation
Two (2) head portraits
Hand painted authentic detailing
Approximately 16cm tall
Ten (10) interchangeable hands
One (1) pair of fists (L&R)
Two (2) pairs of posing hands (L&R)
One (1) pair of spell hands (L&R)
One (1) pair book holding hands (L&R)
COSTUME:
Leather-like cape with integrated posing wire
Fitted body suit
Fortified chest armor with light-up function
Wrist gauntlets
Leather-like tasset
Knee-high boots
ACCESSORIES:
One (1) Helmet of Fate
Three (3) magic projection FX
One (1) Book of Thoth
Two (2) wrist-mounted posing posts
One (1) One:12 Collective display base with logo
One (1) One:12 Collective adjustable display post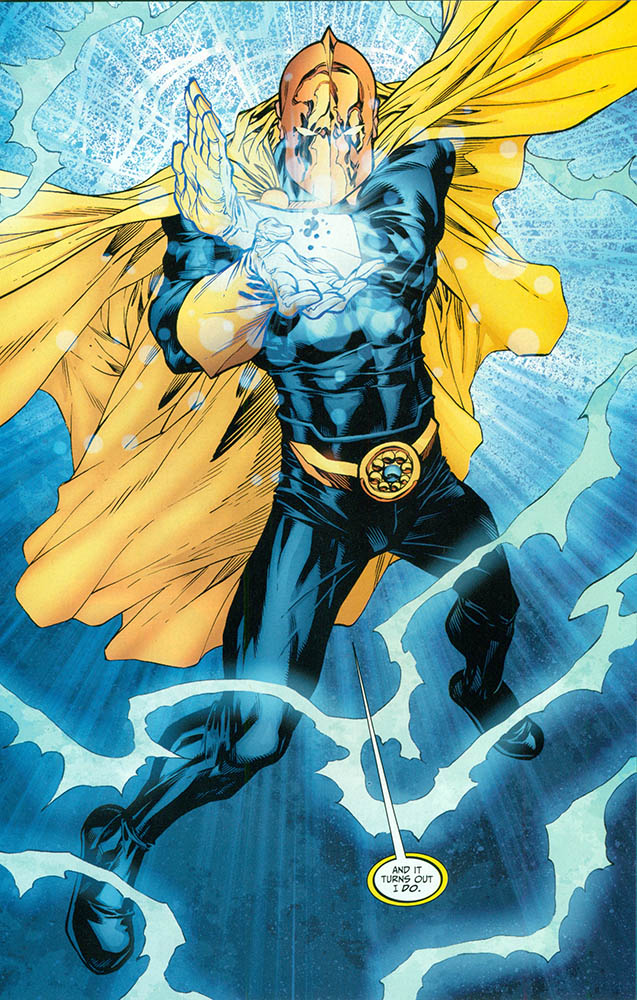 Another highlight of this figure is the packaging and while no plastic window, it celebrates the character who is prominently displayed on the front with the classic logo of Dr Fate. The art on the collector's box is taken from Justice Society of America vol.3 #33 (2010) by artist Matt Sturges and interestingly is Kent V Nelson. Furthermore, this figure and its wonderful accessories is well packed from the One:12 Collective, so rest assured that it will arrive safely in your hands.
Needless, every element and accessories of this figure has been perfectly crafted and while the costume is slightly different to the comic counterpart throughout the ages, Mezco Toys have used their artistic liberty well in taking something from 2D and turning it into a 3D piece of art.
For example, the detail on the face of Kent Nelson is great and while he looks tired and a little weathered, his eyes and facial feature looks like he has been carrying the burden of the universe on his shoulders. The other elements of the belt, boots and gloves is great, particularly the beveled designs. Further to this is the leather-like cape that helps with posing this figure and the of course, the Helmet of Nabu and the magically book of Thoth that all adds to the wonder of Dr Fate. The paint work is flawless that really shows on the helmet and the amulet which both light up.
One caveat with this figure is that the only instructions it comes with is how to install the battery. In order to use the light-up feature which makes the eyes on the helmet and amulet glow with an eerie blue light, you need to install the super small batteries. However given how small it was, I had some difficultly in opening it but once installed, there is a switch to turn this feature on and off and by the ancient Gods of Egypt, it looks magical indeed.
The other small issue was the stand as it comes with a see-through plastic display pole to help Dr Fate fly or perform some ancient eldritch spell in the air. There is a hard bit of plastic on the stand that needs to be pushed out for the stand to fit… so the moral of the story, some further instructions would have been nice but nonetheless, it all worked out fine in the end. All in all, a wonderful figure from Mezco Toys that stands at a mighty 16cm in height.
GALLERY
Final Thoughts?
Firstly, thanks to Mezco Toys for making such an amazing 1:12 scale figure of DC Comics premier magician, Dr Fate (aka Kent Nelson) and more importantly, it's the original and in my opinion, the only Dr Fate that really counts. While I did have some difficulty with installing the batteries into the neck piece and also inserting the display pol into the base, these little glitches no way take away from the greatness of this figure. Sure, I'm a biased Dr Fate fan but, Mezco Toys have successfully paid homage and added their own unique twist to this legendary comic book character created by the equally legendary Gardner Fox who was responsible for many of DC Comics' greatest characters and teams.
https://www.mezcotoyz.com/one-12-collective-dr-fate
Product Description
The One:12 Collective welcomes Dr. Fate, the most powerful heroic sorcerer on Earth.
The One:12 Collective Dr. Fate wears a fitted bodysuit underneath his fortified light-up chest armor, a leather-like cape with integrated posing wire, a leather-like tasset, and knee-high boots. The Master of Magic comes complete with two head portraits including a Helmet of Fate portrait with light-up eyes and an unmasked Kent Nelson portrait. An additional Helmet of Fate is included that can be held.
Dr. Fate proves his magical prowess is unmatched, complete with three different magic projection effects that attach to his wrist-mounted posing post and the Book of Thoth, a magic tome containing dangerous spells. The Book of Thoth can open and close, features real paper pages, and comes with an additional wrist-mounted posing post.
Harnessing magical powers older than the beginning of human civilization, Dr. Fate has been defending the side of light since the days of ancient Egypt. If there is a supernatural power that threatens to engulf planet Earth, rest assured that Dr. Fate will be at the ready.