Hardware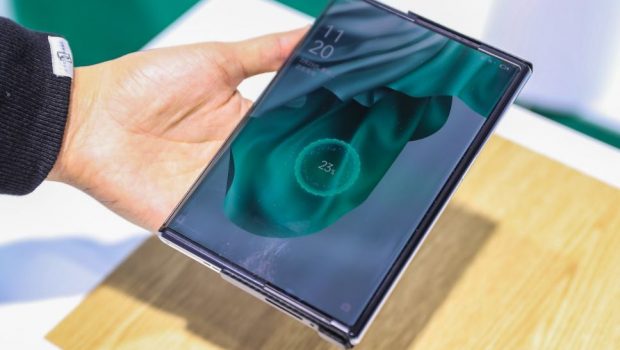 Published on February 24th, 2021 | by Adrian Gunning
OPPO Flash Charges the Future
Leading smart device company, OPPO, displayed the latest in its cutting-edge innovations overnight at Mobile World Congress Shanghai. The event showcased OPPO's flash charging capabilities and new partner program, alongside a host of innovations in device charging, 5G connectivity and smart technology, further highlighting the company's commitment to innovation.
Meanwhile, numerous examples of cutting-edge charging products featured on OPPO's stand, including the 125W flash charger, which can charge a 4,000mAh phone battery to 100% in just 20 minutes. This was joined by the company's 65W AirVOOC wireless flash charger, which charges the same battery in as little as 30 minutes, and products from several partners who have licensed OPPO's proprietary technologies. Meanwhile, key partners across consumer electronics and chip manufacturing came together to discuss the future of flash charge technology.
Speaking of the event, OPPO Australia Managing Director, Michael Tran said, "At OPPO, we firmly believe that 5G will change how we all live. As coverage and capacity expand, we'll see new applications flourishing in numerous areas, bringing unexpected experiences to consumers. We're already involved in the development of a global 5G standard, and will continue to explore new 5G devices and deployments."
"OPPO is passionate about innovation and pushing the boundaries of what is possible in our smart devices. Our VOOC and wireless charging technologies aim to help make users' lives easier and address a key pain point for device usage. By opening up our technology to key partners, more people in more places can benefit from our world-leading fast charging technology. This is a gamechanger for many sectors and the start of something very special. We look forward to expanding our partner portfolio further in the future."
Wirelss Air Charging On Display 
OPPO Wireless Air Charging, which debuted at MWCS 2021, wirelessly charges a phone at distances of up to 10cm away from the charging pad. When charging, a phone can be placed in a variety of positions and angles, with no need to strictly align coils or to even come into direct contact with the pad. The technology tackles the inconvenience of inductive charging that requires phones to be touching the charging pad, offering consumers the flexibility to use their phone while charging. Overall, the solution provides a more convenient and flexible charging experience at home and in the office, is expected to be available in public places in the future.
Leading the charge
OPPO's VOOC technology launched in 2014, and the 30+ smartphone models that feature VOOC have so far delivered the ultra-fast charging experience to over 175 million users around the globe.
OPPO's latest flash charging products are already making fast charging more convenient. The tiny 50W Mini SuperVOOC charger can charge smartphones, tablets and even laptops—and is just 10.05mm thick and 82.2mm long, so it easily fits in your pocket. Meanwhile, the 65W AirVOOC wireless charger can fully power a 4,000mAh phone battery in 30 minutes—and the 125W flash charger can do the same in just 20 minutes. Each product uses low voltage charging, with a dual-cell structure, and multiple charge pumps and temperature sensors to automatically regulate voltage and dissipate heat.
Newest flash charging partners
The combined goal of OPPO's newest partners is to provide access to fast charging in even more scenarios, and empower consumers with technology that makes their lives easier and richer.
– Anker, one of the world's leading consumer electronic brands, creates innovative products from power banks to chargers and vacuum cleaners to headphones. By working with OPPO, Anker will help to bring flash charging to millions more people.
– FAW-Volkswagen, the joint venture between FAW Group and Volkswagen Group, will use OPPO's unique charging IP to incorporate rapid charging into Volkswagen cars made in China, giving automobile drivers and passengers power on the go.
– Chip manufacturer NXP Semiconductors brings smart, connected solutions to a range of sectors, from smart cities to industrial, automotive, mobile and the home. Building on a longstanding relationship, NXP will implement several OPPO patents to support VOOC flash charging across its printed circuit board assemblies, meaning that flash charging could be more easily integrated into more automotive applications, public spaces and industrial settings.
The Smart Home of the Future 
The Smart Home of the Future shows how OPPO's IoT products can make our homes smarter and more connected than ever before. The unique 5G CPE, Omni, powered by Qualcomm® Snapdragon™ X55 5G Modem-RF System sits at the heart of this area, capable of turning 5G signals into stable, high speed Wi-Fi connections through two proprietary antenna systems.
Smart Antenna Technologies
The O-Reserve 5G antenna system uses the Sub-6GHz 5G spectrum, automatically choosing four of its eight antennas at a time to get the best possible signal. At the same time, the O-Motion 360° technology can fully rotate its antennae, automatically ensuring the CPE is positioned for optimum 5G millimeter wave signal reception. OPPO, Qualcomm Technologies, Inc., and Ericsson recently completed successful tests of 5G millimeter wave technology with the Omni, achieving downlink speeds of 4.06Gbps.