Games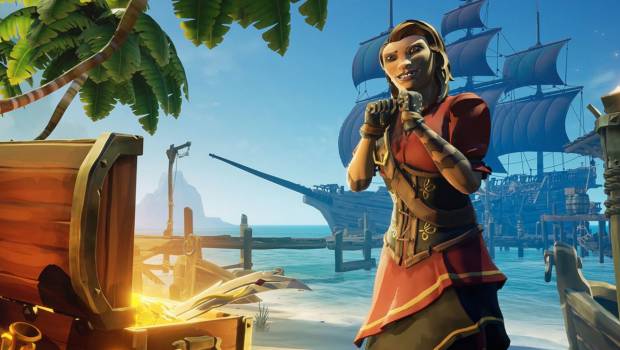 Published on February 16th, 2021 | by Adrian Gunning
Toasting Sea Shanties and Pirate Pleasures on Xbox Game Pass
It's safe to say the Internet works in mysterious ways. But every now and again a viral sensation will permeate on the interwebs and transcend the very fabric of history, art and pop-culture along the way.
Alas, this is how we landed on the first great meme of 2021 with the worldwide celebration of the historic sea shanty emerging on TikTok and subsequently exploding into a viral phenomenon.
For many, 2021 may have been ones first exposure to the majestic sea sounds of a Hurdy Gurdy instrument and baritone explanations of Wellerman bringing sugar, tea and rum, but for Sea of Thieves fans this is a celebration that was long overdue.
The open-world pirate classic boasts an award-winning soundtrack consisting entirely of award-winning modern sea shanties from Rare's music maestro, Robin Beanland. Those enjoying the game are treated to the bellowing sounds of authentic concertina instruments, with over 20x acclaimed shanties for players to indulge on (complete with one unbelievable Van Halen cover).
You might remember in 2018 the Xbox ANZ took it a step further, teaming with premier Australian pirate band 'Captain Hellfire and the Wretched Brethren' to sing shanties to local gamers as they played. Take a trip down memory lane here.
Unbeknownst to many new sea shanty fans, Xbox Game Pass has long been the home of the seven seas, offering the kinds of experiences fitting for a modern pirate enthusiast. So, to champion this new craze, we've collated the best list of Xbox Game Pass' sea-based games to jump aboard and set sail towards a night of gaming adventure. Ahoy!
Sea of Thieves (console and PC)
Available on Xbox Game Pass right now, Sea of Thieves offers the quintessential pirate experience for gamers, packed to the seams with sailing and exploring, fighting and plundering, riddle solving and treasure hunting – it's everything a modern gamer needs to live the pirate life they've always dreamed about.
It's swashbuckling fun and the definitive number one on any pirate-themed games list. Yo Ho! Yo Ho! It's a pirate life for we…
Call of the Sea (console and PC)
What good pirate adventure would be complete without a mysterious hunt for secrets on a strange island?
From the team at Out of the Blue and available on Xbox Game Pass, Inc, Call of the Sea is a weird tale of otherworldly mystery, blending the fun of the first-person adventure puzzle game genre with the fascinating (and aquatic) investigation of Norah, a woman who journeys to a South Pacific island in the 1930s on the trail of her missing husband's expedition.
Sea of Solitude (console)
Included as part of Xbox Game Pass EA Play partnership, Sea of Solitude is a masterful merging of innovative gameplay and emotional storytelling as we follow our protagonist, Kay's battle with loneliness as she sets sail across a beautiful and evolving world, where nothing is quite what it seems.
Jump aboard your trusty boat and set sail across the captivating and flooded landscape of this game, meeting fantastical creatures and monsters, learn their stories and solving challenges in this emotional story-based adventure game.

Subnautica (console and PC)
Moving away from our boat, boarding a space-ship and diving back into the depths of the deep blue sea the next must-play ocean title is none other than Subnautica.
This exclusively underwater open world adventure game is available via Xbox Game Pass Ultimate and offers players the chance to roam around the open-ocean on an alien planet, known as planet 4546B, after their spaceship, the Aurora, crashes on the planet's surface.
In these murky waters there's no Kraken to be found but rather terrifying Crabsquids and quite literal Sea Dragons are there to devour you at every turn!
Spiritfarer (console and PC)
Included on the Xbox Game Pass platform, Spiritfarer is a very sweet tale of very serious topics.
Not content with just sailing, Spiritfarer fascinating mix of cosy management game and wider exploration of death, you play a boat-bound ferry-master to the deceased, navigating the deep blue to explore the world, care for your spirit friends and guide them across mystical seas to finally release them into the afterlife.