Games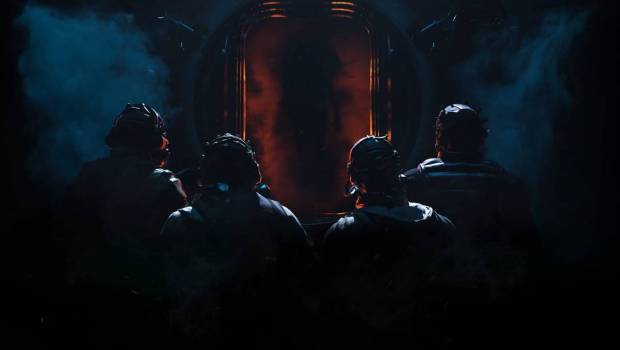 Published on October 23rd, 2020 | by Adrian Gunning
GTFO GETS ITS BIGGEST UPDATE YET
The update, called "Contact" adds matchmaking, a unique layered difficulty system, a new environment, enemy, and more
In December last year, Swedish independent game developer 10 Chambers Collective – formed in 2015 by nine industry veterans known for titles such as PAYDAY: The Heist and PAYDAY 2 – released their first game GTFO, a 4-player co-op action/horror FPS, in Early Access. It has been described as "Left 4 Dead meets Aliens", and uses a Rundown concept, where the game is regularly updated with new expeditions (i.e. maps, scenarios, enemies, etc.) that replace the previous ones. Today, they're dropping a trailer announcing the release of their biggest Rundown update to date; introducing features such as the much-awaited match-making and a unique layered difficulty system – as well as a new environment, new enemy, new weapons and tools.
FULL RELEASE

GTFO takes place in a terrifying underground facility called the "Complex", where your team's survival relies on your ability to communicate, coordinate – and count your bullets. In the new update, you will explore the data center of the Complex for the first time. The new Rundown also comes with a range of weapons and tools, which will come in handy when you encounter the new, creepy enemy.
"This Rundown is easily our biggest update yet. We're adding core features such as matchmaking, and we're also introducing a new system we call "layered difficulty". Depending on what route you choose throughout some of the expeditions, you will find it either very hard – or extremely hard. This will make it easier – or should I say less hard – for new players to take on GTFO, while at the same time giving our more seasoned community members a hardcore challenge right from the first expedition", says Ulf Andersson, Creative Director of GTFO.
Matchmaking has been a long-awaited feature for new players to quickly find others to join them down in the Complex. When it is added in the new Rundown, it will be in alpha and the developers will update the feature continuously until they nail the perfect match-making system. So far, people have found their squad at the GTFO's thriving Discord server which now boasts over 200 000 members.
"As GTFO requires a lot of communication and teamwork, we haven't wanted to use a basic matchmaking system, as it could generate poor matches and risk giving new players the wrong experience. Now that we're adding it in, we will need our community's help to refine it. We're starting off with it in alpha mode and will continue to develop it iteratively as we go on, and see how it works with the volume of players we have", says Simon Viklund, composer and game designer of GTFO.
To assist with the game's story, 10 Chambers have had help from Adam Gascoine, who has previously worked on DOOM, DOOM Eternal, and The Last of Us.
"With the last Rundown, we added more to the story of why you are down in the Complex, and we will continue building the story with this one. I don't want to spoil anything for our community, but let's say that the Rundown is called 'Contact' for a reason", says Simon Viklund.
This new update, named Contact (Rundown #004), is now available to everyone that owns GTFO Early Access. When owners update the game, it will wipe and replace the previous Rundown with the new one.
GTFO Early Access is available on Steam, but to celebrate the update it's currently 20% off!
Interact with 10 Chambers Collective on Twitter, Discord, YouTube and Facebook, and join the Ambassador Program for access to future perks.