Games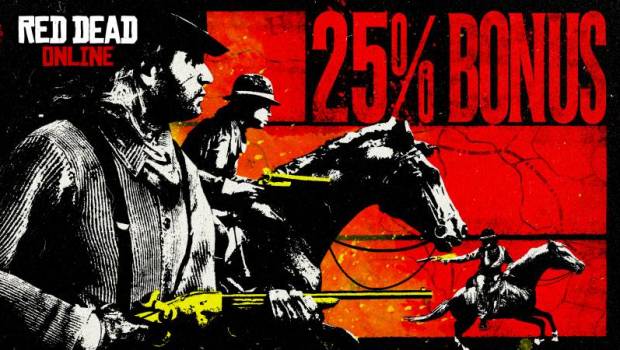 Published on May 6th, 2020 | by Adrian Gunning
RED DEAD REDEMPTION 2: Get Bonus RDO$ and Gold in Showdown Modes and Races
Get Bonus RDO$ and Gold in Showdown Modes and Races
Plus Rewards for Daily Challenges and More
SHOWDOWN MODE & RACES BENEFITS
Are you the fastest gun in the West? How about the swiftest rider? Try your hand at either or both competitive pursuits to reap 25% extra Cash and Gold in all Showdowns and Races, as well as a 100% XP Boost for both.
Determined players who stick to it and complete 3 Daily Challenges this week will receive a free Ability Card for their efforts. Please allow 48 hours for the Ability Card Reward to arrive in the Benefits section.
LIMITED TIME CLOTHING
There's still time to purchase the Wheeler, Rawson & Co. Catalogue's limited time items that returned last week. See below for this selection of rare wares and make sure to pick them up by May 11th.
Fanned Stovepipe Hat

Owanjila Hat

Benbow Jacket

Eberhart Coat

Concho Pants

Darned Stockings

Bowyer Boots

Salter Shoes
DISCOUNTS AND BENEFITS
Throw yourself into a new line of work and save your coin by taking advantage of this week's 5 Gold Bar discount off the prices for the Bounty Hunter's License, the Butcher's Table, the Collector's Bag and all Moonshine Shack Properties.
If you're looking to customize your camp, there's 50% off most everything sold at Wilderness Outfitters (and a third off the Butcher's Table, as detailed above).
Flip through the Catalogue and you might notice several more worthwhile deals, including:
Red Dead Online players who connect their Rockstar Social Club account to Twitch Prime will receive the Collector's Bag, the Polished Copper Moonshine Still and a Reward crediting them with 5 Moonshiner Role Ranks.
PLAYSTATION PLUS
This month, PlayStation Plus Members will receive a fisherman's starter pack consisting of 5 Special Lake Lure, 5 Special Swamp Lure, 5 Special River Lure, along with a Treasure Map of the North Clingman area to boot.
Check Rockstar Support for details and limitations.
A portion of all proceeds from Red Dead Online and GTA Online over April and May 2020 will go toward relief for those affected by COVID-19 – see here for details.