Hardware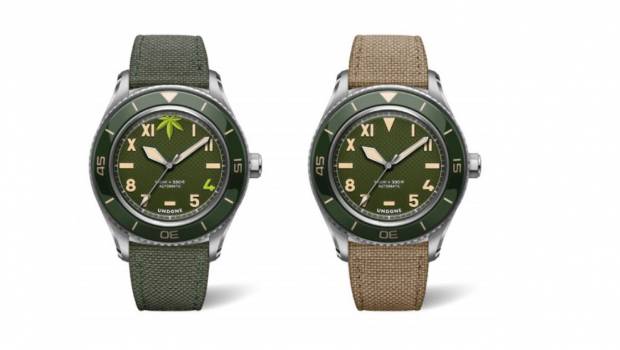 Published on April 4th, 2020 | by Adrian Gunning
UNDONE's GREEN INITIATIVE
Old man Jenkins warned us that this day would come…while National Cannabis Awareness Month has always been observed annually; April 1st, 2020 marks the only time this century, where it will be 420 for a whole month. As our corporate responsibility, UNDONE wants you to stay green; as a nod and reminder to this year's special month and date.
So whether you're a PUFFER or a PASSER, celebrate your "awareness" (or unawareness) during this kushy month of the year and in style with the UNDONE BASECAMP 420. UNDONE has taken everything we have learnt about personalisation and individuality for the past 5 years, to create something special for you, for you to remember the right time during your high times.
APRIL FOOLS JOKE TURNS REAL UNDONE is allowing you to make your watch be a reflection of your personality, with 0% THC and CBD Content but 100% flavour. The Basecamp 420 radiates character with its green colours, accentuated by the marijuana leaf and the highlighted 4. Although often stigmatised by the media, and a sensitive topic avoided by most businesses, UNDONE has always aimed to be culturally relevant and connected to society; unlike most of our industry competitors.
UNDONE.420 "stemmed" from a joke idea for April Fools and our want to bring something light
– hearted to the market in the midst of this current health crisis. Besides, how could we miss the opportunity for a whole month dedicated to puffing and passing!
WHAT'S IN THE BOX
Each watch will come with a 2 piece set of quick-release straps, just in case you think you've greened out, you can change them.
TECHNICAL SPECS
Diameter/ Face size: 40mm excl. crown
Lug/ Strap width: 20mm
Lug-to-lug/ Top-to-bottom: 48mm
Height: 15mm incl. crystal
Case material: 316L Stainless Steel
Lens: LEXAN Polycarbonate
Movement: NH35A Automatic Winding Mechanism
For more information, please visit the 420 Green Initiative at https://bit.ly/2V2c3zs