Films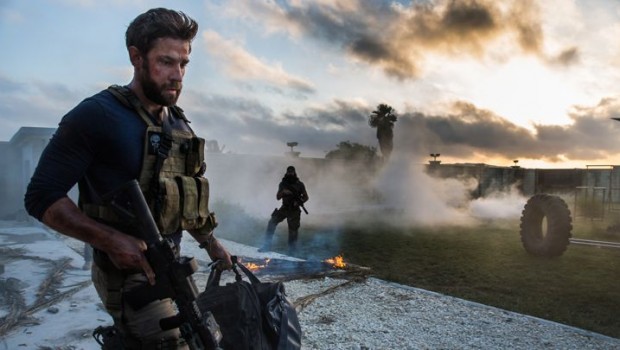 Published on February 29th, 2016 | by Damien Straker
13 Hours: The Secret Soldiers of Benghazi – Film Review
Reviewed by Damien Straker on the 29th of February 2016
Paramount Pictures presents a film by Michael Bay
Produced by Michael Bay and Erwin Stoff
Screenplay by Chuck Hogan, based on 13 Hours by Mitchell Zuckoff
Starring: James Badge Dale, John Krasinski, Max Martini, Dominic Fumusa and Pablo Schreiber
Music by Lorne Balfe
Cinematography Dion Beebe
Edited by Pietro Scalia
Running Time: 144 minutes
Rating: MA15+
Release Date: the 25th of February 2016
A poor script ensures that 13 Hours: The Secret Soldiers of Benghazi is for fans of director Michael Bay only. He has opted to dramatise the attack on an American embassy in Benghazi in 2012. Some critics have noted that in spite of Bay's signature auteurist imprint and love for gunfire and levelling buildings, made famous by the Transformer movies, he is not concealing a political agenda. 13 Hours postures as being about a ground level view of the conflict, away from the politics, similar to Black Hawk Down. It is about how the American soldiers defended the embassy in the face of red tape that would otherwise have prevented them from taking action and how they weren't properly recognised for their efforts. If the film had dramatised the soldiers coming home and being neglected the film would have capitalised on the potential of the story and history. But Michael Bay is afraid of disappointing his most loyal fans, who are mostly adolescent boys and men with short attention spans. His only way of channelling American resilience and the strength of their character is through monotonous gunfire and combat. It's all this fifty-one year old filmmaker seems capable of but these methods are nonetheless strategic and political. The film is about inflating American superiority, male dominance and machoism but filters these already dull and primitive attitudes, not themes, through combat alone, which further underlines Bay's adolescence.
The easiest and laziest way to defend a Michael Bay film is to say that it's expected because he's become one of modern culture's most famous auteurist artists of mediocrity. But his technical incompetence, pairing with editors Pietro Scali and Calvin Wimmer and cinematographer Dion Beebe, diminishes the already banal spectacle. The early scenes are disjointed and poorly cut between transitions and he doesn't take time to develop the characters. There's no sense of who anyone is inside and outside of the action. The combat scenes are also plagued by over-editing, rapid cutting and a jerky handheld camera style that distorts our vision of where anyone is and who they are. If Bay was genuinely interested in their treatment he would provide the characters with more time and space to develop instead of resorting to cliché characters that wouldn't qualify as sketches. The only actor making any impression here is the unusually cast John Krasinski (The Office) as a special forces contractor, whose soft personality seems at odds with the machoism and corn. At one point after he asks why he can't just go home to his pregnant wife, someone says: "Warriors don't retire". Its moments like this where the film could have achieved unintentional comedic value but instead it becomes another Bay endurance test. In spite of the recent wave of patriotic films about American militarism that excelled at the box office, such as American Sniper, Americans resisted this film, leading to one of Michael Bay's lowest returns in recent times. It's a telling sign that even they weren't buying into his vision of the enduring strength of their military. Who can blame them? At nearly two and a half hours long, life is too short for how little he offers.
Summary: At nearly two and a half hours long, life is too short for how little Bay offers.