Games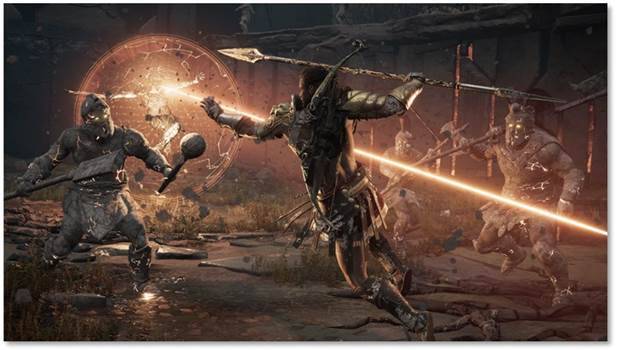 Published on August 21st, 2018 | by Admin
ASSASSIN'S CREED® ODYSSEY UNVEILS A WORLD OF DANGER AND LEGENDS
Mercenaries, The Cult of Kosmos, Legendary Animals and Mythological Creatures Will Challenge Players Over the Course of Their Odyssey
Sydney, Australia — August 21, 2018 — Today, at Gamescom, Ubisoft showcased a world of danger and legends in Assassin's Creed® Odyssey.  Ancient Greece, 431BCE, a land rich with myths and legends, in the midst of the Peloponnesian War, fought between Sparta and Athens. This world is ruled by the gods, and shaped by myths and legendary creatures. The creative team behind Assassin's Creed Odyssey recaptured this pivotal moment in history when mythology merged with religion and tradition, shaping Ancient Greek life.
As Alexios or Kassandra, players will encounter these myths firsthand, in the form of Legendary Animals and Mythical Creatures, while battling Mercenaries and defying the Cult of Kosmos. Mercenaries, skilled warriors, will hunt Alexios or Kassandra if they're caught breaking the law. These tenacious enemies boast advanced combat techniques and abilities, wield valuable weapons and can be accompanied by predatory pets. They will relentlessly track the hero on land and sea as soon as a bounty is placed over their head.
Over the course of their Odyssey, players will encounter Legendary Animals, inspired by the Herculean myths including the Nemean Lion with impenetrable golden fur, the Lykaon Wolf, an evil beast cursed by the Gods themselves and Kallisto the bear, the angry mother of the Arcadians, to name a few. They will also have the chance to engage in battle with terrifying Mythical Creatures inspired by Greek legends, including Medusa.
Assassin's Creed® Odyssey will release worldwide on October 5, 2018, on the Xbox One family of devices including the Xbox One X, PlayStation®4 computer entertainment system and Windows PC.
Players who pre-order the Gold Edition, Digital Ultimate Edition, Medusa Edition, Spartan Edition or Pantheon Edition of Assassin's Creed: Odyssey before October 2, 2018 will have the opportunity to play the game up to three days earlier.
For more information on Assassin's Creed®, please visit: assassinscreed.com
*Associate studios are Ubisoft Montreal, Ubisoft Singapore, Ubisoft Bucharest Ubisoft Chengdu, Ubisoft Montpellier, Ubisoft Kiev, Ubisoft Shanghai, Ubisoft Pune, with additional help from external partners Sperasoft and Technicolor.