Blu-ray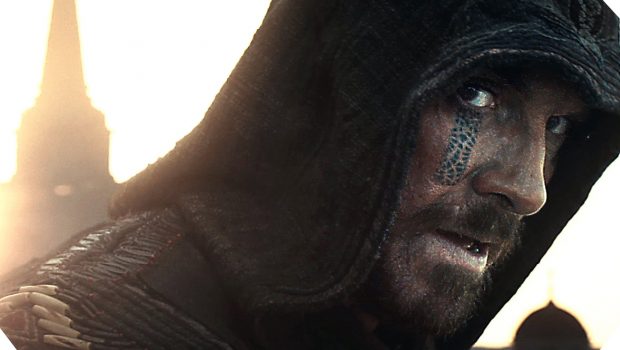 Published on April 13th, 2017 | by admin
10 Best-Ever Movie Stunts
Death-defying stunts have been a fundamental element of the cinematic experience since… forever. Flying, running, jumping or driving, there's something painfully thrilling about watching our favourite actors (or their stunt doubles) in danger. To celebrate the release of Assassin's Creed on DVD and Blu-Ray, we've put together a list of the ten most anxiety inducing, chaotic, high-adrenaline, and overall best ever movie stunts to grace our screens.
Assassin's Creed – The Leap of Faith
Assassin's Creed stuntman Damien Walters leapt 125 feet for this heart wrenching shot, an ambitious recreation of an iconic free-running vertical leap from the Assassin's Creed game. Landing totally unharmed, this mildly terrifying free jump is one of the highest performed by a stuntman since Dar Robinson's Sharky's Machine jump almost 35 years ago.
The stunt was also replicated live on English TV for the theatrical release
Mission: Impossible – Ghost Protocol – Scaling the Burj Khalifa
Tom Cruise is painfully fantastic at forcing us onto the edge of our seats, but there's something especially thrilling about this scene that honestly makes us dizzy. Watching Mr. Cruise suspended dangerously from the Burj Khalifa in Dubai – the world's tallest skyscraper, standing at 2722 feet in the air – genuinely makes us tremble.
Raiders of the Lost Ark – Harrison Ford Almost Crushed by a Boulder
Indiana Jones is obviously amazing, daring, adventurous and crazy handsome. An absolute classic. The 'boulder' in the opening sequence of the Raiders of the Lost Ark, which was fashioned from wood, fibreglass and plaster, weighed over 350kg – but was no match for Harrison Ford, who is said to have outrun the boulder in all ten of the takes he fearlessly attempted.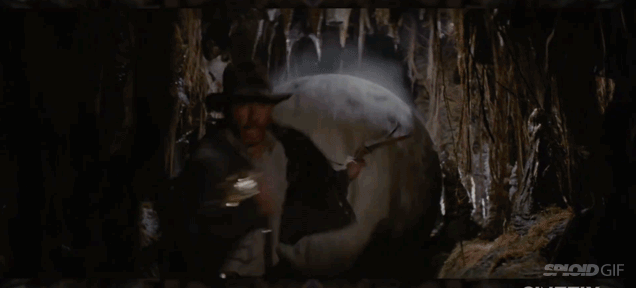 Goldeneye – Wayne Michaels' Insane Bungee Jumping
Watching a human body dangle dangerously mid-air for so painfully long is really a little unnerving. Nevertheless, we love the opening scene of this action-packed Bond flick – which features Wayne Michaels as the stunt double for the iconic Pierce Brosnan. This jump took place in Switzerland's Contra Dam, which has since become a hot-spot for adrenalin junkies yearning to recreate the scene.
Mad Max: Fury Road – Big Boom
There's no dancing around it: this movie is, in it's entirety, totally bizarre and absolutely jaw-dropping. Here is a snapshot of one of the numerous unreservedly chaotic scenes from the film, which features Max (Tom Hardy) swinging through the air in the midst of a colossal tanker explosion.  Amazing.
Project A – Clock Tower Fall
This list would not be complete without mention of the incredible Jackie Chan, who is fearless and amazing as well as being completely hilarious and wholesome. Among his most memorable stunts is his famous clock tower fall in the 1983 film Project A – which sees him plummet down several stories with nothing but a couple of flimsy canopies to break his fall.
Kill Bill: Volume 1 – The Bride vs. The 88's
Quentin Tarantino's Kill Bill: Volume 1 (2003) is visually outstanding and delightfully violent, our personal favourite Tarantino flick to date. In this scene, Uma Thurman stars as The Bride – and successfully butchers a full room of men in her fight against O-Ren Ishii's personal army, The Crazy 88, in undeniable style.
Furious 7 – Tower Jump in Dubai
The entire Fast and the Furious franchise is jam-packed with danger and adrenaline, but it's this outrageous scene from the film's seventh instalment which we are completely captivated by. We're not sure if we'll ever find ourselves behind the wheel of a car 50 storeys above ground, driving off a building – but if we ever do, we hope we make it look this cool.
The Bourne Identity – Matt Damon Wrecks his Assassin with a Pen
In this fast-moving hand-to-hand combat scene, Bourne – played by Matt Damon – is forced to improvise against his would-be assassin in a highly unusual but exceptionally awesome way. When his opponent unveils a push dagger, Matt Damon puts up an extraordinary battle – using a run-of-the-mill pen to stab him a number of times.
Die Hard – McClane Jumps off the Roof at Nakatomi Plaza
It's raining glass and bullets in this scene which features the vulnerable but resourceful Bruce Willis as John Mcclane – the protagonist (and single greatest movie cop ever) who, when forced to leap from the roof of Nakatomi Plaza, ties a fire hose around himself in a frantic attempt to save his life.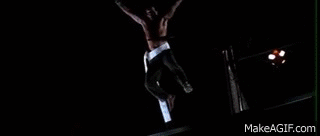 ASSASSIN'S CREED NEW TO DVD & BLU-RAY