WWE All-Stars
THQ are the definitive creators of wrestling games, however over the years, their wrestling games have become a little stagnant. That's not to say that their games are bad, on the contrary, they have been excellent but every now and then, you need to shake things up and this is where WWE All Stars comes into fray.
Reminiscent of WWE Legends of Wrestlemania, WWE All Stars gives what old school wrestling fans want, an all-star line-up of classic wrestlers from the ages. From the enormous Andrew the Giant to the extraverted Mr. Perfect or modern legend, The Rock, WWE All Stars is a great walk down memory lane as you battle this stellar line-up against each other.
Still not convinced? WWE All Stars also features Bret Hart, John Cena and Macho Man Randy Savage as well but best of all, the gaming mechanics are quite decent and whether you're a new comer to the series or a veteran THQ Wrestling fan, the control system works great on the PS3 DualShock controller with all this over the top wrestling fun.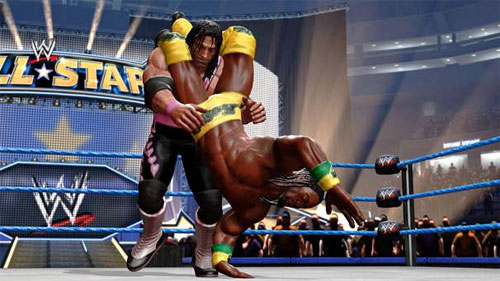 In terms of gaming modes, WWE All Stars has quite a few different modes of play to keep even the most fussiest of gamers pleased. From both local and online multiplayer fun to traditional exhibition matched and my favourite, Fantasy Warfare that allows you to wrestle legends against legend, whether old school or modern superstar.
There is also a Champion mode that allows you to pick your own wrestler and fight them through a variety of challenges in order to unlock some rather cool content. With that said, the game offers four different types of wrestlers that include Acrobat, Big Man, Brawler and Grappler, each with their pros and cons. Needless to say, there's quite a bit of replay value here.
In terms of controls, even though WWE All Stars can be played as a button masher, this will only go so far. The key to victory in WWE All Stars is learning the various combo moves for your wrestlers that can sometimes mean the difference between winning and losing. But what I enjoyed about the combo moves were the outrageous nature of them that seem quite over the top and flamboyant, just like the 80's wrestling that I grew up watching.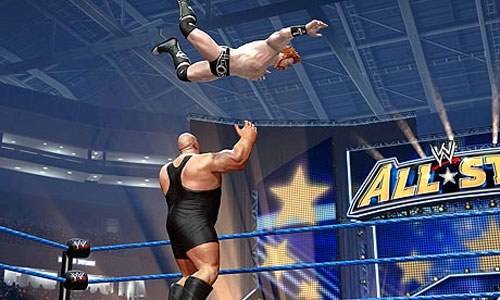 Throw in old school running attacks or various grapples and you could be mistaken in thinking that you are watching a re-run from the golden age of wrestling. All the basics are still included in the game from pile driving to body slams plus signature moves that are sometimes a little tricky to pull off, depending on which wrestler you are controlling. Of course all this old school fun couldn't have happened without the amazing graphics.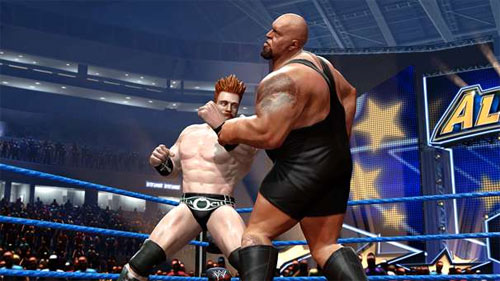 Graphically, WWE All Stars is boasts some great wrestling eye candy on the PS3 that include realistic virtual counterparts of these classic and modern superstar wrestlers. Another highlight of the graphics are the introduction videos for the wrestlers that mimic their outrageous introductions perfectly.
Even though most wrestlers looks a little too beefcake due to the squarish polygons that make up the characters, the texture details look quite realistic and when you see Andre the Giant, he actually looks like this man. Best of all, the wrestlers move with this human-like grace in the game which once again mimic their real-world counterparts, especially with their signature manoeuvres.
Add in some great stadiums with decent crowd effects, video monitors and some realistic lighting and WWE All Stars is easily one of the better wrestling games in this department. To compliment the graphics, the developers have included the original theme songs of the stars and other extravagant sounds of the ring to make it a truly holistic wrestling experience for the gamer. Even the voice acting and commentary is quite professionally done, although quite clichéd in a wrestling sense. Definitely a good job THQ San Diego!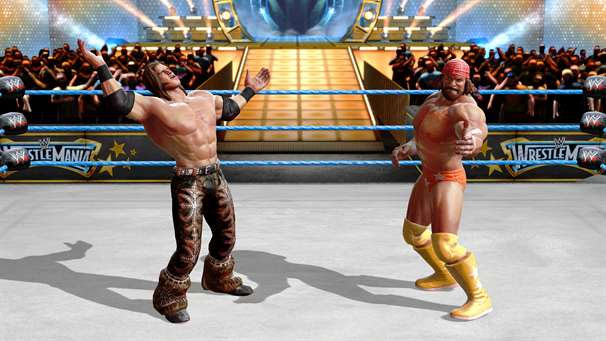 We could happily recommend this game to those who have been away from the THQ wrestling series for a few releases now or to those that loved the classic WWE franchise. With great gaming mechanics and controls that range from newbie to gaming veteran plus some exceptional graphics, WWE All Stars has some great replay value with some awesome fun to be had online as you make your way up the leaderboards.
It may be over the top but what wrestling series isn't?