UFC 2009 Undisputed
The latest UFC (Ultimate Fighting Championship) has finally hit the PlayStation 3 and XBox 360 that goes beyond its predecessor and offers gaming a sturdy fighter with enough twists and options to keep even the most meticulous of gamers pleasantly entertained.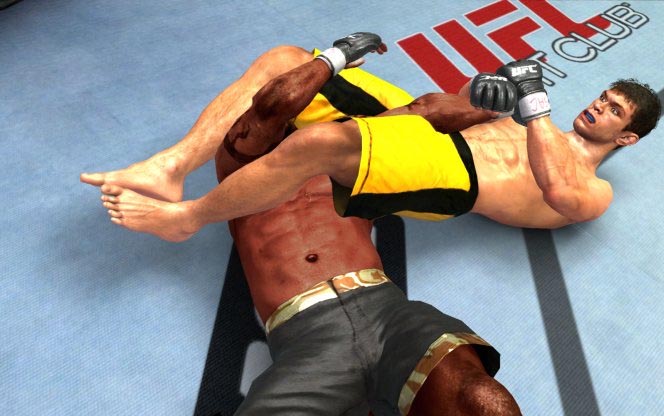 The UFC is quite a popular sport overseas and the developers have ensured to keep the title as realistic as possible which means real-world fighters and real-world fighting disciplines. At its heart and core, UFC 2009 Undisputed is a no holes barred fighting game that uses striking and grappling martial arts to engage the opponents which adds to a plethora of ways of defeatism.
FEATURES
Authentic UFC Personalities - Explore a deep roster of more than 80 top names in UFC competition across all weight divisions. Enter the Octagon surrounded by the sport's popular commentators, announces, referees, trainers, Octagon girls and more.

Realistic Models – Absorb the world of UFC as it appears on television with photorealistic fighters who breathe, sweat and more like their real-life counterparts.

Constant Control – Gain the upper hand in matchups with a brand new fighting game engine. An emphasis on innovative, responsive and easy-to-play controls gives you unparalleled command over your fighter in the Octagon.

Fighting Disciplines – Take down opponents and get the submission with a variety of mixed martial arts disciplines. Including Judo, Muay Thai, Wrestling, Kickboxing, Boxing, and Brazilian iu-Jitsu.

Create-A-Fighter – Jumpstart the career of a future champion by customizing your own physical appearance and attributes. Learn new fighting techniques to use in the Octagon and manage your training.

Career Mode – Develop fighter attributes, perfect moves and fight for entry into the UFC Hall Of Fame.
Although UFC 2009 could essential be completed as a button smasher, as you progress, so do your opponents and this is where the strategic element of the fighter comes into play. Thankfully the developers have thoughtfully mapped the controls quite well on the controller and depending on your chosen discipline, these translate quite well to the game.
Of course, each of the disciplines is quite different, whether you are a "striker", e.g. punches and kicks or a "grappler" where you try to overpower your opponent, UFC 2009 is thoroughly entertaining and at times quite frustrating due to the realism of the game.
Another interesting twist, depending on your discipline is that you can either beat your opponent to victory through raw force or if you're a grappler, you can force your opponent to submit. Best of all, the AI in the game is quite diverse and at times unpredictable which only adds to the playability of the title and distances itself from traditional fighters. The game contains different levels of difficult as well, ensuring a broad range of gamers can play.

In regards to the learning curve, to master the title is quite intensive, however casual gamers will easily be able to pick up a controller and start playing. It's definitely one of those games that improve through your mastery of the control system and thankfully the tutorials assist in this process.

The game features a variety of different gameplay modes that include that include exhibition, classic fights (which includes classic matches, videos and interviews). However our favourite mode is the career mode that allows you to setup your fighter from scratch. Of course, you can create what your fighter will look like in the game and you have the option of attributing various skills to create a much needed diversity to your fighter and the genre.
You really need to think of the different scenarios that you will come up again, ensuring that you have an even match of defense and offence. The career mode is not all about fighting as training and sparring assists in attributes and gives you access to new maneuvers. The only downside to the career mode is the convoluted menus and "filler", however the addictive nature of the fights in the ring will have you clamoring for more. A really cool feature is that once you have completed your career, the character is still available to the player in exhibition matches and it's really fun to take your fighter online to see how he will do against others.
Graphically, this is one visually impressive game on the PS3 with realistic looking characters that move with a human like grace. The animation is quite slick and fast and best of all, the fighters take real-world damage such as cuts and bruises. Nasty stuff!
There are also some different fighting environments which adds to the multiplicity of the title and it would have been nice if the environments were a tad more realistic. However for a next-generation fighting game, it's pretty sweet. Add in the realistic commentary by Joe Rogan and Mike Goldberg and it's almost like watching this on TV. Of course the sound effects are quite realistic, especially when you're beating the absolutely living day lights out of each other that is nicely complimented by some great bands such as Hollywood Undead.

Lastly, UFC 2009 Undisputed is a very decent fighter with a huge amount of soul in terms of gameplay, graphics and sound. The control system is sturdy, without it being overly complex and the career mode is quite intensive. Definitely a contender for those that love this genre.
That's enough of this review, it's time to go back to playing!