Sports Champions
Okay, you might need to look again when you first see this title because even though you may have seen it all before with Wii Sports, now it's time for the PlayStation 3 to showcase their "Move" technology and this game is the perfect platform for this. The first thing you notice about Sports Champions on the PS3 are the graphics and unlike the cutesy cartoon graphics of several Wii titles, Move has those next generation graphics. Following the graphics, you'll then notice the control system which is far superior to the Wii, thanks to the PlayStation Eye USB Camera which makes this the most accurate motion sensor control system available to date.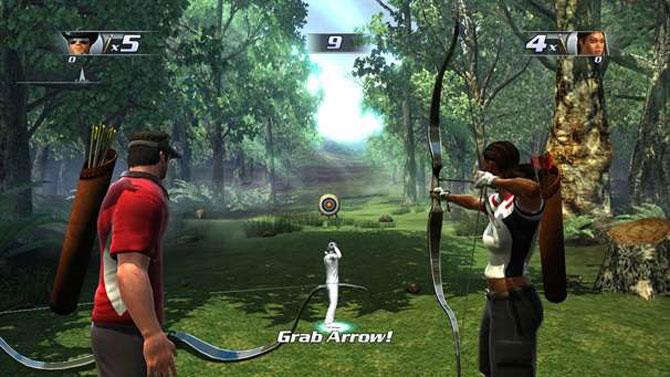 Although Sports Champions has this tech-demo feel to it, the games which are included in the title are actually quite decent which includes Archery, Beach Volleyball, Bocce, Disc Golf, Gladiator Duel and Table Tennis. However before jumping into the games, you need to select your "sports" Avatar who will represent you in the game and these include 10 clichéd and good looking sporting characters. There is also a little tutorial setup for the Move as well which suggests that you stand back at least 2metres from your TV, stand in the square and then move controller in a variety of positions to align the game. It's a straight forward experience that also ensures the accuracy for playing. For gaming modes, it includes your standard single-player mode and a variety of multiplayer modes and as opposed to casual games, you can play in tournaments in order to progress that makes the difficulty go steadily up.
Let's get to the games! Archery is by far my favourite game on Sports Champions. At its core, it mimics real world archery quite well as you pretend to pull back the draw string and shoot your arrow. It's really cool how your bow is not steady as well and as you progress, hitting the targets does become more difficult which is a fun challenge. You can play the game with just one PlayStation Move controller which works quite well but with a second controller, the whole experience takes on another level of realism.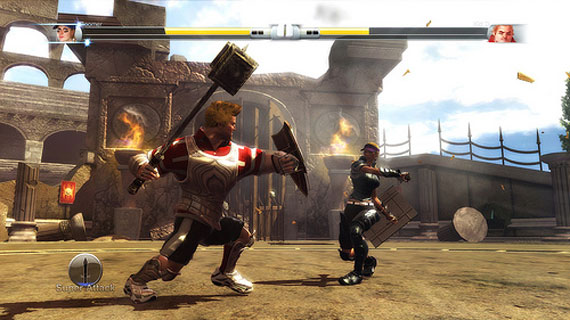 Beach Volleyball is an interesting title that once again allows for two controllers to be used as you volley, block and score your way to victory… sometimes. Playing the AI is fun but where this game shines is with other human players which really brings out your competitive side. Bocce is reminiscent of lawn bowls and to some extent bowling where you need to roll your ball closest to the pallino and moving other players balls away from the target is also a goal. This game has been replicated quite well with the Move controllers and although it's not as fun as some of the other games, it's a nice relaxing title.
Disc Golf is a combination of golf meets Frisbee throwing and mimics the Frisbee throw quite well. Just like in real-life, you need to pick up your Frisbee and then throw the virtual disc like you would do outside. The goal of this game is to throw the disc into a hole and there is a similar scoring system like golf. Gladiator Duel is another favourite of mine where you fight other characters with a sword and shield and unfortunately works better with two controllers as one controls the shield and the other your sword.
It is still a fun game with just one controller but to truly immerse yourself in the experience, two Move Controllers are definitely better than one. As you attempt to hit your opponents shield, you need to time it well because hitting their shield repeatedly only leaves you open for direct hits. My only gripe with Gladiator Duel is that you cannot do any wild manoeuvres (ala Star Wars) but even so, the accuracy is there and this does give you a great workout. Finally we have Table Tennis and after playing so many tennis type of games on the Wii, we now have one that is quite accurate as you can perform a variety of shots and actually direct the ball to where you want to hit it on the table. The developers have certainly hit the nail on the head in terms of fun gameplay.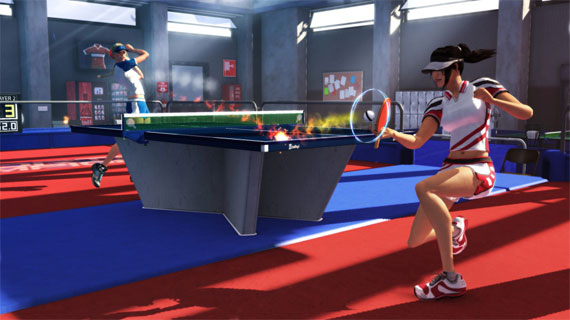 Graphically, Sports Champions has that next generation console feel and features well designed characters and some interesting environments from parks to cities and the like. The soundtrack and sound effects has this casual game feel and I'm guessing that this is what the developers attempted to aspire to. The good thing about the casual game feel to Sports Champion is that it will also appeal to some hardcore gamers, thanks to the accuracy of the controllers. The replay value of Sports Champions is great and whether you're playing this with friends or by yourself, there's tons of unlockable content from bonus items, rounds and even outfits for your characters to wear. We also love the fact that can even upload a winning photo of yourself to Facebook.
At the end of the day, Sports Champions is a must have release game for the PlayStation Move that captures the potential of this new control system perfectly for the PlayStation 3. Developers, Zindagi Games have captured the uniqueness and accuracy of these controllers and even though some have labelled this as a Wii Sports clone, most PlayStation 3 owners have not yet experienced this system before so for most, it will be a breath of fresh air.