Sonic the Hedgehog 4: Episode II
Sonic is back! Available on the PSN and XBox Live networks, Sonic the Hedgehog 4: Episode II continues the adventures of our favourite blue hedgehog that combines classic elements of the original series with 21st century gaming. Best of all, SEGA have rectified some of the gaming physics from the previous episode that makes this a much sturdier gaming experience, especially on the PS3.
Like the previous games, Sonic is joined by his colourful supporting cast such as his sidekick Tails and of course, the nefarious Dr. Eggman, Sonic's personal nemesis. Story wise, the game follows from the previous episodes which once again requires our blue hedgehog to defeat the villainous schemes of Eggman who teams up with another villain to make Sonic's life rather difficult.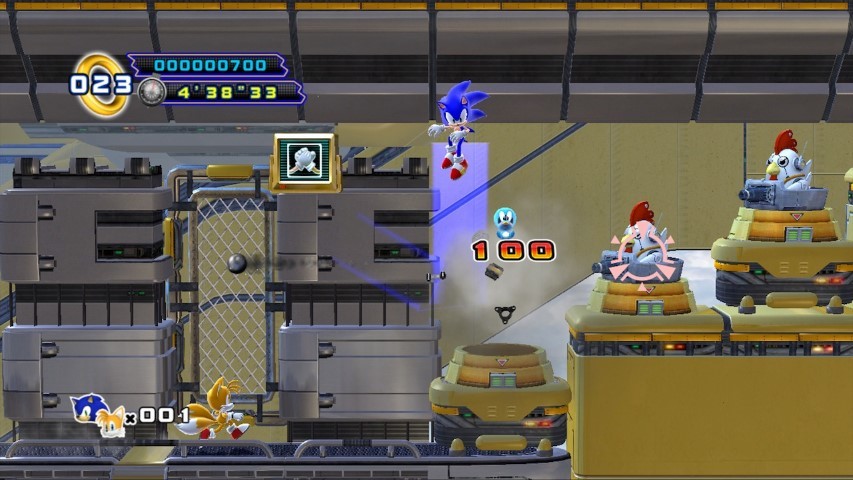 Gaming wise, Sonic the Hedgehog 4: Episode II mirrors the old 16-bit series quite well with its fast paced arcade action as Sonic and co take on a variety of enemies, collect bonuses and engage in various boss battles which may create some gamer rage.
Although the gameplay of Sonic remains similar to the previous titles, the developers have added some interesting special manoeuvres with Sonic and his sidekick Tails called Tag Actions. My favourite of these news combos is the "Copter Combo" which allows Sonic to fly short distances thanks to Tails "tail" which used like helicopter blades. This definitely helps the gamer reach some precariously places.

Next is the "Submarine Combo" which once again teams up the duo for some underwater movements as you race through the water, collecting air bubbles and avoiding underwater dangers.
Finally we have the "Rolling Combo" which creates this super Sonic dash as both Sonic and Tails create this mini whirlwind. All three have their particular uses in the game and unquestionably adds something unique to the classic gameplay. Then you have all the obstacles and enemies in your way as you make your way through this colourful world.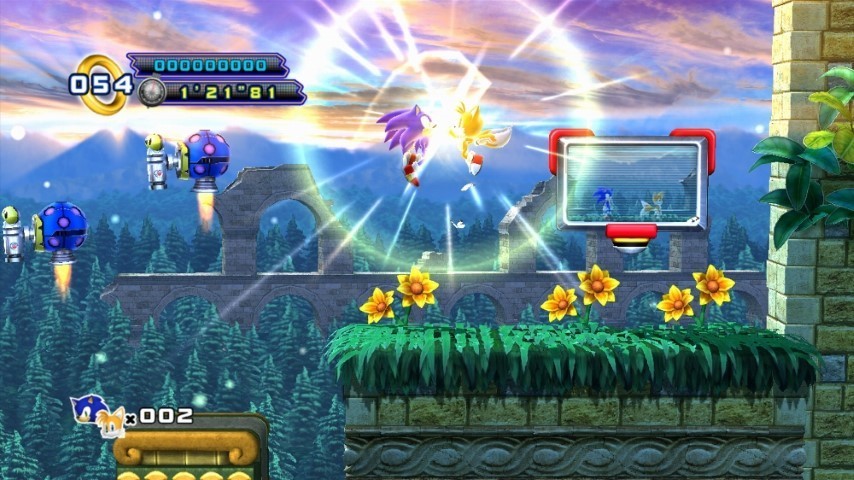 Although the standard enemies are easy to take out, boss battles on the other hand require some thought and just like the retro Sonic games of yesteryear, each boss has a particular weakness that must be exploited. These range from easy to quite frustrating.
In terms of completion time, it should take most experienced gamers around 4 to 5 hours to complete this which is definitely value for money. For those purists who want to collect everything, another play is also on offer.
Graphics/Audio

Graphically, Episode II is an impressive looking title on the PlayStation 3 with some great level designs and graphics that have this real retro yet modern feel to them. Characters are well animated and there's some whacky special effects employed with the gaming mechanics.
Episode II is quite a visual experience with its faux 3D graphics of 3D characters merged with 2D backgrounds. Sound effects and music work well with the gameplay and the soundtrack is definitely quite memorable. All in all, graphics, audio and gameplay come together perfectly, although a tad dated.
Final Level

In the end, Sonic 4 Episode II is probably the best Sonic game in awhile that combines retro gaming with 21st century next-gen console mechanics. Although the title is a little on the repetitive side, there's enough fun to keep most gamers going and just when things start to become repetitive, the game fortunately ends in time. With that said and given the new combos in Episode II, Sonic still relies a little too much on its origins which makes this a fun game yet ultimately forgettable in the grand scheme of gaming.
Lovers of the Sonic franchise however will enjoy this race down memory lane, but modern gamers may find the title a little too repetitive and uninspirational. Nonetheless, it's still a refreshing title and worth checking if you want a break from all those big blockbuster titles.