SingStar Dance
From SingStar "karaoke" to SingStar Guitar (think Guitar Hero), we now have SingStar Dance that merges the SingStar gameplay (karaoke) with the PlayStation Move in order to allow the gamer to dance and sing like a professional.
Allowing the player or players to either sing or dance, the unique capabilities of the PlayStation Move now give the player a chance to ďbust a moveĒ which was actually quite a blast to test out. The game can be played solo (either singing or dancing) or as a party game for that true party experienceÖ which is always better with a few beers.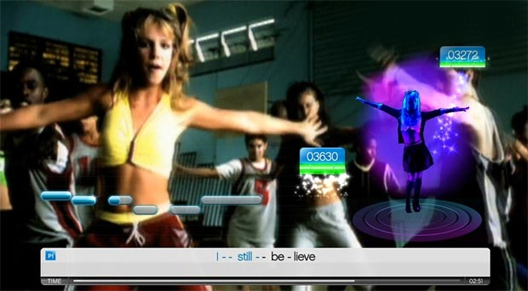 Before I get to the dancing, the SingStar component of the game is pretty much identical to SingStar games of yesterday where you need to match your timing and rhythm with the words display on the screen and you are awarded points. Itís basically karaoke but with a point scoring system. The music video is displayed on screen and you also have the option of using the PlayStation Eye to display the action or embarrassing moments on screen.
You can even save your performances or take snap shots with the camera and this can be uploaded to your MySingStar profile to show the world. I do suggest you check out some of these videos there because they are quite hilarious.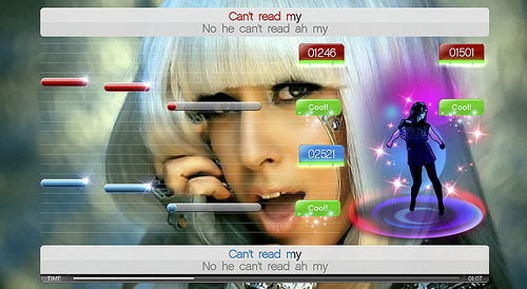 The songs in the game are quite diverse and it boasts 30 different tracks from a variety of genres which really gets you dancing. The track listing of SingStar Dance include;
'N Sync - "Bye Bye Bye"
Black Eyed Peas - "Shut Up"
Blondie - "Heart of Glass"
Chris Brown - "With You"
Cyndi Lauper - "Girls Just Wanna Have Fun"
Diana Ross and The Supremes - "Baby Love"
Gloria Gaynor - "I Will Survive"
Gossip - "Standing in the Way of Control"
Gwen Stefani - "What You Waiting For?"
Jamiroquai - "Cosmic Girl"
KC & The Sunshine Band - "That's the Way (I Like It)"
Kid Cudi vs Crookers - "Day 'n' Nite"
Kool and the Gang - "Celebration"
La Roux - "Bulletproof"
Lady Gaga - "Poker Face"
MC Hammer - "U Can't Touch This"
New Kids on the Block - "Hangin Tough"
Outkast - "Hey Ya!"
Paula Abdul - "Straight Up"
Pitbull - "I Know You Want Me (Calle Ocho)"
Reel 2 Real feat. The Mad Stuntman - "I Like To Move It"
Ricky Martin - "Livin' La Vida Loca"
Run DMC vs Jason Nevins - "Itís Like That"
Salt N Pepa - "Push It"
Shaggy - "Boombastic"
Sir Mix A Lot - "Baby Got Back"
Soulja Boy Tell 'Em - "Crank That"
The Backstreet Boys - "Everybody (Backstreet's Back)"
The Jackson 5 - "I Want You Back"
The Pussycat Dolls - "Donít Cha"
Not bad hey?
In terms of dancing, you need to mimic the moves displayed on screen which is detected by the move controller. This works for some of the songs but for the more complex dance moves, it does become frustrating or that could be my lack of coordination skills.
Mimicking on the screen dancer only works so far and at times, youíre guessing what they are doing. Kinect unfortunately does it better. However all Kinect aside, the gameplay is relatively quite limited so donít expect a career mode or anything that complex. Itís basically pick the song, sing and dance.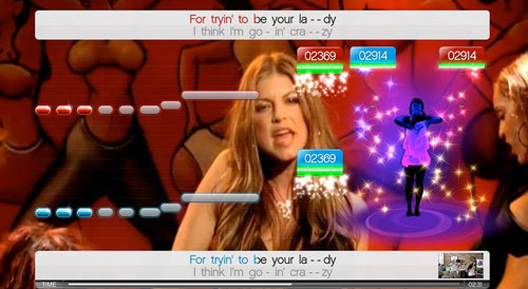 Calibration plays a big part of this game and if youíre not calibrated correctly, the accuracy does suffer. Spend the time moving your furniture and tables and then calibrating, the game will be a much more enjoyable experience. For a first attempt at a dancing game, the move does have potential and Iím sure from here, weíll see a whole wealth of new dancing games get released on the PlayStation 3.
Graphically, the music videos look decent on FULL HD are quite colourful and have deep levels of black. No artifacting here. The in-game graphics are sharp and compliment the experience well. The star of the game is definitely the track listing and even though itís only 30 songs, Iím sure Sony will release more titles for this game plus downloadable tracks.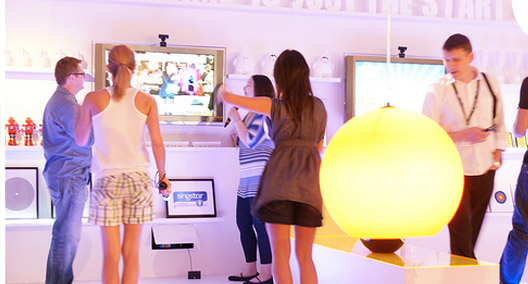 Conclusion
SingStar Dance is definitely a party game and if you have a party coming up, this title would definitely be a winner and is something fresh as opposed to SingStar which this game can still do. Although in its infancy, the move controller has a little way to go. Then again, you always have the option of creating funniest home videos! EntertainingÖ definitely!