Shank 2
Never having played the original Shank game before, I didn't know what to expect when I downloaded this game via the PSN and from the screenshots, the game looked rather interesting. It was like a comic book come to life... but with excessive violence! Developed by Klei Entertainment, Shank 2 is a stylised arcade game that requires you to play as Shank, an ex-hitman type character who has waged war against the criminal underworld in this side scrolling 2D fighter/brawler.
Unlike the standard 2D side scroller, Shank is probably the most violent of protagonists ever who seems to enjoy killing his foes. Unlike stabbing them with knife or just shooting them, Shank will perform an elaborate attack and even a finishing move to dispatch them. It's gloriously bloody and messy. Add in a variety of weapons from throwing knifes to meat clever to guns to chainsaws and whatever Shank picks up, he uses as a weapon... this also includes humans.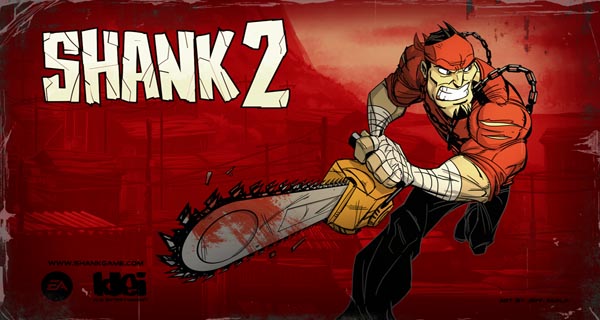 Shank 2 is also an arcade game that can be quite unforgiving to the player at times, especially in terms of combat. Fortunately there are a few health bonuses lying around in the gaming environment that when sculled by your character, it replenishes their health. Add in a few puzzles to help liven up the combat and you have everything you need to keep your entertained for hours upon hours.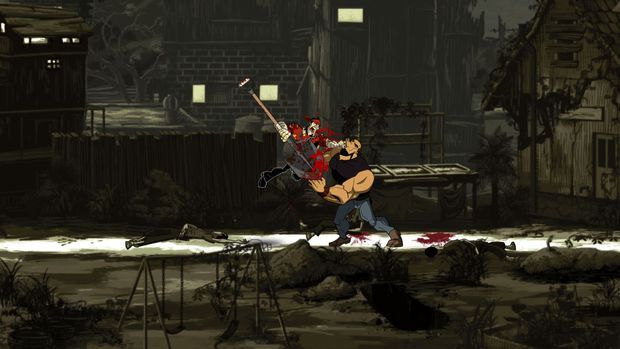 Combat is where the fun is found in Shank 2 and there a variety of sickening melee weapons to choose from to engage your enemies with. As you move through the environments fighting enemies and dodging, you also have the option of performing some truly impressive combos with some almost spraying the entire screen with blood. It's also great that the game warns you when an enemy is about to do a move on you as you can sometimes counter these manoeuvres.
Although the weapons were fun, one of the most eye wrenching part of the game was performing leaps on your enemies and then smashing their skulls into the ground which was quite violent and sickening at the same time. If it wasn't for the cartoon violence, this game would be SICK!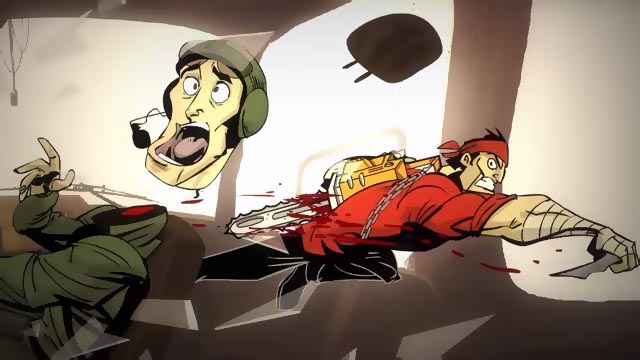 The game even supports a multiplayer mode which is similar to a hoard mode that requires you to team up with another person in order to stop being overrun by the enemies. I would have preferred a co-op mode as hoard is very repetitive. Even so, it's fun slicing and dicing your enemies up with a friend, especially when you start throwing enemies at each other. All in all, Shank 2 is a fun game but can become rather repetitive when you read the mid stage of this game. Even so, it's quite original and works on most levels as a retro arcade game.
Graphics/Audio
Graphically, Shank 2 looks brilliant on the PS3. The animation techniques and art style creates this modern retro feel with an emphasis on exaggeration. It's almost like a cartoon gone wild but bare in mind that this game is quite violent. To compliment this style of graphics, Shank 2 has a pumping soundtrack and some very very disturbing sound effects. With every stab or use of the chainsaw, it's eerily real and definitely borders on sickening.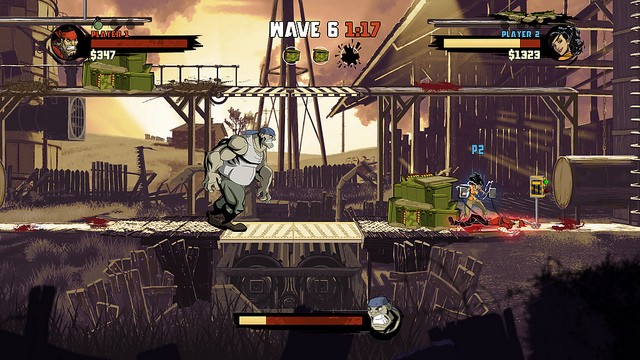 Conclusion

In the end, Shank 2 is a fun yet ultimately forgettable game which uses its over the top violence and retro presentation to create something different yet not that original either. Don't get me, Shank 2 is fun but unfortunately it does become a little repetitive and fortunately the developers spice up the gameplay with the various enemies and the very cool boss battles which require you to use the environment like dropping cars or pushing them into deadly spikes.
On higher difficulties the game is almost impossible and this is only for those hardcore gamers. It works as a single-player game but fails on the multiplayer front. If you're looking for a retro fix of a side scrolling fighter than Shank will give some entertaining moments, especially for those that are craving something a little bloodthirsty.